Ramapo wins first sectional title by Cory Doviak of northjerseysports.com
FRANKLIN LAKES – Sparta's pick-and-roll is killer. The Spartans spread things out and isolate two of their four freshmen starters on one side of the floor and try to drive the defense crazy. With freshman point guard playing off and with freshman forward Brynn McCurry, the opposition is faced with all kinds of decisions — hedge, switch, double, etc. – while trying to stay out of foul trouble.
Ramapo saw it up close in Tuesday night's North 1, Group 3 state sectional final and it took 13 minutes and 19 seconds to truly figure it out. Before that, McCurry had piled up 11 points, hung two fouls on both of Ramapo's post players, Lauren Achter and Faten Huzien, and made two free throws with 3:41 in the first half that tied the game at 15.
Ramapo called time out, went to a 1-2-2 zone and everything changed. The Green Raiders dared Sparta to win the game from the perimeter and that was not going to happen. Sparta managed just four points from outside the paint in the second half and Ramapo found its points in transition and from the exploits of its sophomore point guard Julia Corella, who scored a season-high 17 points as her team made history.
Corella's driving layup, the first points scored after that second quarter time out that changed the game's trajectory, gave the Raiders the lead for good in a 41-31 victory in front of a packed house that clinched the first-ever state sectional title for the girls basketball program.
"It feels amazing. We have been working for this moment all season," said Corella. "It's just amazing to be able to say that we are the first team in the history of Ramapo girls basketball to win a state sectional championship. We are so happy."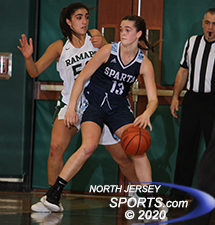 Freshman Brynn McCurry scored 16 of Sparta's 31 points.
Sparta never led in the game, but it was tight early as McCurry did her damage. She scored the last three points of the first quarter to get the Spartans to with 12-11 and made the two free throws that tied the game for the final time at 15-all. Huzien picked up her second foul to set up that trip to the line and that was when Ramapo head coach Sandy Gordon called the timeout and switched to the zone.
"Our switching up our defense was huge because Achter and Faten [Huzien] got into foul trouble. Obviously I watched a lot of tape on [Sparta] and [the zone] was in my back pocket, I just did not know if we could stop the big kid [McCurry] inside. She is legit, she is good," said Gordon. "With the foul trouble we just had to weather the storm, get to halftime and make a couple of adjustments."
Once it sprung the zone and when it became clear that it was not going to be Sparta's night from the outside, Ramapo stayed in it. The Raiders were able to rebound out of the set up, so giving up second chance points was not a problem and they got out and ran at every opportunity.
After Mason Munier, another freshman, scored her lone points of the game to open the third quarter, Ramapo responded with an 11-0 run that took the Raiders from up 19-17 to up by double digits. Savannah Ring scored the final five points of the spurt with a three-pointer and two free throws to put the Raiders up 30-17 with 3:12 left in the third period.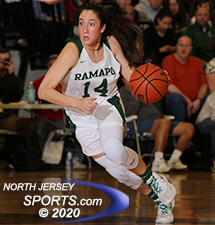 Sophomore point guard Julia Corella scored a season-high 17 points for Ramapo, which will host Chatham in the Group 3 semifinals on Thursday in Franklin Lakes.
"It was a close game and I had not hit a three-pointer yet. I had an open one in the minute before that did not go in, but when I made that one I got really pumped. We all did and we turned it up on defense," said Ring, one of Ramapo's three sophomore starters. "It feels so good to be a part of the team that finally got 'The Dub' in this game."
Sparta made just one three-pointer in the game and needed the backboard to help Sweeney's triple through the hoop. Alexa Acker's putback gave the Spartans a mini 5-0 win to close the third period trailing 32-25, Savannah Nowak scored on a cut to the basket with an assist from Corella and Sparta never got close than nine points the rest of the way.
McCurry (16 points) scored more than half of her team's points. Sweeney scored all 7 of her points in the second half, Acker finished with 6 and Munier's field goal rounded out the scoring for the Spartans, who are just getting started on what could be a historic run for the program. With the four freshman starters and Acker, a sophomore, all set to return, this could be just the first in a multi-phased rivalry against Ramapo, which will return its whole starting five next year.
Round 1, however, went the Raiders' way emphatically as Corella had a career night and Schiller scored 9 of her 13 points in the second half to help Ramapo pull away. Ring finished with 7 points, Achter and Nowak split the other two and Ramapo is now heading for the Group 3 state semifinals against Chatham.
That Group 3 semifinal round has been played at Ramapo High School for each of the last nine seasons, but this time Gordon will be coaching rather than working crowd control. That is a fitting reward for the Ramapo alum and Ramapo High School Athletic Hall of Fame member who had coached in four previous state sectional finals and also played in one before finally breaking through that glass ceiling.
"I coached in four [section finals] and came up short, I played in one as a player and it is nice to get through, but I am just happy for these kids. I have had my day. We all want to win, but there was no pressure. If we would have lost today, I would have been okay," said Gordon. "It's about these kids. They have bought in going all the way back to the fall and it has just been a fun group to coach."