IHA wins ninth straight by Rich Barton of northjerseysports.com
WAYNE –  Two years ago A'Nyah Barker stepped onto the floor and got immediate playing time as a freshman at Immaculate Heart Academy, powerhouse girls basketball program. She quickly made a name for herself as one of the state's fastest players until an ACL injury knocked out most of her sophomore year and even hampered the start of her junior season.
Lately though, the lightning-quick burst she once showed is finally returning. Facing a Hudson Catholic squad full of quality guards, Barker's presence would be necessary if the Blue Eagles were going to keep their long streak of section titles intact.
The Non-Public A North section has been dominated by top-seeded IHA for nearly a decade. Even against a formidable opponent who reached the Hudson County Tournament final this season, the Blue Eagles were still miles in front.
Anna Morris led all players with 23 points and 11 rebounds, while Barker provided the perfect complement with 17 points as IHA took control in the second quarter and cruised to a ninth straight Non-Public A North title with a 61-37 win over second-seeded Hudson Catholic on Wednesday night at the Passaic County Technical Institute in Wayne.
"I thought we did a great job scoring both in transition and executing in the half-court," said IHA head Steve Silver. "We did a great job against an athletic team like Hudson Catholic to not allow second-chance opportunities. That allowed us to control the tempo and play at our pace."
Zanai Jones scored a team-high 18 points for Hudson Catholic, which finished the season with a 24-5 record.
Hudson Catholic inserted freshman sharpshooter Meghan Gentile into the starting lineup for this game and she paid dividends early. She nailed a three-pointer then followed with a jumper just inside the three-point line to give Hudson Catholic its first lead, 5-4. The Hawks' first lead would also be their last.
IHA methodically picked apart the Hawks' full-court zone press with Barker being beneficiary. She scored nine first-quarter points as the Blue Eagles grabbed a 17-12 lead. Brittany Graff opened the second quarter with a three-pointer before Morris started going to work inside. The lack of a true inside presence proved to be Hawks' weakness as they had no answers for the post moves nor the range of the Northwestern University-bound Morris.
"They came out in a press and we really had to work as a team to move the ball past it," said Barker. "We showed a lot of energy and we showed we can play fast when we need to. It's been a long road for me but now I feel comfortable out there. Every day is a new day and a chance to get better. We come into every game like our record is 0-0. Every game is so important in the state tournament because we know it could be our last if we don't play well."
Contributions off the bench also were a factor. Baskets from Julia Schutz and Gina Gaccione in the midst of a 10-2 run along with Morris and Barker rolling along helped IHA take control of the game by halftime with a 32-18 lead.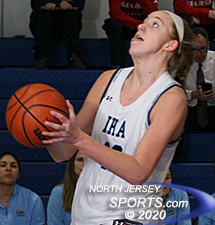 Anna Morris had another double-double for IHA with 23 points and 11 rebounds.
Morris also added a game-high four steals for IHA (26-2). Barker's 17 points were two off her season-high. She also added five rebounds, three assists, and three steals.
Zanai Jones was the lone player to reach double-figures in the scoring column with 18 points for Hudson Catholic (24-5).
IHA will now prepare to play in the Non-Public A state final. They will face off against another perennial state powerhouse St. John Vianney in an attempt to break a five-year drought without a state championship. The status of the game due to the coronavirus pandemic is still up in the air but the Blue Eagles will continue to prepare and hope they get the game they have been waiting for all season.
"It was tough to lose the last three years down in Toms River and losing in the county final this year has really motivated us even more to win a state title," said Graff. "We can't control anything but how hard we work at practice. No matter what happens with everything the season will end in the next week or so. We're a really close team. We're going to team bond, continue to practice, and try to keep this season going as long as we can."