Ramapo has all of its mojo back by Cory Doviak of northjerseysports.com
FRANKLIN LAKES – Ramapo was just starting to feel the love. The Green Raiders has lost only one game to that point against Non-Public power IHA and had just cracked the state's Top 20 rankings when they got on the bus for a trip across the county and a 4:15 tip-off at Northern Valley/Old Tappan exactly one month ago. Then Ramapo lost by two points, lost a key starter, Savannah Nowak, to a broken wrist and lost some momentum.
That was a low point, maybe the only one, in what has been an otherwise brilliant season that consisted of 25 wins and just three losses heading into Friday evening's rematch against Old Tappan in the North 1, Group 3 state sectional semifinals.
"Sometimes you can take some positive things from a loss and that was kind of a refocus moment for us," said Ramapo head coach Sandy Gordon. "We have honestly played our best basketball since that two-point loss."
That two-point loss was a slugfest where Old Tappan forced Ramapo into a slower pace and a game played in the 40s. Although the scoreboard was not going to be mistaken for a pinball machine this time either, the Raiders did come out flying and put up 19 points in the opening quarter to set the tone in what turned into a wire-to-wire 49-28 victory.
The turning might have actually been the conventional three-point play converted by Faten Huzien that opened the scoring just 40 second in. Ramapo (26-3) pushed the pace and played from in front the rest of the way.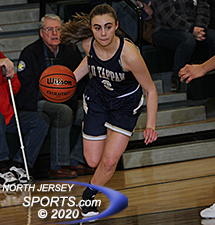 Issie Giampaglia scored a team-high 12 points for Old Tappan, which finished the season with a 20-7 record.
Huzien, a junior post player, took Nowak's spot in the starting lineup, and has given Ramapo a true presence in the low post. That frees Lauren Achter to operate from the foul line and the Raiders pass the ball well and often. Even Nowak is back now, albeit with a heavy brace on her right wrist, and Ramapo has a bevy of options when it has to settle into halfcourt sets.
"We didn't think we were going to get [Nowak] back, but she got cleared right before the states and she has been huge. She is like our glue. She is that veteran kid that plays really good 'D' and will get you that six to eight points," said Gordon. "Her getting hurt forced Faten to play a couple more minutes and get some confidence and I think she was the difference maker for us tonight."
Before Old Tappan was able to pull the game back from the harried early pace that Ramapo set, the Raiders had already taken control. All five starters scored in the opening period and Madison Schiller's cut to the basket and layup off an assist from Julia Corella made it 19-7 before got one point closet by the end of the opening period.
Ramapo was up 20-12 after an Achter three-pointer from the top of the key with 3:33 left in the first half, but Issie Giampaglia's three-pointer and two Gianna Saccoccio's two free throws gave Old Tappan some hope heading into halftime down by under double digits, 24-17.
Then, 24 seconds into the second half, Savannah Ring nailed a second chance three-pointer to extend the lead back to 10 right out of the locker room. Achter's two free throws with 2:39 left in the third quarter made it a 31-21 game and Old Tappan was never able to get closer the rest of the way against an active Ramapo defense, which held the Golden Knights to just eight field goals in the game.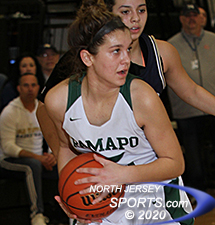 Savannah Ring scored 10 points for Ramapo, which will host Sparta in the section final on Tuesday night..
"I think we did really well defensively as a team," said Huzien. "I did my best to stay at home and help when needed, but I didn't have to most of the time because our guards did such a good job limiting their drives and I could just focus on rebounds."
Old Tappan could never really find its offensive footing. Issie Giampaglia (12 points) was the only Golden Knight to finish in double figures and she made two of her team's three three-pointers. Senior Lauren DeGennaro made the other. Saccoccio, the senior point guard who will play next season at Springfield College, scored 7 points, 5 of them from the free throw line. Hallie Plescia, Tina Chugranis and Mackenzie Ward evenly split Old Tappan's other six points.
It is also worth noting that senior Kyra Uglione, who missed both her sophomore and junior seasons because of separate ACL surgeries on both knees, finished the season and her high school career properly; healthy and on the floor.
Ramapo spread the points around with Schiller (12 points), Achter (11) and Ring (10) all finishing in double figures. Huzien and Julia Corella each added 7 points and Lucy Taylor dropped in two off the bench for the Raiders, who are on the cusp on making history for the program.
Ramapo has never won a state sectional championship in girls basketball. Gordon has coached in four and played in one, but has yet to hoist the trophy. As the No. 1 seed, Ramapo has a home game against No. 3 Sparta, which eliminated Morris County champion and second seeded Montville in Friday night's other semifinal.
"It is a special opportunity and all season we have been working hard for this moment. We worked hard to get the No. 1 seed and the home game," said Corella, one of three sophomore starters on a team without a single senior on the roster. "We know that we need to come out firing. We are super, super excited to be able to play in this game because this is our opportunity to make history for our high school."