Valvano scores Ramapo a final spot by Rich Barton of northjerseysports.com
FRANKLIN LAKES – After waiting his turn as an underclassmen and getting only a handful of minutes behind a talented group of players that went all the way to a Group 3 state final last year, Ramapo guard Chris Valvano took offense to the notion that this was the season that the Green Raiders were supposed to fall off. Those players waiting their turn fighting to get meaningful minutes worked just as hard and knew they would be successful when their number was called.
Facing a Pascack Valley squad that had already pulled two road upsets in the state tournament and with a plan to limit the production of Green Raiders' standout Max Pernetti, Valvano was called upon to not just facilitate the offense but also help carry the scoring load. It was an opportunity Valvano waited a long time for and took advantage of.
Valvano hit his first two three-point attempts to spark a career-high 17-point night as second-seeded Ramapo pulled away in the second half to reach a section final for the third straight year with a 62-42 win in the North 1, Group 3 semifinals in Franklin Lakes.
"When we play your hardest, we play smart and we get good shots things usually work out for us," said Ramapo's Sean Clapp. "I thought we ran through our offense and wore their defense down in the second half."
Pascack Valley, the No. 14 seed, came out in a 1-3-1 zone with all players keeping an eye on Pernetti, a 6-foot-5 senior who can score in clusters. Turns out the Green Raiders had another senior waiting to carry the load. Valvano's second consecutive three-pointer put the Green Raiders ahead to stay. The lead was three when Mike DenBlaker came off the bench to drain a corner three at the first-quarter buzzer to double it up to six, 17-11.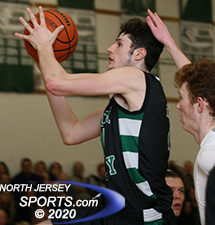 Austin Koolery scored 15 of his game-high 19 points in the second half for Pascack Valley, which made a nice run from the No. 14 seed to the section semifinals.
"We knew they were going to run a zone and being patient was key to us getting the shots we wanted," said Valvano. "The way we move the ball lets us eventually find the open shooter or get a layup. Jason, Max, Sean, and Collin, those are the guys who made it easy tonight for me to get open looks. I knew I was going to get some of those looks tonight against their zone and I had to knock them down."
Despite facing a deficit for nearly all of the 32 minutes the Indians fought hard the entire way. Jake Wolf opened the second quarter by scoring on back-to-back drives to the basket to make it a two-point game. Ramapo had its shooting woes in the second quarter but made up for it with long, athletic wings like Pernetti, Collin McKenna, and Clapp providing smothering defense.
A pair of hustle plays led to a dunk and then a three-pointer by Pernetti. The Green Raiders allowed just a single point over the final six minutes of the quarter to stretch the lead out to eight by halftime, 24-16.
The lead was still a tenuous one heading into the second half but it would not stay that way for long. The difference in the second half was solely based on shot selection. Pascack Valley often rushed shots and took the first available look while the Green Raiders methodically picked their spots and ran clock before finding the best possible shot they could find. Valvano was the beneficiary of that with seven third-quarter points, including a three that bumped the lead up to 19.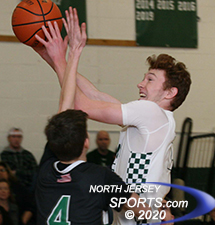 Colin McKenna scored 9 points for Ramapo, which will visit Sparta for all the marbles on Tuesday.
"Al Coleman is one of the best coaches around and he really mixes things up, so the longer they kept it close he could end up being a difference maker," said Ramapo head coach Joe Sandberg. "I thought we came out more aggressive in the third quarter and we got better shots both inside and outside because of it. Once we stretched out the lead they had to come out of their zone and play man-to-man, which worked out to our advantage."
Austin Koolery did his best to keep the Indians afloat with a pair of rainbow threes and a pull-up jumper from the elbow to trim the lead to 12 with 5:45 to play. The lead never dipped below that margin though with Jason Keith and Valvano controlling the clock with neither having a turnover in the fourth quarter as Ramapo rolled into the section final.
Valvano also went 6-of-7 at the free-throw line as his career-high 17 points led the way for Ramapo (19-7). Pernetti added 14 points, McKenna had nine points with Clapp and Keith each chipping in with six points apiece.
Koolery led all players with 19 points, 15 of them coming in the second half, for Pascack Valley (12-15). Wolf was the only other Indian to reach double-figures with 12 points before fouling out late in the fourth quarter.
In each of the last two years the Green Raiders had the luxury of playing in their own gymnasium throughout state tournament play. To win a section this year they will have to go on the road to do it. They will head to top-seeded Sparta, a 46-39 winner over Teaneck in the other semifinal, for the North 1, Group 3 title.
With just 32 minutes being the difference between a section champion and a season-ending defeat expect the Ramapo faithful to be out in full force and the atmosphere to be one nobody ever forgets.
"We feel like we have the best fans in the state and they definitely give us a lift when we need it," added Clapp. "We have our work cut out for us against a tough opponent. but we're big-time players and it's a big-time game. Our fans will bring it and so will we. We'll be ready."