In a loaded bracket, Old Tappan opens with a win over Tenafly by Cory Doviak of northjerseysports.com
OLD TAPPAN — The North 1, Group 3 state sectional bracket is where the public school, girls basketball bluebloods hang out. How tough is it? Well, the top seed is Ramapo, one of two public school teams to make it to the semifinals of the Bergen County Tournament before being ousted by a non-public behemoth. Who is the other public school team to make the Bergen County semis? That would be Teaneck and the Highwaywoman are the No. 7 seed in N1, G3.
This year's Morris County champion, Montville, is the No. 2 seed. Pascack Valley, the defending champion headed by a coach with over 1,000 career wins, is No. 5 and Northern Valley/Old Tappan, which has made a habit of winning outright state championship in even-numbered years, is seeded-fourth.  Throw in River Dell (#6) and Indian Hills (#9) and whoever wins this bracket will certainly have earned it.
That is why Old Tappan head coach Brian Dunn was not all that complimentary of his team even after it opened the state playoffs with 69-54 win over No. 13 Tenafly on Monday afternoon. He knows there is just so much more work to do to get past the next round and every other one.
"To be honest, our effort in on-the-ball defense was good, but off the ball it was average. Too much sleeping at the wheel," said Dunn. "We have to have people focused on what we are supposed to be doing out on the floor instead of doing something different. There is a reason we play 10 kids. I am still looking for the right combination."
Dunn looks as the game, especially the defensive side of the game, with a discerning eye. It is what his program is built, but from a neutral's point of view the Golden Knights were good enough to have trailed for a grand total of 23 seconds in the game and that was a 1-0 after Tenafly's Kelsey Koehler made a free throw to open the scoring.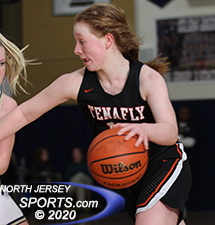 Tenafly's Rylie Theurekauff scored a game-high 30 points and finished her fantastic freshman season with a total of 521.
And Old Tappan is not the first team to have trouble containing Tenafly's top offensive threat, who may even lift the Tigers into the upper echelon of this loaded bracket over the next three years. Rylie Theurekauff is not only one of the best freshmen in Bergen County, North Jersey or New Jersey, but is generally considered a top 25 player nationally in the Class of 2023.
The daughter of Northern Valley/Demarest track & field coach Mike Theurekauff, Rylie is fun to watch. She glides with the ball, is adept at going to the basket with her left or right hand, has the whole arsenal of step-backs and euro-steps and is also a good passer of the basketball. Just as importantly, she does not get outwardly frustrated by the face-guarding and/or double and triple teams she draws every time she touches the ball.
Theurekauff finished with a game-high 30 points on Monday, totaled 521 points in her just-completed freshman year and is well on her way to becoming the all-time leading scorer in Tenafly High School history.
Old Tappan has some scorers, too, including Issie Giampaglia who scored 10 of her team-high 23 points in the first quarter as the Knights forged in front. She scored 8 points in a 12-2 run that took Old Tappan from up four to ahead by 19-5 scored exactly six minutes into the game. Giampaglia made two free throws to make it 21-12 after one quarter of play.
"I think we were all just aware of where each other were on the court. Most of our points came on fastbreaks and we were all working together to get each other good shots," said Giampaglia. "We got a lot of our offense off of our defense and that was the main priority for this game. We came out and executed, but we definitely need to improve if we are going to go far in this tournament."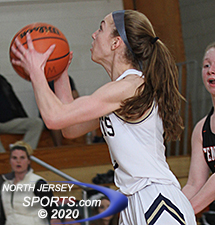 Mackenzie Ward was one of four double-digit scorers for Old Tappan, the No. 4 seed that will host No. 5 Pascack Valley in the quarterfinals on Wednesday.
Foul trouble has been an issue for Old Tappan at times this season and when it reared its head in the second quarter, Tenafly took the opportunity to make a run. With Gianna Saccoccio on the bench with two fouls, Tenafly scored 10 of the first 14 points of the second quarter. A Hadley Blatt free throw and a Theurekauff fastbreak bucket got the Tigers back to within 25-21 with 4:48 to go in the first half.
Saccoccio, NVOT's senior point guard who just committed to Springfield College over the weekend, then came back on the floor and righted the ship. Old Tappan closed the period with a 9-2 to take a 34-23 halftime lead and then scored 11 of the first 13 points of the third quarter to all but put the game away. Saccoccio, who scored 14 of her 18 points in the middle two quarters where the game was decided, made a three-pointer to get Old Tappan rolling in the second half.
Tenafly gave it a run before finishing the season with a 10-14 record. Behind Theurekauff's 30, Koehler, Alex Cohen and Anna Taufield all finished with 6 points. Blatt made two second half field goals and finished with 5 points Charlie Etter had the other point for the Tigers.
Joining Giampaglia and Saccoccio in double digits were Hallie Plescia (11) and Mackenzie Ward (10). Kyra Uglione, Tina Chugranis and Emily Clune evenly split 6 points and Holly Latz made a free throw for Old Tappan, which will host Pascack Valley in what should be a humdinger of a quarterfinal on Wednesday.
"Our key is that we have to take the state tournament day by day. It starts with hard work in practice. That is where we get our toughness that we carry over into games. We can't get too far ahead of ourselves. We can't think too far ahead because that is where things start to break down," said Saccoccio, the last holdover who played quality minutes on the 2018 Group 3 state championship team. "Experience helps. I know what it takes to get there and I remember the upper classmen did when we won states last time. I remember their preparation and now it about stepping into their shoes. Me and the other three seniors have been playing together for 9 years, so it is our turn to step up and show everyone what it takes to get the job done."