Dwight Morrow wins, Demarest celebrates by Cory Doviak of northjerseysports.com
DEMAREST – Even though the boys basketball state tournament brackets have been announced and Northern Valley/Demarest's name is nowhere to be found in the North 1, Group 2 section, it has not dampened the mood around the program.
The crowd still showed up en masse, Senior Night honoring Isaac Oliff-Lieberman, Jaden Felletter and Noah Woods-Bannan was celebrated with smiles and handshakes and why not? The Norsemen, winners of five in a row heading into Thursday night, are playing their best basketball of the season and are still alive in the Bergen Invitational Tournament, which resumes this weekend.
"We are playing our best basketball and it legitimately stinks that we could not find a way to make the [state] tournament because, if we did, there is not any in it that we could not give a game to if not beat on any given night," said Demarest head coach Kevin Grimes. "There is still a lot of excitement. We get a great crowd every night, there is such a passion for basketball around here and for me, a die-hard hoops junkie, this is the perfect place to be."
That being said made it the perfect place to be for Dwight Morrow, which is in the state tournament and could use the tune-up in a buzzing gym. The Maroon Raiders also got to work on late-game, pressure situations as Demarest turned a 10-point fourth quarter deficit into a one-possession game in the final 10 seconds before Dwight Morrow held on for a 65-64 victory.
"I am glad we were here and I think our kids did a good job of handling the pressure," said Dwight Morrow head coach Leo Jones. "It was their Senior Day, their crowd was on their side and, with the exception of a few late turnovers, I think we did a good job of coming into a hostile environment and coming out with a victory."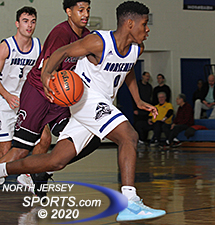 Junior Christian Larose made 6 three-pointers and scored a game-high 20 points for Demarest.
Demarest was without sophomore point guard Ryan Sabot, who is battling the flu, a bug making its way through the locker room at the moment, but junior Aidan O'Connor ran the Norsemen offense more than capably. Dwight Morrow, rarely at a loss for offense, hit the ground running as well behind the smooth shooting stroke of Andres Fulgencio, who hit two three-pointers in a first quarter that ended in a 14-14 tie.
The second quarter was a shootout as the teams combined to score 52 points, 27 of them by Dwight Morrow, which took a 27-25 lead at the intermission and then scored the first eight points of the third quarter to go up by double digits for the first time. Fulgencio hit a three, Isaiah Dolphy scored in the paint and CJ Dark completed a conventional three-point play to put the Raiders up 35-25 1:11 into the second half.
Dwight Morrow showed off its multiple scoring options and its unselfishness as five different players scored in the third quarter and four different players finished in double figures for the game, including Brandon Moore off the bench. Moore hit a three from the top of the key and Dark made a bucket to close the third quarter scoring as Dwight Morrow carried a 52-42 lead into the fourth quarter.
"It's a great problem to have, but it is a problem. We go 10 deep, honestly, and one of my problems is trying to find enough minutes for all of our guys," said Jones. "We have guys that on another team they could play a lot more minutes, but have done a good job of accepting their roles and staying together as a team."
Demarest has come together as a team, which means it no longer buckles when the pressure gets turned up. Down 54-44 after Moore made 1 of 2 free throws on consecutive trips, the second with 6:36 to play in the game, Demarest went on a went on a 10-2 run over the next 3:22 to close to within a single basket.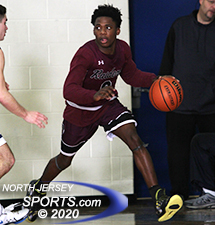 Berton Placide made a key steal, layup and three-point play down the stretch for Dwight Morrow..
Junior Christian Larose, who made six three-pointers in the game and five in the second half, made a triple with 2:53 to go to get the Norsemen back to within 56-54. Fulgencio doubled the advantage with a jumper from the foul line extended and then Berton Placide came up with a steal and a lay-up and made the accompanying free throw to make it 61-54 with 2:12 to play.
"We were trying to buckle down and get a stop. We needed a stop to get the momentum back and I got the steal and made the layup. I was just trying to help my team," said Placide. "We needed this [win]. We lost to P[aramus] C[atholic] in the Jambo, we won on Tuesday and now it is two in a row and we are going in the right direction again."
It was not until Larose's three-pointer with 11 seconds to go that Demarest was able to get back to within a single possession at 64-61. Dark made 1 of 2 at the stripe with 10 seconds left for the valuable point that turned into the winning margin when Larose hit his final trey with :02 left, but Demarest was out of timeout and Dwight Morrow did not even have to inbound the ball before the final buzzer sounded.
Larose scored 15 of his game-high 20 points in the second half while Oliff-Lieberman (17 points) and O'Connor (15 points) made it three Norsemen in double figures. John Buckley scored 4 fourth quarter points, Max Solomon scored three in the second quarter, Woods-Bannan made a first quarter basket and Jesse Greenberg made a free throw for Demarest, which fell to 11-11 on the season heading into its BIT matchup against Elmwood Park on Saturday.
After a 6-20 season a year ago, the arrow is certainly trending up for the Demarest program.
"The fact that it is starting to click now is awesome, it is just too bad that it came a little too late [for the state tournament], so The BIT is our focus right now. When we got into the thing we said we want to win it. Our goal is to win it and we are not shying away from that," said Grimes. "I have told these guys about what happens to teams that win The BIT. Look at Demarest three years ago, [St.] Joe's two years ago, Hackensack last year, they go on to take the next step."
Dwight Morrow has its postseason aspirations as well and it will kick off the state tournament with a bang. Making the step up for North 1, Group 2 to North 1, Group 3, the Raiders will play rival Teaneck in the opening round. It's Englewood vs. Teaneck, two Bergen County blue bloods in a throwback playoff game that will likely be sold out well before tip-off.
"I love that matchup. It's a rivalry, it is going to be rocking and it is going to be fun," said Jones, whose team is now 15-7. "We played them before this year and it was a packed house, sold out. We know Teaneck is going to come out and fight their tails off and we have to prepare and do the same. This is my third year and the bracket is a wide open as I have seen it. All of the teams in it are really looking forward to getting going."