Ridgewood wins its 5th straight, but had to earn it in Old Tappan by Cory Doviak of northjerseysports.com
OLD TAPPAN – One team was riding a four-game winning streak and looking to polish its resume one week out from the seeding of the Bergen County Jamboree where it will be one of the public schools with a chance to make a deep run. The other team has battled the injury bug and a brutal schedule while trying to make a case for inclusion in the Bergen Invitational Tournament where, if granted entry, it could be a tough out.
For the entire first half and well into the second, it was hard to tell which was which.
Ridgewood, the Jambo shoe-in that also looks like a real contender in what will be a wide open North 1, Group 4 state sectional tournament, trailed by point after the first quarter, by five at halftime and then led by just three at the end of the third quarter on the road against Northern Valley/Old Tappan, which has not given up on the season despite a less-than-favorable won/loss record.
"I credit Craig [Ferraro's Old Tappan] team and I told him before the game that I have watched a bunch of film on them and what you notice is that those kids play so hard. They did again today as expected," said Ridgewood head coach Mike Troy. "He gets everything out of them and we had to work our [tails] off to get out of here with a win."
It took the hot shooting of Matt Favieri early in the second half to turn the tide in Ridgewood's favor. He hit a three-pointer from the corner two minutes into the third quarter to put his team ahead for the first time since it held a 16-14 edge late in the first quarter and he hit another a minute-and-a-half later to put the Maroons in front for good.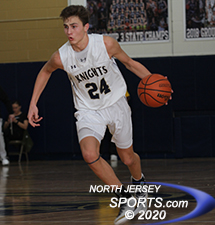 Junior Alex Passante finished with a team-high 21 points for Old Tappan.
Ridgewood used an 11-3 run to gently pull away over the final four minutes of a 73-65 victory that runs the Maroons' winning streak to five straight and their season record to 9-4.
"We needed an uplift coming out of the half. We made some shots and our energy changed pretty quickly and that led to success," said Favieri, who made three third quarter three-pointers that got Ridgewood heading in the right direction. "We switched up our defense a little bit in the second half after our coaches got on us in the locker room. It changed our mindset and we talked more on that end in the second half."
It was a shootout through the first two quarters and Old Tappan (3-10) more than held its own. Rob Trenkman made a step-back three-pointer, the second of his two first quarter triples, and scored the last of his 10 first quarter points to give the Golden Knights a 17-16 lead after the opening period. Alex Passante, a 6-foot-4 junior, got it rolling in the second quarter when he scored 9 of his team-high 21 points and his drive from the foul line with 3:18 left in the half gave the home team a 31-23 advantage.
Old Tappan led by as many 9 points in the second quarter after Jon Mangano's conventional three-point play made it 34-25 and had a 37-32 lead at the break.
"I was a little concerned that we let up 37 points in the first half. We have only been letting up 51 a game. That was alarming," said Troy. "We seemed to step slow on every rotation; we seemed to step slow on every trap so that was the talking point at halftime."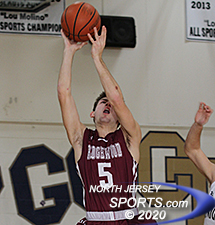 Matt Favieri scored 16 of his 17 points in the second half for Ridgewood, which improved to 9-4 on the season.
Ridgewood scored the first 8 points, the last five from Favieri, of the second half to go in front 40-37 before Old Tappan responded to go back in front for the last time. Trenkman made two free throws and Angelo Mascolo made a runner in the lane to make it 41-40, but it looked like Ridgewood had finally wrested control with a 12-2 run to make it 52-43. Old Tappan resisted, however, and clawed back to 54-51 by the end of the third on Passante's putback.
"That is the thing about our guys, they always play hard. They push hard, they work hard in practice and we are close. We are doing the right things, we are sticking to the game plans, it's just a matter of making a couple of mistakes at key times in the game that are keeping us from getting over the top," said Ferraro. "It is not from a lack of effort in any shape or form."
Ridgewood, a Jambo qualifier last season and a state sectional semifinalist, was up for the challenge. Devin Johnson and Jared Powers, two guards, each scored key fourth quarter baskets off the offensive glass and the Maroons went 9 of 10 from the free throw line as a team in the final 2:29 to keep Old Tappan at bay.
Johnson (25 points, 4 3-pointers, 7-9 FTs) led three Maroons in double figures as Favieri scored 16 of his 17 points after halftime and Powers scored 9 of his 13 in the first half. Tristan Wennersten added 7 points and 8 rebounds in an entertaining post duel against Passante, and Jon Kearney (4 points) and Nicky Crane combined for 6 points off the bench.
"We definitely needed to win this game to keep our momentum going. We started off the season with four tough early losses and we were 4-4, so we knew we had to get it together and win the rest of our games before the Jambo," said Johnson. "We have gotten better, we are playing a new defense that we have gotten used to and we are at our best when we use our defense to set up our offense."
Old Tappan, playing without injured senior Jake Picinich, also had balanced scoring behind Passante's big game. Trenkman finished with 14 and Mangano (10 points) also reached double figures. Mascolo and freshman Frank D'Ercole each added 9 points and Dylan Heaney's third quarter field goal accounted for all of the Knights' bench scoring.
Old Tappan's record reflects its league schedule where it plays Hackensack, Teaneck, Ramapo and Ridgewood twice each, but starting to get healthy and gaining experience with a relatively young squad, the Knights are hoping to continue their upward trend with an invitation to The BIT. Joe DelBuono, the BIT director, is a volunteer assistant at Ridgewood and saw Old Tappan in person, which could only have left a positive impression.
"It's a great tournament, we have been close to turning the corner and that could be a great opportunity to get some wins in a tournament atmosphere and do some good things," said Ferraro. "But we have to put together some wins to put ourselves in a better position to be included."