Gashler's big night helps Westwood hold off Dumont by Cory Doviak of northjerseysports.com
DUMONT – When Katy Gashler, who was dominant in the post for most of the game, scored inside with 2:59 left in the second quarter she gave Westwood an 18-point lead. Gashler was by then well on her way to another double-double and her team looked like it was set to cruise home for one last quality road win on the final day before the Bergen County Tournament field is selected and seeded.
When Gashler scored points number 23 and 24 of her game-high 25-point night with 1:04 left to play in the fourth quarter, the situation was quite different. Her layup came right after Dumont had two different clean looks at three-pointers on the same possession on the other end of the floor that could have tied the game.
"We got a little sloppy, maybe a little too comfortable playing with a lead. We didn't take care of the ball," said Westwood head coach Charlie Collis. "There were openings in their 1-3-1 [defense], but we stood around too much and didn't take advantage and Dumont did a good job of getting back into the game."
The first half blowout turned into a fourth quarter nail-biter, but Westwood, behind the monster night from Gashler, held on for a 52-50 victory that moves its record to 9-4 on the season.
"I think we might have relaxed and thought that we had the game in the bag instead of pressuring them more. We made it hard on ourselves in the third and fourth quarters," said Gashler, a junior left-hander and a strong finisher in the paint. "It was nerve-wracking, but I am glad that we were able to make some plays at the end to pull it off."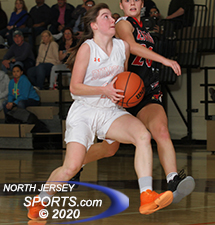 Meghan Heaney scored a team-high 18 points for Dumont, which fell to 9-3 on th season.
Gashler has been on fire of late. She has now scored 20-plus points four times in the last week and with her 25-point, 11 rebound performance on Tuesday she now has seven straight double-doubles.
Meghan Riedel's three-pointer from the top of the key gave Westwood a 14-9 lead at the end of the first quarter and that kicked off a 15-0 run that quickly turned the game from back-and-forth affair into a budding rout.
Gashler scored 10 points in the second quarter, added an assist of a nice high/low worked with Riedel, got her primary defender in foul trouble and made the bucket that gave the Cardinals their largest lead of the night at 28-10 with 2:59 left in the first half.
"We turned the ball over too much in the first half, but we were able to turn it around. We created some turnovers and that helped us get back in it," said Dave Cieplicki, who won his 500th game as Dumont's head coach earlier this season. "We have to play fast and we have to rebound. We started to do both of those things better and that helped us get back in it."
Dumont scored the final three points of the first half from the free throw line to draw within 30-17 at the intermission and resumed the chase in earnest midway through the third quarter with a 7-0 run. Meghan Heaney scored the first and last baskets of the spurt to make it a six-point game, 37-31, with 2:58 left in the period and it was still a six-point deficit, 41-35, heading into the fourth quarter.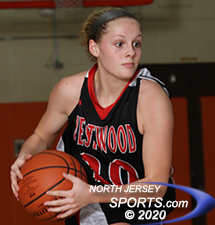 Meghan Riedel finished with 10 points for Westwood, which improved to 9-4 on the season.
Riedel made a three and Gashler hit two free throws as Westwood went up by 11 points and made one last push to pull away at the start of the final quarter, but Dumont responded once again. The Huskies, whose offense relies on ball-movement around the perimeter and making three-pointers, scored nine of the game's next 12 points to close the gap to 49-46 with 1:52 left.
Included in that run was Dumont's lone made three-pointer of the game, a banker from a tough angle made by Kaylie McQuade. Westwood burned its final two timeouts on the ensuing possession then turned the ball over to set up Dumont's last best chance, the two relatively open three-point attempts that both missed the mark.
Gashler then scored three straight points to extend the lead back to six points inside the final minute. Dumont then got a layup and a steal and was down by four with possession inside the final 30 seconds, but could not get a shot off until Naomi Lucca beat scored in the paint off an inbounds pass, but Westwood was under no obligation to even inbound the ball as the final horn sounded on the Cardinals' ninth win of the season.
Gashler and Riedel (10 points) each finished in double figures for Westwood while sophomore Cassidy Orbe scored 8 points. Kate Dobson made a first quarter three and Sam Moleti, Camilia Brown and Jojo Carrubia each made field goals for the Cardinals, who now wait to see where they fit in the Bergen County Tournament pecking order.
The top three seeds are a given with IHA, Saddle River Day, the four-time defending champion, and Ramapo all pulling away from the pack, but seeds 4-16 are really up for grabs.
"We just want to get the highest seed possible for us. We have some good wins, we have some tough losses, but a lot of teams are similar and it is going to be really tough to figure out the seeds," said Collis. "There are a lot of teams that can beat each other on any given night."
Dumont, which does not have a senior in its starting lineup, was led by Heaney's 18 points, many of them on slashing drives to the basket and leak outs on the fastbreak. Brianna Perez scored 8 of her nine points in the third quarter as the Huskies mounted their charge. Lucca (8 points) and McQuade combined for 15 points of the bench, Julia Angles, who battled early foul trouble, added 6 points and Colleen Heaney made a first quarter field goal.
Dumont fell to 9-3 on the season but is probably not going to play in the county tournament, opting instead for the Girls Bergen Invitational Tournament, which is gaining steam in its second year of existence.
Instead of facing an uphill climb as a decided underdog in the county tournament proper, the Huskies are the kind of team that could make a serious run in the secondary tournament sponsored by the BCWCA.
"The thinking behind it is if we lose in the first round of the county tournament, it's over. We are done. One game and no power points," said Cieplicki. "If we go into The BIT and play well we could get more games under our belt, gain some more experience with a young team and have a chance to pick up some power points against quality teams."