River Dell wins the first leg of what will be a tight league race by Cory Doviak of northjerseysports.com
OAKLAND – Before the calendar turned, River Dell and Indian Hills had a chance to ease into the season. There were crossover games to start and then some Holiday Tournament action where both got a couple wins to get things moving in the right direction. But now that it is officially 2020, it is game on for a league title race that is going to have numerous suitors.
The Golden Hawks and Indian Hills, which has never won a league title in the history of its girls basketball program, will be in the mix along with the likes of Pascack Valley, Tenafly and Northern Valley/Demarest, which will be dangerous later in the season as it gets healthy.
The result of every league game will have consequences and River Dell made the trip to Oakland on Friday night to jump right into the fray.
"I told our team prior to the game tonight that to be successful in this league we are going to have to protect our home court and we have to steal games on the road when we have the chance," said River Dell head coach Lindsay Steffner. "If we can do that we are going to put ourselves in really good contention in this league. There is a lot of good competition in this league and we needed to get off to a good start."
Actually it was a good finish to the third quarter that made the difference in River Dell's favor. Senior Gabby Grupenhof scored six points, including a buzzer-beating layup, in an 11-2 run to close the third period that broke the game open. River Dell went from up by just a single point with 2:43 left in the stanza to a double digit lead entering the fourth quarter then closed out a 48-34 victory in front of a loud audience at Indian Hills High School.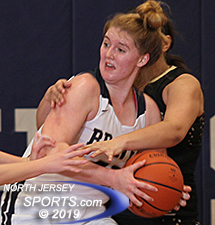 Callie O'Neal, who was the focus of the River Dell defense, scored a game-high 13 points for Indian Hills.
"It was a close game the whole time and I think that part [of the third quarter] really made the difference," said Grupenhof, who scored 6 of her team-high 11 points in the span of 1:24. "It was right then that we really started to click as a team and it all came together."
Before that decisive spurt, it looked like it was going to be a possession by possession game right down to the wire. Indian Hills got off to a good start with leads of 2-0 and 5-2 while River Dell got into early foul trouble. Sophomore guard Kayla DePol picked up two personal fouls inside the first 2:30 of the game, but River Dell barely skipped a beat.
DePol was replaced by Brianna Fernandez, a post player who gave the Hawks an advantage inside. Fernandez got to the free throw line twice in the first quarter and her compatriot in the post, senior Isabella Simon, converted a conventional three-point play to tie the game for the first time with 3:02 left in the opening quarter. And although the game remained tight for the better part of the next two quarters, River Dell never trailed again.
The Hawks led 14-10 after the first quarter and 24-20 at the half before senior forward Calli O'Neal got Indian Hills even for the final time at 26-all with 5:22 left in the third quarter. Indian Hills could have tied the game again at 28, but made just one of two free throws to leave it a point short before Caitlin Nader made the second of her two three-pointers, the one that kicked off the game-deciding spurt that ended with Grupenhof's last second layup that gave River Dell its first double-digit lead, 39-29, heading into the final quarter.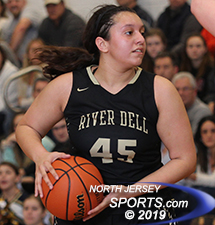 Senior Brianna Fernandez scored 8 points off the bench for River Dell.
"I think our girls fed off the energy in the gym, it was loud, but we were not listening to each other and they were not communicating as well as we should have," said Indian Hills head coach Julie Haledjian, whose team fell to 3-3 on the season. "River Dell is a tough team and a game like this is going to get us mentally tougher for all that lies ahead. This is a tough league, teams are going to knock each other off and we will see River Dell again and hopefully we show the improvement I think we are capable of."
Indian Hills snuck back to with seven points, 41-34, on Rachel Logatto's three-pointer with 4:23 to go in the game, but, starting with sophomore Sarah Vanderbeck's fastbreak layup, River Dell scored the final seven points of the game to pull away for its fourth victory in six games this season.
The Hawks have a nice mix of youth and experience and have a deep rotation, even though it was shortened by one when standout sophomore Sophia Fernino tore a knee ligament last week. Only Grupenhof scored in double figures on Friday, but six other players made at least one field goal.
Simon scored all 9 of her points in the first half and Fernandez (8 points) combined with Nader (6 points) to give the Hawks a needed contribution from the bench. Vanderbeck added 8 points, DePol, who was limited by foul trouble all night, made two field goals in the third quarter and Logan Grebla had the other two points for RD.
"It was our first league game and you could tell there was a different energy. It was loud in here and that forced us to communicate better on the court," said Fernandez, one of six seniors on the River Dell roster. "We have been playing together for a long time, since we were in third grade and we are really excited for our last year. We want to win this league title."
So does Indian Hills, which got a game-high 13 points from O'Neal, 7 from Megan Sears, who made half of the Braves' four three-pointers, and 6 from Logatto, the senior point guard. Kristina Rainey and Lizzie Russo finished with 3 points apiece and Madison Cipriani made two free throws to round out the scoring for Indian Hills.
"I just told the girls in the locker room that they could dwell on this game for a couple of minutes and then it is time to move on," said Haledjian. "We play [on Saturday] at the Cresskill Benefit Games against Passaic Valley, so we just have to move on with the season and continue to work hard and improve."