Ramsey win highlights a full day of hoops at the Brian Long Classic by Cory Doviak of northjerseysports.com
RIDGEFIELD PARK – The schedule for the first three weeks of Ramsey's 2019-20 boys basketball season was put together with the big picture in mind. Sure, the Rams would have liked to have piled up a bunch of wins and built gaudy record that would move them up everybody's rankings, but they were not going to sacrifice quality to do it.
Ramsey opened with consecutive road games against two talent-rich non-publics in DePaul and St. Joseph Regional. Then they played on the road at Ramapo, which went to the Group 3 state final last season, and then played Hackensack and Dwight-Morrow in the Jingle Bells Jubilee. Throw in a home game against Rutgers Prep and Ramsey was one game under .500, but also already battle tested by the first week of the New Year.
"We have big goals. This is the year. The schedule that we played to start the year was a big schedule. Big schools, good teams and that is what we wanted to do. Games like that certainly can help us a lot," said Ramsey head coach Kevin McGuire, whose program was a combined 48-11 over the last two seasons and won a state sectional title in 2018. "All the goals that we have set out for ourselves at the end of last year and coming into this year are all still out there for us. We need to continue to improve, but I do think the sky could be the limit, sure."
The Rams have the pieces and the biggest of them is 6-foot-9 senior Sean Hansen, the Cornell University commit, who put in a show on Saturday against Fair Lawn in the marquee matchup at The Brian Long Classic, a six-game benefit showcase hosted by Ridgefield Park and its head boys basketball coach Chris Gaskin. Brian Long was a New Milford police officer and Gaskin's best friend from childhood who passed away from a rare form of kidney cancer in 2016.
The full day of hoops is a celebration of Long's life and Ramsey did its part with its 69-56 win over Fair Lawn, an under-manned but game opponent. Hansen went off for 24 points in the first half, finished with 38 and also blocked five shots as Ramsey won its third straight game to put some distance between itself and the .500 mark at 6-4 on the season.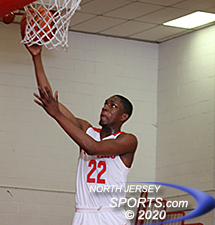 Senior Babatunde Amosu, who made a spot start, was named Fair Lawn's MVP.
"I heard that Fair Lawn found out it was going to be missing two starters just before the game started and I am sure that was tough for them, but they came out and played us hard anyway," said Hansen, who has expanded his range out past the three-point line in addition to having a trough full of moves around the basket. "We had to focus and we had to match their intensity today."
Fair Lawn, especially when it plays Ramsey, just can't catch a friggin' break. Last year, about an hour before tip-off in the Bergen County Jamboree's Round of 16, the Cutters found out that they would be without then junior Or Sundjevsky, who tweaked an ankle in the previous day's practice. It was not too long before the ball was tossed up on Saturday that Fair Lawn found it that it would be without two starters, John Burek (food poisoning) and Mike Naples (flu like symptoms).
Add in the fact that senior Darius Sohokish, who is nearing a return from a torn meniscus, has yet to play this season and it was a makeshift lineup that Kyle Sabella ran out there against one of North Jersey's top public school teams, which Fair Lawn (6-2) also is when fully healthy.
"Obviously we are a little depleted, but this was an opportunity for some other guys to step up and there were some that really did," said Sabella, the Fair Lawn head coach. "Even at full strength Ramsey is tough to defend. If you take one thing away they do another. It's tough and it is hard to find answers against Hansen inside, but we battled all game long and I am proud of my boys,"
There were three ties through the first five minutes of the game before Fair Lawn forged in front. Babatunde Amosu, an athletic senior post player and one of those Cutters that took advantage of the extended minutes, scored on the fastbreak and Jayden Moran, whose minutes also increased by multiples, knocked in one of his two first-half three-pointers to put Fair Lawn up 12-7 and it held a 16-13 lead after the opening period.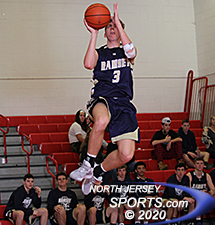 Jack Farrow (11 points) was one of four Ramsey players to finish in double figures.
"Credit to Fair Lawn. It is tough when you walk into the gym without a player or two and have to regroup on the spot. Frankly, they out-scrapped us, they out-hustled us, they out-loose-balled us for the entire game regardless of how much I talked to my guys about it," said McGuire. "They really did a great job and, thank goodness, we were able to get ahead and hold on."
Ramsey got ahead by running off the first 13 points of the second quarter to go from in trouble to up double digits in the span of 3:26. Hansen was just too much to handle as he dropped in 15 points in the second quarter in a variety of ways. He hit a three, got on the offensive glass, ran the floor and scored in the post in the half court to lift Ramsey to a 37-28 lead at the break.
Fair Lawn got as close as four points, 39-35, after two Amosu free throws 1:16 into the second half, but Jaden Quinerly's triple from the wing kicked off a 9-3 Ramsey run that stretched things out again. The Rams led 52-41 after three quarters and did not let Fair Lawn back to within single digits until there was less than one minute to play in the game.
Amosu, who finished with 11 points, 6 rebounds and 3 blocked shots (and two goaltends) in a spot start opposite one of the state's top post players and was named Fair Lawn's MVP for the game. Sundjevsky, made three three-pointers on the way to his team-high 19 points. Jamin Reyes scored all 9 of his points in the second half, Gabe O'Farrill had a three-pointer among his 7 points, Moran (6 points) made two shots from behind the arc and Julian Reyes had the other four points for the Cutters.
Hansen, an obvious choice for his team's MVP honors, was not a one-man show by any means. Ramsey had three other players finish in double figures. Quinerly and Jack Farrow chipped in with 11 points apiece and Grant Holbrook scored 10 off the bench. Steven Turk had the other field goal for the Rams, who just might be hitting their stride in a season in which they have the highest of expectations.
"We want to go far in the Jamboree, win a state sectional [title], win Group 2 and make it to the T[ournament] o[f] C[hampions]," said Hansen. "Those are the goals we have set for ourselves and we are going to work hard to reach them."