Dumont's Cieplicki notches 500th win by Rich Barton of northjerseysports.com
TENAFLY – Building a successful high school girls' basketball program comes with time, patience and effort. There are have been plenty of ups and down over the years for longtime Dumont head coach Dave Cieplicki. But no matter what the obstacle, he always found solace in the being on the sidelines for the Lady Huskies. His love of the game and his desire to mold players' lives in a positive way has made him a staple in both the town of Dumont and in Bergen County as a whole. As he looked out in the crowd as the final seconds ticked down on a milestone win it set in just how lucky he has been.
With family, friends, tons of players and parents in attendance Dumont grinded out a 47-37 victory over Paramus to not only stay undefeated on the season but earn Cieplicki his 500th career victory on Monday at Tenafly High School.
"I've been blessed to be in Dumont for 37 years," said Cieplicki. "I don't know if I'm a dinosaur but there aren't many of us coaches left. We've always been competitive over the years. Even though we're young this year we still feel we'll be competitive and we're happy to be undefeated so far."
There was a buzz in the gymnasium before the game even started. Paramus was not just there to be a doormat though and put a scare into the Lady Huskies early on. Paramus held them without a field goal in the first quarter and freshman Camryn Clark's three-pointer from the corner gave the Spartans a 7-4 lead after one quarter.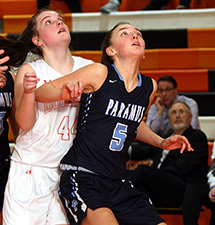 Camryn Clark led Paramus with 14 points.
Struggling to find an offensive flow the Huskies used their defense to create turnovers and kickstart their offense. Meghan Heaney and Brianna Perez accounted for 14 of the Dumont's 16 points in the second quarter as the home team seized a 19-15 lead by halftime.
Heaney, a sophomore guard, kept her hot hand going in the third quarter. She hit four of her five shots in the eight-minute stretch, including a three-pointer and a conventional three-point play to help the Huskies push the lead up to nine early in the fourth quarter.
The Spartans refused to back down with another corner three from Clark and a basket inside by fellow freshman Vanessa Scrivanich cutting the lead to four with just over a minute to play. Despite the Huskies' youth (not one senior in the starting lineup) they showed the poise that Cieplicki has preached to them all season to have under pressure situations. They knocked down six of eight free-throws in the final minute to touch off a celebration 37 years in the making.
"Paramus wouldn't go away and they kept battling, thank god we pulled it together at the foul line," said Cieplicki. "If you told us we were going to be in the 40s I'd tell you that we're in trouble. It kind of surprised me today but sometimes you have to win these ugly games to get to where you want to be."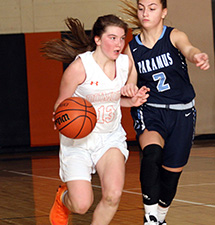 Meghan Heaney had a career-high 25 points for Dumont.
Heaney finished a career-high 25 points for Dumont (6-0). Perez also reached double-figures with 11 points.
Clark led the way with 14 points for Paramus (3-3).
As Cieplicki reflected on the road he's taken, the teams he has coached and the lives he has touched along the way, he was nothing but gracious and fully aware of how rare this accomplishment is and how fortunate he is to have such a supportive community surrounding him.
"I'm not one to complain. I'm fortunate to have Dumont as the only place I've ever coached," said Cieplicki. "At Dumont, we just do what we do. The players buy in; they do everything I ask them to do and more. The parents have also been wonderful. They understand the process of what's going on here.
"Today wasn't our best game and we'll have to play better if we want to do anything in Bergen County. We just try to play hard and have some fun, we always have here. As long as we keep doing that I'll be here and we'll see how far we can go."