In a wide open public school field, Ramapo takes a step forward by Cory Doviak of northjerseysports.com
DEMAREST – What has become clear in the less than one week since the high school basketball season started in North Jersey is that there is no clear pecking order at least among public school teams. Seems like every team is trying to figure out where it fits in.
Take a team like Ramapo, which lost four starters from last season's team that made program history when it won a state sectional title, reach the Group 3 state final and made the Bergen County Jamboree Final 4. The Raiders have one established player in senior Max Pernetti, some rotational pieces back and a junior class that were Bergen County Freshman Tournament champions in 2018.
It would have been impossible to handicap Ramapo's chances before the season's first tip with so many varsity minutes to be absorbed, but three games into the new season it has become apparent that the Raiders again have the chance to be among North Jersey's top public school teams once again.
Monday night's 65-50 win on the road at Northern Valley/Demarest ran Ramapo's record to 2-1 on the season with the only setback coming against Non-Public Paramus Catholic in a weekend showcase game.
"We are a work in progress. We are all learning, we have a lot of new faces and we are still trying to figure out who can do what," said Ramapo head coach Joe Sandberg. "It's early in the season and there is a lot we still have to figure out, but I have been happy with our effort so far."
While the players around him play themselves into defined roles, the Raiders have and will continue to lean heavily on Pernetti, a Gettysburg College commit with an old school midrange game. Pernetti goes hard to the basket from the foul line area and the baseline and consistently makes short to medium distance jumpers that were a staple of the sport until the three-point lane pulled play further away from the basket.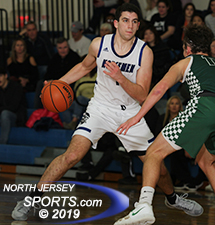 Senior Isaac Oliff-Lieberman scored 17 of Demarest's first 18 points and finished with a team-high 24.
Pernetti scored the first four points of the game to give Ramapo the lead for good and finished with a game-high 32 points often going shot for shot with Demarest senior Isaac Oliff-Lieberman, who kept his team within shouting distance for most of the night.
"It was a big adjustment coming back this season because some of the juniors that are playing bigger roles this year were sophomores on the bench that came in for a couple of minutes a game last year," said Pernetti. "But everyone is kind of coming into their own now and a game like tonight is the kind of game that we can have every night because we all played our own roles and we played as a team. If we can keep playing well together as we jell into one unit, then we are going to be tough to beat."
Ramapo (2-1) led 11-5 after the first quarter and Pernetti scored seven points in the first 2:43 of the second quarter to put the Raiders ahead by double digits for the first time at 18-7, but Oliff-Lieberman got hot shortly thereafter and kept the Norsemen in it. He scored five straight points to make it a six point game before Ramapo's Sean Clapp answered with four straight of his own.
When Oliff-Lieberman made two free throws with 1:39 left in the first half to draw Demarest back to within 24-18, he had scored 17 of that 18 point total. The only other Norseman to make a first half field goal was Christian LaRose who stole a rebound and scored to get the home team within 24-20 at the intermission and Aidan O'Connor scored the first bucket of the second half to get Demarest to within two points.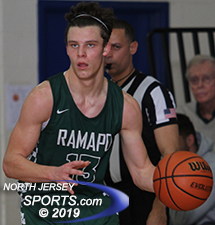 Sean Clapp scored six points and played lock-down defense in the second half for Ramapo.
Ramapo needed to tighten things up on the defensive end and much of that responsibility fell to Clapp, who drew the assignment of playing Oliff-Lieberman straight up for the final two quarters. Oliff-Lieberman scored seven second half points and finished with a team-high 24, but he had to work for all of them against Clapp, an outstanding all-around athlete who was a first team All-County tight end on the Raiders' undefeated football team.
"The kid [Oliff-Lieberman] is a heckuva player and it was my job to guard him, but really we played good team 'D' and did what we had to do to slow him down," said Clapp, a junior. "This is a new experience for all of us. We have a lot to learn, there is a lot of stuff that we have to work on, but we are coming together. We are going to take it practice by practice and game by game until we figure it out."
After Demarest closed to with two points early in the third period, Ramapo reeled off a 12-0 run to reestablish control. O'Connor made a three to end that run to free throws to end the third quarter with Demarest still hanging around down by just six, 39-33.
It was not until Pernetti went on a personal 8-1 run to start the fourth quarter that Ramapo was able to pull away for good and they salted the game from the free throw line from where they shot lights out. The Raiders were 19 of 21 as a team in the game. Pernetti went 7-for-8 from the line on the night and 6-for-6 in the fourth quarter. Senior point guard Chris Valvano (7 points) was 4 of 4 from the line in the fourth quarter and made one of the Raiders' three three-pointers while Pernetti canned the other two.
Sandberg's personnel may have changed, but his penchant for playing just about everyone that suits up at least a minute or two. Ramapo used 13 players in the first half and nine different players scored at least one point. Clapp and 6-foot-6 junior Brady Cole, scored 6 points apiece, Nick DeSilva, Cam Carroll, Jack Levy and Ryan Gordon each scored a couple of points and junior Collin McKenna had the other point for the Raiders, who will get another barometer of where they stand in their next game, which will be in Holiday Tournament play against Ramsey, which has a host of talented players returning from its North 1, Group 2 state sectional championship team from last year.
Oliff-Lieberman's 24 points led Demarest and O'Connor, a junior, scored all 14 of his points after halftime. LaRose finished with 5 points and John Buckley and Jesse Greenberg split the other two points for Demarest, which was without sophomore point guard Ryan Sabot (broken nose) and with limited minutes for Max Solomon, who was limited in his return from a bout with the flu.
Demarest (0-2) has shown potential, but knows it has to turn that potential into wins pretty soon before it gets to be too late.
"We are absolutely trying to figure things out. I started two sophomores [Greenberg and Sean Vadis] tonight, we were without our point guard and Max Solomon could only go some spell minutes tonight, but there are no excuses." said Demarest head coach Kevin Grimes, whose team will next play Bergenfield in the Jack Reilly Holiday Tournament in Fort Lee. "There is something special in that locker room and I am happy with the effort tonight, the effort was there, but we could have been in that game tonight and we could have won it. Bergenfield is good, I watched them yesterday, but that game turns into a must win, an absolute must win if we want to throw our name in the ring come Jambo time."