Whirlwind 15 hours ends in victory for Ridgefield Park by Cory Doviak of northjerseysports.com
PALISADES PARK – It was a whirlwind 15 hours for the Ridgefield Park boys basketball team. In the season opener on Friday night the Scarlets hung close for a half against Paramus Catholic before succumbing to a second half shooting clinic, then got right back at it in a noontime tip off for their road opener on Saturday. In the span of about 15 hours, Ridgefield Park went from 0-0 to 0-1 to 1-1 after it built a big early lead and coasted to a 65-50 victory in a non-conference affair at Palisades Park High School in the second game of the back to back.
"We have a locker room full of high character kids and we wanted to test as much as we possibly could. No matter what happened last night [against Paramus Catholic], whether we won or if we lost, I did not want them to get too high or too low," said Ridgefield Park head coach Chris Gaskin. "Nobody really wanted to play one game and then be off until next Friday in a Christmas Tournament. [Pal Park] Coach [John] Wiseman agreed and I was all about it because we are pretty optimistic that we have a chance to have a pretty good season."
Ridgefield Park showed no ill effects from the Friday night loss as they shot the lights out in the first quarter. After Justin Rodriguez hit two three-pointers in the first 1:11 of the game to stake Pal Park to a 6-3 lead, RP zoomed right by with a 22-0 run over the next 5:41 to grab the game by the neck. Romel Camilo's bucket off an assist by Isaiah Menendez tied the game at 6, Jenci Reyes' free throw gave the Scarlets the lead for good 2:34 into the game AJ Huddleston's putback basket with 1:08 left in the opening quarter put Ridgefield Park up by 19 points.
Joshua Yang's three-pointer from the top of the key finally stopped the RP run, but Pal Park was down 25-9 after the opening quarter.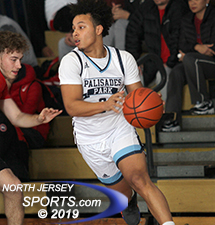 Pal Park senior Justin Rodriguez finished with a game-high 26 points.
"It was a rough start for us. We let up 25 points in the first quarter, but we kept playing. Our problems right now are our size and maybe my pregame pep talks. We have come out slow in the both of the game we have played so far," said Wiseman, whose team lost to Bogota on the road in its season opener. "We haven't come out strong, that is something we have to work on. We actually beat them by 1 after the first quarter, but you can't give up 25 first quarter points to a good team and expect to come all the way back."
Pal Park constructed its schedule with a different roster make-up in mind. Rodriguez, a varsity starter as a freshman and a sophomore before transferring out for his junior season, was set to return this year to play alongside Derrick Bueno, a first team all-league interior presence last season as a sophomore. Bueno, however, defected to Paramus Catholic for his junior season, leaving the Tigers undersized and searching for offensive alternatives.
Joshua Yang's two three-pointers, another from Caleb Yang and a single free throw made by Harry Kim were the only first half Pal Park points not scored by Rodriguez as the Tigers trailed 36-19 after the break, but they shot significantly better in the second half and kept the score from getting out of hand.
Meanwhile, Ridgefield Park stayed away from the kind of scoring droughts that might have offered Pal Park a route back into the game. The Scarlets were piloted by Huddleston, the junior point guard who finished with 10 points and six assists and made a lot of proper decisions in terms up pushing the ball or getting his team into offensive sets.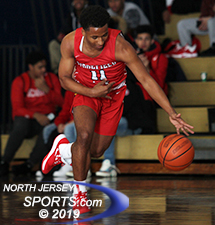 Jenci Reyes finished with 12 points, one of three Ridgefield Park starters to finish in double figures.
"We didn't get discouraged after the loss last night. We just came out and played hard. We needed to get the 'W' here today," said Huddleston. "We have the goals of making a state [tournament] run and making the [Bergen County] Jamboree because we didn't make it last year. We want to work hard, get better every day and get on a good run here."
Pal Park (0-2) made nine three-pointers in the game, four by Rodriguez, who scored 26 of the Tigers' 50 points, three by Josh Yang (9 points) and one apiece by Caleb Yang (7 points) and Min Jang (3 points) and edged Ridgefield Park 31-29 in second half scoring. Harry Kim (3 points) and Jonathan MacLean combined for the other five points for the Tigers, who scheduled up assuming that they would have Bueno, but are not going to back down now that they don't.
"Games like this are going to make us better. When we get into our league play after the New Year, hopefully we have learned something from a game like this and we can improve. We have to stay positive and we can't get down on ourselves," said Wiseman. "Last year we started off 0-8 and then we went .500 for the rest of the year. We know we are going to get better, we just have to find a way to get there quicker."
Menendez led the Scarlets with 22 points and Reyes (12 points) and Huddleston also finished in double figures. Ridgefield Park (1-1) has reason for optimism. The Scarlets have some quality players returning and have absorbed a couple of members of last year's freshman team that won the Junior Jambo, the Bergen County Freshman Tournament. Romel Camilo (8 points) and Jose Muniz combined for 14 points against Pal Park. Logan Martinez (3 points) and Ralph Marinas and Abdul Warrad, who each scored a pair of points, rounded out the scoring for Ridgefield Park, who will next play in the Jimmy Callan Holiday Tournament that it hosts.
"It feels good to get our first win. We did a good job of getting open looks against their press, we worked hard on defense and paid off with our first 'W'," said Menendez. "We have high expectations. We have a lot of returning talent, we have a lot of young talent and we feel like the sky is the limit for us."