Fair Lawn wins an opening night humdinger at Highlands by Cory Doviak of northjerseysports.com
ALLENDALE – With four three-year starters due back from a team that reached a state sectional final last season Fair Lawn carried high expectations and a beefed up schedule into the 2019-20 boys basketball season. But all of the lineup stability and positive momentum that were supposed to have carried over did not even make it to the opening tip off of this season.
Preseason knee surgery that is going to keep standout guard Darius Sohikish out well into January injected a bit of uncertainty into the Cutters plans and Northern Highlands took no pity as it opened a 16-point lead not even six minutes into the newly minted season.
"It is a transition for me as a coach and it is a transition for them as players. Without Darius everyone has to figure out their new roles," said Fair Lawn head coach Kyle Sabella. "It was a combination of a lot of things. It was our first game of the season, our first game without Darius and there were some jitters. Credit to Northern Highlands, they knocked down some shots, but we never panicked. Even during the huddles there was no panic because we know what we are capable of."
Fair Lawn was capable of hanging in there after the rough start. The Cutters got back to within four points at halftime, took the lead for the first time midway through the third quarter and then survived the final possession. John Burek blocked Northern Highlands' final three-point attempt from the corner as the buzzer sounded on Fair Lawn's 57-56 victory on Thursday night in Allendale in the season opener for both teams.
"I saw [Northern Highlands' Billy Klarmann] coming down and I thought about stepping in for the charge, but when he came to a jump stop I knew he was kicking it out," said Burek, a senior and one of Fair Lawn's remaining three three-year starters. "As soon as I saw that ran to the corner and jumped, but made sure I did not jump into the shooter. I tipped it and then I heard the buzzer."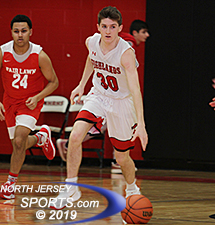 Billy Klarmann made three first quarter 3-pointers to get Highlands off to a fast start.
Northern Highlands signaled its intentions from the get-go when Eric Belardinelli hit a three-pointer from the corner just 33 seconds into the game and the Highlanders went on to score 7 of the first 8 points of the game, 16 of its first 19 and Klarmann knocked down a three from the corner with 2:04 left in the opening quarter, the home team had built a 21-5 advantage.
"Our defense at the beginning was a little awkward. We have two new players in the starting five, this was the first game and we had to figure some things out," said Or Sundjyvsky, another senior and three-year starter. "We had to restart. We fell behind, but we knew we could come back. If we missed a shot it was OK, we had to keep our confidence and keep our heads in the game."
Fair Lawn trailed 24-12 after one quarter and 30-16 after a Klarmann free throw with 5:38 left in the first half before its comeback began in earnest. Senior Jamin Reyes scored six points in just over a minute to get the Cutters' offense on track and they closed the first half on a 16-6 run to get back within 36-32 at the break.
"We knew we were going to get back in the game. I wanted it under 10 by halftime, it turned out to be four and then the second was a back-and-forth battle," said Sabella. "Or [Sundjyvsky] has the kind of ability to win a game for you and him and John Burek carried us in the second half and Jamin Reyes was phenomenal all game long."
Sundjyvsky got it rolling right out of the locker room as he scored 10 of his game-high 19 points in the first 3:14 of the second half. His three-pointer from the top of the key tied the game for the first time at 40-40, Burek's three from nearly the same spot with 4:56 left in the third quarter gave Fair Lawn the lead for the first time at 43-40. A three by Gabe O'Farrill and Burek's fastbreak bucket with 1:08 left in the third quarter gave the Cutters their largest lead of the game, 52-44, before Anthony Belardinelli's trey got Highlands back to with five points heading into the fourth quarter.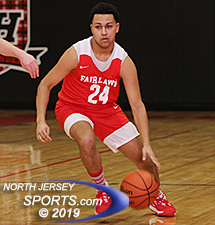 Jamin Reyes was one of three Fair Lawn scorers to finish in double figures.
The Highlanders held Fair Lawn to just five fourth quarter points which allowed them multiple chances to sneak out a win. Highlands was on the wrong side of a block/charge call as it trailed 55-54 with 1:11 left in the game and had three shots at the basket on its next possession, but missed all three still only trailing by a point. Reyes then turned a long rebound into an assist to Burek on a run-out to put Fair Lawn up 57-54 with 25 seconds left. Anthony Belardinelli made both ends of a pressure-packed one-and-one with 12 seconds to go and Fair Lawn missed the front end with 8 seconds left to give the Highlanders the last possession and a chance to win it.
Burek turned away Highlands' last chance, however, and the Cutters escaped with a quality road win to start the season.
"Northern Highlands is very physical and fast and they played hard and I knew this was going to be a hard test for us," said Sabella, whose plays Secaucus on Sunday, then heads to Wildwood for a Holiday Tournament before opening its home slate against defending Bergen County champion Bergen Catholic. "This was only game one, but based on what is coming ahead, this was a must win for us. We had to have it."
Sundjyvsky, Burek and Reyes, who have all been in the starting lineup since they were sophomores, combined to score 44 of Fair Lawn's 57 points. Mike Naples (7 points) and Julian Reyes (5 points) scored all of their points in the first half to help keep the Cutters close and Gabe O'Farrill chipped in with 5 key points off the bench, including a third quarter 3-pointer.
Fair Lawn is hoping it can pile up some wins, keep itself in a position to qualify for the Bergen County Jamboree and a high seed in the state tournament while it waits for Sohikish to get healthy, and then hit the gas pedal when it returns to full strength.
"We can get Darius' production from anybody else. He is a one-of-a-kind player, we miss him and we hope he gets back as soon as possible," said Burek. "We don't want to push him because we all want to see him go on and play at the next level, but when he gets back it is going to help us out for sure."
Highlands put three players in double figures. Eric Belardinelli led the way with 16, Klarmann scored 12 of his 14 points in the first half including three first quarter three-pointers, and Anthony Belardinelli added 10. Jack Lish scored 7 off the bench for Northern Highlands (0-1) while Matt Hamrah (5 points) and Luke Barthel (4 points) round out the scoring.