Ramapo lives up to its own lofty expectations by Cory Doviak of northjerseysports.com
EAST RUTHERFORD – There is overwhelming community support, a school administration that provides stability, continuity in the coaching staff and players past, present and future that all cherish there turns to take part in the tradition. Ramapo High School's football program is in pristine condition and nowhere is it more evident than on the football field itself.
The Green Raiders were the first team to go 13-0 in a New Jersey High School football season when it won the first-ever North Regional Crossover game played at MetLife Stadium. On Friday night Ramapo became the first team to ever go 13-0 in consecutive New Jersey high school football seasons when it won the Group 3 North Regional crossover game at the same venue in East Rutherford.
With its 38-21 victory over Parsippany Hills, Ramapo made it 26 wins in its last 26 games.
"The consistency in our coaching staff has been a blessing. We have had such great role models come through the program and our kids follow suit each and every year. They know what is expected, we set the goal for them real high and I am so proud of the way they step up to meet the challenge," said Ramapo head coach Drew Gibbs, who has won seven state sectional championships in his 19-year  tenure and now two of these of crossover games. "The tradition…we have been fortunate that our alumni come back every year and they talk to the kids. They interact with our players and the young guys just buy in. We try to coach every kid in the program so that the next group is ready to step right in and do what is expected."
To get it done this time around, Ramapo was up against a worthy opponent in Parsippany Hills, which won on the road in the state sectional semifinals before topping a strong West Essex team in last weekend's North 2, Group 3 final. The Raiders, with their superior postseason experience, never really let Parsippany Hills get a toe-hold in the game.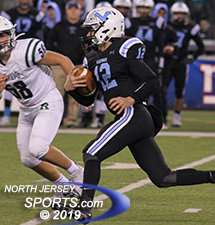 Senior quarterback JD Breslauer threw two TD passes for Parsippany Hills, which finished its season with a 10-3 record.
Ramapo did not throw a pass on the game's opening drive, which started with Jake Tirone's kick return to the opposing 45 yard line and finished with a four-yard score by Tirone, the first of his three touchdowns in the game. Aidan Labell made the extra point to give the Raiders a 7-0 lead just 2:19 into the game.
Par Hills did get even on its first possession when EJ Comerford pulled in a JD Breslauer pass that was tipped in the secondary and took it in from 24 yards away, but Ramapo answered with a 26-yard Labell field goal before a fateful series of events that gave the Raiders control of the game.
Parsippany Hills, trailing 10-7, was faced with a fourth-and-1 from the Ramapo 48. The Vikings' coaching staff wasted no time in opting to punt, a reasonable decision, but it also could have chosen to try to pull the Raiders off-side with a hard count and taken a delay of game penalty that would not have affected field position too drastically.
Instead, Breslauer quickly dropped back to punt, Tirone executed a fair catch at his own 21 yard line and on the first play from scrimmage, junior quarterback Charles DePrima rounded the right end and won the sprint to the goal line for a 79-yard score that gave the Raiders the 17-7 lead that they took into halftime.
When DePrima broke into the clear somewhere near midfield two of his lineman, Luke Pensallorto and Miles Shifar that were trailing the play, put their arms up in celebration as they knew no one was catching their quarterback from behind.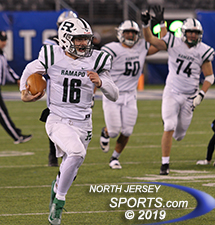 Junior QB Charles DePrima had two long TD runs for Ramapo, which has now won 26 straight games.
"We came into tonight knowing what we had to do: stay focused, execute, make big plays when we needed to come away with the win," said DePrima, who took over for AJ Wingfield, northjerseysports.com's 2018 Offensive Player of the Year and kept the offense humming all season to the tune of 37.4 points per game. "I have to give credit to the offensive line and the guys around me. They had an amazing season and we worked together all offseason to make sure that we were to come out here in a game like this and execute."
Gibbs was also quick to point out the contribution made by his offensive front, all members of the Class of 2020.
"Our five senior offensive linemen really stepped up this season and had a tremendous year. Miles Shifar at right tackle, a two-year starter there, Sam Basa is the right guard and a two-year starter, Josh D'Avanzo at center, Luke Pensallorto at left guard and Bobby Styles at left tackle. Those five guys," said Gibbs. "We have had our success in huge part because of them. DePrima's rushing and throwing and Tirone's rushing, it all starts with those five big guys of front and my O-Line coach Nick Guttuso does a great job getting those guys ready to go."
Parsippany Hills kept it close as it took the first possession of the second half in from a scored on a 5-yard hook-up between Breslauer and Comerford that made it a 17-14 game after Roger Rubinetti's extra point kick just 1:04 into the second half.
Ramapo answered courtesy of a first down conversion on a DePrima to Sean Clapp strike in a 3rd-and-14 situation before Tirone dove over from four yards out to push the Raiders' lead back to double digits at 24-14. Tirone added another four-yard score to make it 31-14 before Dennis Wilson scored on a 28-yard catch and run for Par Hills' final score. That came on the final play of the third quarter and had the Vikings to with 31-21, but Chris Valvano had a fourth quarter interception at the goal line and DePrima scored on a 49-yard run with 2:10 to play to kick off the celebration that comes with a second straight 13-0 season.
"Parsippany [Hills], credit to them. They stayed close, but this was nothing new for us. This team is battle tested and no matter if we are up or down we do what it takes," said Tirone. "It's a great group of guys with great leaders. We have great chemistry and I am so proud to be a part of it."