Demarest wins Group 2 state title by J.C. Baumuller special to northjerseysports.com
WAYNE — Demarest won its 10th state title with a straight sets victory over Rutherford, 25-15, 25-23 on Saturday afternoon in the Group 2 final played at William Paterson University. This marks the second year in a row that the Norsewomen defeated the Lady Bulldogs for the title.
Winning this state title was somewhat unexpected, however, since a lot of players from last year's team graduated and most of this year's team is comprised of underclassmen. As a result the team got off to a slow start.
"It was very hard getting people to understand our goals and our values," said senior libero Madison DeMartini. "But these girls put in the work. We were a young team and were so doubted by everyone. They used that as motivation rather than as an excuse."
"I don't believe in rebuilding," added Demarest coach Beth Powell, "because you're just telling your seniors they don't matter and it also gives your team an excuse. I always figure we can find a way to win."
Demarest actually began its run to the state title after a surprising loss in the Round of 16 of the Bergen County Tournament Oct. 19.
"It was after our loss to Tenafly [that the run began]," DeMartini said. "We didn't want this to be, 'well they were a young team.' We wanted to come here and win this. And we did it."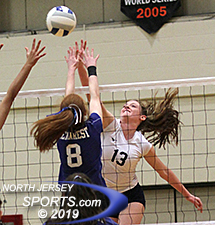 Rutherford senior Jenna Rogers finished with a match-high 12 kills.
That loss likely served as a wake-up call as the Norsewomen have now won seven matches in a row, including a big win over Tenafly in league play three days after the county tournament loss.
"It's crazy," said sophomore outside hitter Niki Woods, who finished with 11 kills, 1 block and 19 digs. "Everyone thought it was going to be a rebuilding year for us since we lost all of our seniors last year. We've come such a long way since the beginning of the season and we've worked so many hours in the gym. It's finally paid off."
In the first set Demarest senior Melissa Braunstein broke a 9-9 tie with a service ace and the Norsewomen never trailed again. Woods pounded 5 kills, while junior Noa blasted 7of her 11 kills in the first set.
"We all wanted it so bad," said Woods. "The adrenaline was really high, we were fighting so hard. We went into it leaving it all on the court."
Bulldogs senior Jenna Rogers, who led all scorers with 12 kills, tallied two points sandwiched around a kill by Woods, to cut the Demarest lead to 17-14, but a kill by Woods, a well-placed hit by sophomore MB/OH Gretchen Haray and a service ace by senior middle blocker Dorothy Pak began an 8-1 run that closed out the first set for the Norsewomen.
Rutherford was in control for most of the second set, leading by as many as five points, 11-6, early on. Rogers was on fire, smacking eight of her kills, but Demarest was able to stay close, tying the game, 11-11 and 14-14.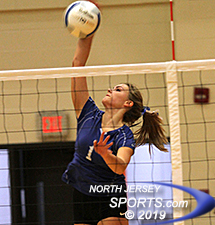 Sophomore outside hitter Niki Woods finished with 11 kills, 1 block and 19 digs for Demarest.
The Lady Bulldogs grabbed a four-point lead, 20-16, on a Rogers kill, but back-to-back kills by Woods closed the gap to 20-18 and Rutherford called timeout. When play resumed back-to-back kills by Haray and a service ace by Pak gave Demarest its first lead of the set, 21-20.
Garay followed with another kill, a perfectly-placed hit to an open spot of the Rutherford side of the court, to boost the Norsewomen lead to 22-20.
"It's good to have someone who is an energy giver who brings the team to push forward," DeMartini said of Haray. "She was there in crucial moments when we needed someone to get it done for us."
"Gretchen has that in her," added Powell. "That has to be demoralizing to them (Rutherford). They finally get a rotation when the strongest hitter rotates to the back so they hope they get a better match-up. But when someone like Gretchen puts some balls away it's demoralizing to them and motivating to our team. Anytime you go to someone who hasn't been highlighted, and they get a kill, it's such motivation."
Rogers fought back with another kill to cut the lead and give the side-out to Rutherford. It was Rogers' turn to serve, which meant she was now in the back row.
"In the second set Jenna started to swing," said Powell. "She's just tough. We got fortunate when she got into the back row. We served in and got a few points and started to believe we could win the game.
"When someone like Jenna is on the other side of the net swinging, swinging, swinging you start to lose your confidence. Then when we were able to hold it together and get a couple of points you saw our confidence rise."
Demarest made an attack error on the next point and the set was tied 23-all. But Rutherford served the ball into the net to give Demarest a match point, which they earned when the Lady Bulldogs were whistled for a net infraction on the next point.
"We knew we had to come back," said Woods. "In most games we would probably lose confidence but this game felt different. We wanted it all the way to the end. I didn't feel any sort of us going down in the hole or anything."
"With this particular group," Powell said, "there was so much growth and change and maturing and toughening up to get there. There was a lot of toughening up that had to be done. I'm hard because you have to be able to withstand it in there. It's hard in there so I'm really proud of them."
The defense for the two teams was spectacular. Senior Emilia McCarthy scooped 17 digs, while junior Gabby Leite had 11. DeMartini tallied a game-high 31 digs, Woods had 19 and Shuminer added 15.
"You have to read, you have to figure ahead," DeMartini explained. "You try to predict what they are going to do next and kind of wing it. It's part of defense."
"She read them, she was a good leader," Powell said of DeMartini. "She dug Jenna (Rogers). She's fantastic – she's been there every day."
Balanced scoring was also a key component to the match. Although Rogers tallied the most kills in the match, four of her teammates combined for only five additional kills. For Demarest, in addition to Woods and Shuminer blasting 11 kills apiece, four of their teammates pounded an additional 14 kills.
"I think we all bring different qualities to the game," said Woods. "We all have some way of contributing and everyone is on the same level, all together and on one page."
Passing was also important to the Demarest win. Sophomore Olivia Cammileri, who had 4 kills and 17 digs, distributed 22 assists.
"Our setter (Cammileri) is brand new," said Powell. "She was an outside hitter and I asked her to set. We have a couple of setters who also factor in. Your setter is like your quarterback in football. You work a lot with the coach trying to read their mind. The fact that she set other people, not just our outsides, at critical moments that factored into our win, was amazing.
"It takes a little backbone to go to the other one when you have Niki (Woods) outside or Noa (Shuminer) outside when you're going to back-fed or go to a middle. I'm so proud of my setter – I thought she did a great job."
Demarest moves on to play Bogota Nov. 23 at 2 p.m. in the Tournament of Champions.
"Our goal when we walked in here was to keep our cool and just play volleyball," DeMartini said. "I think we had to be reminded that it can get very chaotic. It's easy to fall into the crowd, the refs. We looked at each other, we believe in each other and got it done."