In rivalry continued, Ramsey knocks out Glen Rock by Cory Doviak of northjerseysports.com
GLEN ROCK – It's an often discussed distinction; the good team vs. the good program. Good high school teams come along every so often. There is talent in a particular class or consecutive classes, there are a couple of successful seasons and then results revert to the mean when graduation comes. For the definition of a good program, it is playing out in real life in the state sectional soccer playoffs.
Both Glen Rock and Ramsey played in the Bergen County Tournament championship match last season; they met up again in the state sectional final and then lost a whole bunch of really good players to the cap and gown in June. Then they reloaded, requalified for the county and state tournaments and met up again in the North 1, Group 2 state sectional semifinal in Glen Rock on Tuesday afternoon.
Junior defender Tejan Paoge did not see all that much varsity action last year and sophomore goalkeeper Ryan Haskell did not see any, and they are the examples of how a program like Ramsey sustains itself year after year. Paoge picked a brilliant time to score his first-ever varsity goal and Haskell withstood withering pressure in the second half to as the Rams, after losing to Glen Rock in both playoff matches in 2018, returned the favor with a 1-0 victory this time around.
With 10:17 left in the first half, Paoge struck a free kick from just outside the penalty area low along the ground and around the Glen Rock wall. The shot nestled into the lower left hand corner for the game's lone goal.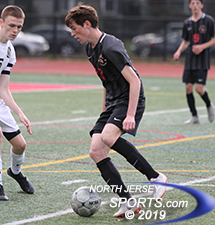 Oscar Horwitz and the Glen Rock attack put tremendous pressure on the Ramsey goal in the second half.
"Initially when I stepped up we were going to do a cross, but I just had the feeling that I had to take it. I was nervous going into it, I wasn't really playing a good game and I had to take a breath before taking the kick. Right when I kicked it I knew it was going in. I just felt it," said Paoge, who was a surprised as anyone that he was the game's lone goal scorer. "This is my first goal this year. I am a left back. This is my first varsity goal."
Glen Rock, which had the best season in program history last year, had few holdovers on this year's team but put together a good enough season to be hosting a playoff game this deep into the postseason. Down by a goal at intermission, the Panthers went all out in search of the equalizer as soon as the whistle blew to start the second half.
Just 30 second in Glen Rock was awarded a free kick right on the edge 18 yard box. The restart was swallowed by the Ramsey wall, but that was just a harbinger of things to come. Ten minutes into the second half Haskell made a diving stop of on Oscar Horwitz shot and, just before Ryan McCarthy could bury the rebound, Marcus Paolucci cleared the ball out of trouble. Four minutes after that, Tanner Kleinberg, stationed at the first post against a Glen Rock corner kick, used his body to keep out Bobby Gifford's well-placed header.
With just over 20 minutes to play Kleinberg stepped into the breach again to blow up a shot that Horwitz would have been the favorite to convert after Adam Kochman had won the right endline and sent in a cross.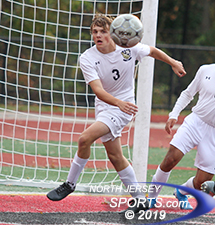 Marcus Paolucci clearing a ball out of danger for Ramsey, which will face Jefferson for the North 1, Group 2 state sectional title on Friday.
You get the idea…Haskell was under constant duress over the final 40 minutes and it got even more chaotic inside the Ramsey penalty area as Glen Rock committed more numbers forward.
"We went over it every day in training, we went over who their best players were and how they were going to approach us. We just worked as a team to keep the ball out," said Haskell. "After halftime and after I made the first couple of saves, I was like 'Give me another one.' You get locked in."
Glen Rock, the No. 2 seed that won this bracket last season and made it all the way to the Group 2 state final, did not relinquish it crown easily. Haskell made two saves 30 seconds apart inside the 74th minute. First he went to pull one out of the upper shelf to his right and then closed down his post in the next sequence.
Haskell's last bit of intervention was a punch-out of a corner kick with 3:30 left to play and Ramsey closed it out from there to cement its spot in the state sectional final where the Rams, the No. 3 seed, will visit top seeded Jefferson on Friday. The Ramsey girls squad will also play at Jefferson in a section final that will take place on Thursday.
It has been quite a journey already for the Rams (14-3-3), who started the season with a new head coach and a 1-2 record.
"The biggest thing was just understanding that this was going to be a process and it was going to be ugly at times. There are ups and downs and you have to work your way through it by just showing up, putting in the work and focusing on the things we can control," said Cesar Blacido, the Rams' rookie head coach who is also an alumni of the school and soccer program. "Just working through the process will bring you consistency and gives you moments like this."