Clifton slips past Kearny in old school playoff rivalry by Rich Barton of northjerseysports.com
CLIFTON – The two teams are not in the same division, nor in the same county, but is impossible to examine the history of New Jersey high school boys' soccer without mentioning the rivalry between two of the state's most storied programs. Dating back to the 1970's, Clifton and Kearny have had an eye on each other come state tournament time knowing full well that the road to a section title likely goes through each other.  This season was no different as a packed house at Clifton High School got to witness an old-school battle with both teams fighting to keep their seasons alive.
Kearny has often gotten the best of Clifton, but the Mustangs were determined to flip the script this time around. Amer Lukovic took it upon himself to make sure that happened. He leaped above a defender to head home a free kick with 23:10 to play and second-seeded Clifton made it stand up for a 1-0 victory over third-seeded Kearny in the North 1, Group 4 state sectional semifinals on Tuesday.
"I made a run for the front post, got a ball, and flicked it exactly where I wanted it to go," said Lukovic, a junior. "We are a really strong team on the ground but we've also shown that we can win balls in the air. To be a championship team you have to be able to win 50-50 balls no matter where they are. We've been dangerous on set pieces all year and you have to take advantage of them in a game like this."
Clifton goalie Erik Dymora was busy early with a diving save and punching away a dangerous ball in front. It looked like the Mustangs found their footing and grabbed the lead at the midway point of the first half but Kevin Salensky's would-be goal was waved off for offsides with the teams still scoreless heading into the second half.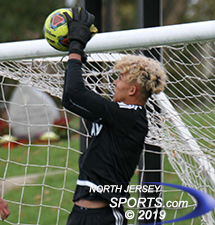 Matthew Brun and Kearny were right in it for the full 80 minutes.
Kearny nearly scored a fluke goal just minutes into the second half when Matthew Escobar leaped to block a clearing attempt by Dymora that went just wide of the right post.
With the finality of each team's season now a reality and the crowd getting more involved, the second half was filled with physical play and speed all over the field. With every run being a crucial one and little margin for error, the Kardinals made a miscue that proved to be costly.
On a run up the left flank, Dylan Perez was the recipient of a silly foul just outside of the top corner of the penalty area. JC Vizciano swung a ball in towards the near post with Lukovic, who was great in the air all game long, rising above a Kearny defender to get a head on it. He flicked it past Kearny keeper Matther Brun and inside the far post in the 57th minute to put the Mustangs in front, 1-0.
"A foul we shouldn't have given up and against a team like Clifton that can end up being the difference in the game," said Kearny head coach Billy Galka. "I thought we moved the ball well but Clifton marked us well all game. We just weren't as effective in the attacking third to really test their keeper the way we normally would."
Galka knew he had to make an adjustment to force the action following the goal. It created a chance minutes later with Dymora making a diving save. While the Kardinals continued to push forward, the Mustangs' back line has come up clutch all season and did so again. Eric Piwowarczyk, Lukovic, and freshman Ryan Liszner off the bench came up with big tackles in the final six minutes as Clifton finally got the best of their longtime rival to earn a berth in the North 1 Group 4 section final.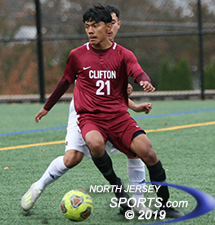 Dylan Perez drew the foul that led to the goal for Clifton, which will play Ridgewood for the state sectional title on Friday..
"It's just hard work and a trust in each other to get it done," said Dymora, who had five saves. "I know I have to do my job because I have a great defense in front of me. We defend in numbers and we have communicated well all year."
With Delbarton's upset loss to Pingry in the Non-Public A North semifinals, Clifton will ascend to the No. 1 ranking in New Jersey as the state's only unbeaten, untied side. However, to earn that ranking and a North 1, Group 4 section title the Mustangs will have to go on the road to do it. They will take on top-seeded Ridgewood, which downed Montclair, 1-1 (5-3 in PK's), in the other section semifinal. After winning a Passaic County title, the Mustangs have another title and a place in history in their sights.
"Clifton and Kearny have been going at it in the state tournament for over 40 years and today was another great game between us," said Clifton head coach Stan Lembryk. "I'm proud of our guys of how we won 50-50 balls and how we adapted to how the game was being played. This is a great group and they're easy to coach because of how hard they work. The biggest thing for us to recover over the next two days and be ready as we could be for Friday."