Bennet-Jones' hat trick leads Ramapo to sectional semifinals by Cory Doviak of northjerseysports.com
OLD TAPPAN – That old staple of state playoff soccer was roaring on Friday afternoon. The wind was whipping hard from west to east on the campus of Northern Valley/Old Tappan High School and the weather conditions figured to play a part in the offensive production of either team that had the benefit of the gale at its back.
Instead, Ramapo's Aidan Bennet-Jones scored three ground-based in a first half hat trick and the sixth-seeded Green Raiders added another against the breeze in the second half to put the finishing touches on a 4-2 win over No. 3 Old Tappan in the North 1, Group 3 state sectional quarterfinals. The win, which was also No. 600 in the career of head coach Evan Baumgarten moves Ramapo into the semifinals where it will play No. 2 Pascack Valley, a 4-1 winner over Northern Highlands, on Tuesday in Hillsdale.
Bennet-Jones opened the scoring just seven-and-a-half minutes into the game and then, after Old Tappan had equalized, Bennet-Jones put on a dribbling clinic and got through three defenders before walking in and putting Ramapo ahead for good in the 14th minute. By the time he put his third one away in the 31st minute to give his team the 3-1 lead it took into halftime, he was just about all celebrated out.
"Coach [Baumgarten] always tells us to be humble. When we went up 3-1 I didn't really feel the need to celebrate. First of all I knew the game was not over. There was plenty of time for them to come back, but even if it was over I wanted to be respectful," said Bennet-Jones. "Somebody's season was going to come to an end today I didn't want to be running around celebrating. I just wanted to concentrate and focus on winning the game."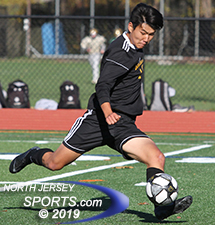 Robert Kim scored the goal for Old Tappan.
Bennet-Jones was prescient. On its home field and with its season hanging in the balance, Old Tappan came out with renewed vigor and with the wind advantage in the second half and changed things around in a hurry. Just two minutes in there was a scrum in front of the goal that Ramapo keeper Michael Ferro somehow managed to keep out. He got to his knees just in time to knock a rebound attempt by Max Caunedo, who had come up from his centerback spot to join the fray on a restart attempt.
Ramapo had only side-stepped trouble only briefly, however, as just four minutes into the second half the wind came into play. Jack Jaeger stepped into one from a few yards inside the center stripe near the right touchline. The service turned into a shot as it fluttered before crashing into the back post and ricocheting right back into the field of play where Robert Kim touched it home to make it 3-2.
The next 24 minutes were entertaining as the Golden Knights chased the game and Ramapo countered hard every chance it got. Old Tappan keeper Kieran McElduff picked his team up with a diving save of a John Christopoul effort in the 50th minute and the Knights nearly got all the way back even on Jaeger's smart step that put him on to a loose ball before he struck just high and wide of the mark with 26:30 left to play.
Back-and-forth it went for the better part of first 27-plus minutes of the second half.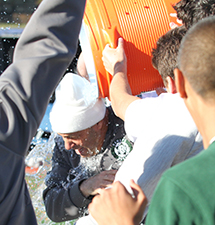 Ramapo head coach Evan Baumgarten getting the Gatorade treatment in recognition of his 600th career victory.
"When we played Old Tappan the first time on this field [in the regular season] we lost 1-0, so we knew coming in here that we were going to have to battle the whole time. With the wind we had to make sure that we kept communicating out there and kept talking," said Ramapo defender Colin McKenna. "We knew we had to come out strong. We got the lead and then we talked about keeping our composure and staying organized."
After being robbed of an insurance goal early in the second half, Christopoul took his next chance a bit better. Taking a pass from the right, Christopoul power-dribbled to get past a defender and then ripped a shot into the left side of the net to make it 4-2 with 12:21 to play and the Raiders were able to see out the game before dousing Baumgarten with the Gatorade bucket to commemorate his 600th career victory in his 34th year as the Ramapo head coach.
"I am proud that they still give me the opportunity. You can't take things for granted and the greatest thing is all of the relationships that I still have with players over three decades that have become close friends. I am into it and I love doing it, but I cannot go over the yellow line and play. I love watching the kids and I love getting to be a part of their support system." said Baumgarten. "I am not about [to put a timeline on how long I will coach]. I am about coaching today and having relationships with the kids that are here and relationships with the kids from the past that I still talk to on a daily basis. That to me is the neatest part."
The quest for 700 starts on Tuesday in Hillsdale.