Old Tappan gets a shock and a state playoff win by Cory Doviak of northjerseysports.com
OLD TAPPAN – There are a whole host of emotions that might bubble up for a player that scores the opening goal in a state playoff game. Elation, an adrenalin burst or even relief are all natural reactions in that kind of situation. Northern Valley/Old Tappan senior Ellie Olivo had an alternate experience. She was shocked.
Olivo is Old Tappan's designated corner kick taker and she drove a restart from the flag with 13:16 left in the first half low and hard toward the first post where it banked off the goalkeeper and made a hard left turn into the net.
"Did you see my face? I couldn't believe it. It was open-mouthed wide," said Olivo. "I was very shocked, but it was great. It gave us the lead and I love when we score first. It really motivates us and gives us confidence."
That fortunate bounce was good enough to stand up for the game-winning goal as seventh-seeded Old Tappan advanced to the North 1, Group 3 quarterfinals with a 2-0 victory over No. 10 Sparta on Monday afternoon.  The Golden Knights advance to play No. 2 Wayne Valley, a 6-2 winner over Teaneck, on Thursday in Wayne.
"It's great to win this game and I am happy for the girls because we have such a big group of seniors that do not want to see this season end," said Old Tappan head coach Kat Wehmann. "We had some chances earlier in the game and we could have made it a little bit easier on ourselves, but Sparta was a tough team and we had to keep going until we could find a way to finally put one in the net."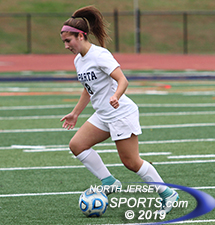 Kate Mazella created many of Sparta's best offensive chances.
Old Tappan signaled its intent just about from the get-go and really got everything but the finish in the seventh minute when Jennifer Fernandez sent Samantha Derrico in up the right and the Division 1 duo continued the connection. Derrico, who will play at The University of Connecticut next year, laid the ball back from the University of Vermont-bound Fernandez, who continued her run in the middle of the field.
Fernandez's first shot was blocked by a defender, her second was saved by a diving Taige Kellenberger, Sparta's starting keeper who also turned away Olivo's rebound attempt from close range to keep the game scoreless by the slimmest of margins. Kellenberger also saved a Derrico rip in the 11th minute and Fernandez had another near miss when she pushed a shot just high and wide while at full speed in the 18th minute.
The first goal looked like it was coming at any moment, but Sparta nearly went ahead even though the opportunity came directly against the run of play. Kate Mazella took a pass from Jessica Schoenfeld, cut inside and hit one that finished just wide of Blake Mauro's right hand post in the 23rd minute. Mauro, NV/OT's senior goalkeeper, made a save of another Mazella effort just over one minute later.
Just when Sparta thought it had a toe in the game, Olivo got the ricochet that tilted the affair in the Golden Knights' favor for good. Mauro did her part to keep the lead in tact heading into halftime by diving to her right to snare Mazella's left-footed drive with just under five minutes to play in the opening half and then sprawling to her left three minutes later to deny another Mazella attempt at the equalizer.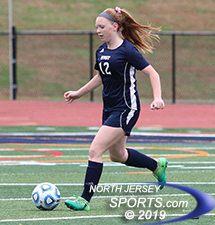 Lauren DeGennaro and the Old Tappan defense were solid for the full 80 minutes.
"It's a lot of pressure [being the goalie] because you only have certain moments to make or break the game and if you mess up just once you put the whole entire game on the line," said Mauro. "There is pressure, but when you make it through the game and know you contributed it is really rewarding."
Old Tappan's back line of senior center backs Lauren DeGennaro and Hallie Plescia and outside backs Emily Clune and Emily Derrico were effective in limiting Sparta's time on the ball and gave the Knights the time and possession they needed to get forward, but they could not find an insurance goal until well into the second half.
It came on another restart as Cara Hliboki throw in from the right touchline took a bounce right on to the head of freshman Juliana Morrissey, who nodded it home inside the near post to make it 2-0. Sparta lost its cool after that as it went down to 10 players via a straight red card for dissent and lost another to two yellows in the final 12 minutes.
Old Tappan kept its cool and kept its season going as it heads into the quarterfinals against Wayne Valley where its season ended last year.
"Wayne Valley is always a tough competitor. I think we have played them three years in a row and they have beaten us every time. It would be nice to finally get past them this year, but we know it is not going to be easy. We can do it, but we are going to have to play as well as we did today and even better," said Mauro, one of 13 seniors on the Old Tappan roster. "This is a group of girls that has been together since we were like seven years old when we started playing soccer, so we want to keep playing for as long as we can."