Unbeaten Clifton adds a 21st Passaic County championship by Rich Barton of northjerseysports.com
CLIFTON – Having been around the game of soccer his entire life as a player and now as head coach at Clifton, Stan Lembryk knows that being undefeated heading into the county championship match is not necessarily an enviable task. The longer the game remains scoreless the more the underdog is likely to pack the box and play for overtime and/or penalty kicks.
Facing a tough Passaic team that gave them problems in their regular-season meeting, the Mustangs went on the attack immediately and left no doubt who the best team in Passaic County is.
Senior captain Kevin Salensky scored just 87 seconds into the match and assisted on a goal five minutes later as top-seeded Clifton cruised to its state-record 21st Passaic County title with a 4-0 romp over second-seeded Passaic in front of a packed house at Passaic County Tech in Wayne.
Bands from both schools were in attendance and there was not a seat to be had in the stands at Passaic County Technical Institute. Before anyone could even get comfortable one side of the stands erupted in cheers. Amir Lukavich was great in the air all game long and had a scoring chance with a header. It was saved but Salensky showed off his seemingly endless motor by pouncing on the loose ball and driving it home for a 1-0 Clifton lead just 1:27 into the match.
"We repeat all the time that you worked hard enough all season not be on fire from the start of the game, that starts with leadership," said Lembryk. "We possessed the ball well and guys know their roles. I thought our depth is huge because those guys who come in make an impact on the game. There's been so much work put into this season that there's no excuse not to leave it all out there. We did that today and I couldn't be prouder of effort from the first minute to the last."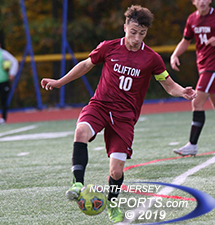 Kevin Salensky scored just 87 seconds into the match to give Clifton the lead for good.
The Mustangs continued to dominate, earning a penalty kick seconds later. That was unsuccessful but it was atoned for minutes later when Salensky sent a ball through to Jason Suarez, who volleyed one home to put Clifton ahead 2-0 before the Indians even knew what hit them."
"We make sure we are ready for everything, every single game," said Salensky. "We wanted to start fast and not let Passaic get comfortable. The big thing was our chemistry on and off the field. When we score and we all celebrate together, it fuels us to get the next one."
Passaic was able to hold on and not let the deficit grow for the remainder of the half. The Indians had a scoring chance early in the second half with two shots in front. One was blocked and the other went wide. It looked like they may be gaining momentum but that evaporated just a minute later when J.C. Vizcaino found the back of the net in the 44th minute to pad Clifton's lead to 3-0. Danny Tobon's late strike put the icing on the cake as the Mustangs won their second Passaic County title in three years and the 21st in school history with an absolutely dominant performance.
Clifton, which finished 9-6-1 last year, is the only unbeaten team left in North Jersey at 16-0. The Mustangs now turn their attention towards the North 1, Group 4 state tournament. They are the No. 2 seed in a section loaded with heavyweight teams like Montclair, the top seed, Kearny, and Ridgewood, just to name a few. The Mustangs are happy about winning a county championship but know they are capable of so much more.
"Every game starts 0-0 and now that we're onto states our record is 0-0 too," added Salensky. "We want it all but we can never look ahead. We're fighting for our season and we all want to keep playing for each other. Every game could potentially be our last game of the season. As a senior it really hits you that this could all end with one bad game. We'll be ready for any situation and we'll keep working hard."