The wait is over:  Demarest wins Group 2 state title by Rich Barton of northjerseysports.com
WEST WINDSOR – Playing an opponent from the another part of the state with a state title at stake is generally a once-in-a-lifetime opportunity for a high school athlete, not many of whom ever even get that chance. Demarest's girls tennis team had its shot last year when it suffered a heartbreaking 3-2 defeat to perennial state power Holmdel in the Group 2 state final.
That loss stung for sure, but Northern Valley/Demarest earned itself the rare opportunity to right last season's wrong. The Norsewomen made it all the way back through the Group 2 state tournament and Holmdel held serve on its side of the bracket and on Friday the two teams clashed again with a state championship on the line. This time, Demarest pulled out all the stops.
Julietta Ambartsoumian and Caitlin Frank battled from behind to steal the first set before sweeping through the second set for the clinching point as Northern Valley/Demarest dethroned the five-time defending champ and earn the school's first-ever Group 2 state title with a 4-1 victory over Holmdel at Mercer County Park in West Windsor.
"We were happy to win our section, but we wouldn't have been happy unless we came down here and win a state title," said Ambartsoumian.
Demarest's strength all year has been the top of its lineup with a powerful trio of singles players. Anna Chow leads the way at first singles and took control quickly en route to a 6-2, 6-0 victory. She was followed off the court a minute later off the court by Emily Oh, who put on a dominant display at third singles for a 2-0 lead.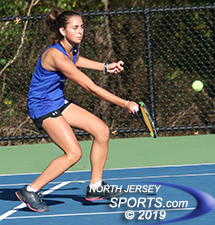 Yahli Noy won at second singles for Demarest, which will play Northern Highlands in the Tournament of Champions on Sunday.
"We have a lot more depth this year and we had to take advantage of that," said Chow. "This is been the goal since we left here last year, to get back here and win it. I wanted to be aggressive early. Once I got the early break it made it easier to just play my game."
Earning the all-important third point would not come so easy with all of the other three positions down a break in the first set with their opponent serving for the set. Ambartsoumian and Frank at second doubles fought off a total of three set points to grind out the final four games of the first set. One of the most energetic and enthusiastic doubles tandems in the state, Ambartsoumian and Frank fed off the momentum they created and blitzed through the second set.
Although they talked to one another between and during every point the duo could only a hug and stay in stunned silence after the final point was secured. They knew they not only locked up a state championship but a memory that will last for years and decades to come.
"We love our team. It's a community and we all pull for each other," said Frank. "To get this far and beat Holmdel to win it all is amazing. It's something we'll never forget."
Second singles player Yahli Noy also rallied from a 5-3 deficit in the first set for a hard-fought 7-5, 6-4 win for Northern Valley/Demarest (19-0). The Norsewomen advance to the Tournament of Champions on Sunday. That will also be played at Mercer County Park and they will face another Bergen County state champ, Group 3 champ Northern Highlands. Regardless of the outcome, with Bergen County and Group 2 state titles in hand this group will go down as not only the best girls' tennis team in school history, but one of the best ever in Bergen County.
"We've been locked in all year but we raised our level of play today," said Northern Valley/Demarest head coach Dave Johnson. "To beat a real good team like Haddonfield in the semis and Holmdel in the final, we had to bring our 'A' game and that shows how hard we worked for this. A lot of these girls could be playing in USTA Tournaments every weekend but they decided to play high school tennis and they rewarded themselves with a day that they will remember for the rest of their lives."