Northern Highlands ends 27 year title drought by Rich Barton of northjerseysports.com
WEST WINDSOR – Even after a grueling semifinal win over Moorestown, the Northern Highlands girls tennis team had no little time and little reason to celebrate. Beating Moorestown was impressive for sure, but it had been 27 years since Northern Highlands had won an outright state championship and the path toward ending that drought had been cleared.
Millburn, a program that has won 13 state titles and knocked Northern Highlands out of the state playoffs in each of the last three years, had been bounced in the semifinals by Red Bank Regional. With a state title so close, the Highlanders stayed focused on the opponent in front of them and kept their eyes on the prize, which was brilliantly delivered.
Third singles player Brooke Dann hit a perfect topspin lob for the clinching point as Northern Highlands won its first Group 3 state title since 1992 with a 5-0 blanking of Red Bank Regional on Friday afternoon at Mercer County Park in West Windsor.
"This is what high school tennis is all about and I couldn't happier than I am for this group," said Northern Highlands' head coach Chris Broking.
Senior Riya Ravi was the hero in the Group 3 semifinal win over Moorestown. She won 10-6 in a super-tiebreaker to secure a 3-2 victory. Things went much more smoothly in her state final match. Already leading 2-0 and up a break, Ravi fought off six game points and broke serve again to grab a 3-0 lead. It was the last game she was threatened in as she did not drop a single game in the match to put the Highlanders on the scoreboard first.
"The semifinal was nerve-wracking because I saw everyone coming around my court, I just had to refocus for the tiebreaker," said Ravi. "Once we got through to the final I had to start strong. I can't even describe the feeling for us to come down here and win. I've wanted this since my freshman year. To finally accomplish it as a senior with all of my friends feels incredible."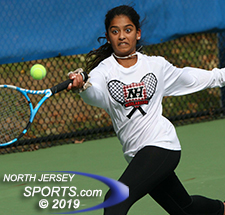 Senior Riya Ravi, the hero of the semifinals, won the first singles flight at love in the state final.
The match at second singles was much more of a battle between Hannah Apsey and Red Bank Regional's Janey Wright. The chess match continued throughout the first set until the tie-break where Apsey had finally had enough. She decided to switch up her strategy and dictate points, which paid immediate dividends. Tied at 2 in the breaker, she hit consecutive backhand winners before adding a forehand winner to win the first set before taking the second set for a 7-6 (7-4), 6-3 victory that put the Highlanders one point away from a state crown.
"I knew what I had to do, I just had to be aggressive and execute," said Apsey. "I had to adjust my gameplan a little bit but I wanted to get (Wright) to the net and try to pass her. I was nervous but I'm glad I was able to pull through and get the job done."
It was still a tenuous situation with both doubles and Dann at third singles having dropped the first set. Dann struggled to keep the ball in the court during the first set. Despite playing through an injured shoulder, she battled through it and found her rhythm in the second set before taking control early in the third. After not converting on her first three match points, Dann  used a drop shot to bring Red Bank Regional's Mary Kalorin to net before hitting a picture-perfect back lob that landed just inside the baseline for the final point as Northern Highlands earned a state title and a celebration that was long overdue.
"I knew if I could keep the ball deep and be consistent that we'd win a state championship," said Dann. "We wanted this so bad and I couldn't let us down. When I hit that last shot it was the best feeling in the world knowing that we're state champs."
Leah Rimland and Eleanor Ha rallied for a three-set win at second doubles. Amanda Pittman and Samantha Hartmann showed their mental toughness by battling back from numerous deficits to win in a third-set tiebreaker to lock up the sweep for Northern Highlands (15-2).
The Highlanders earned the No. 5 seed in the upcoming Tournament of Champions and will face fellow Bergen County state champ, fourth-seeded Northern Valley/Demarest, for the right to face the state's No. 1 ranked team, Moorestown Friends in the T of C semis on Tuesday. After winning an elusive state title, any success that follows is just an added bonus to an already incredible season.
"We did a lot of conditioning in the pre-season on our own and as a team during the season to prepare for this time of year," added Apsey. "We worked really hard to be fit and be at our best to compete with the best teams in the state. Now we're state champs and all of it was worth it."