Wayne Valley's defense dominates in fifth straight win by J.C. Baumuller special to northjerseysports.com
OLD TAPPAN — Wayne Valley jumped out to a 14-0 lead in the first quarter and held on with a defensive stop late in the game to earn a 21-14 victory over Old Tappan Friday night.
"We knew we were going to have to play all four quarters tonight," said Wayne Valley senior quarterback Tommy Moran. "It was going to be a battle the whole game. We just had to outlast them."
"On offense the biggest thing was their program fought and we knew they would fight to the end," added Indians coach Roger Kotlarz. "They weren't going to roll over. There's a reason why they've been so successful and our kids did a great job of matching their fight and stepping up big on defense in the second half."
Moran, along with senior wide receiver Chase Hemming and junior running back John Testa, gave Wayne Valley a 7-0 lead with a 14-play, 71-yard scoring drive the first time they touched the ball.
Moran gained 22 yards on the ground, Testa rushed for 24 yards and Moran connected with Hemmings three times, including a 14-yard TD pass.
"They had a one-on-one matchup on our big guy out wide," Moran explained. "My guy (Hemmings) read the safety and ran underneath him and I just hung it up there."
The Indians scored again eight minutes later with a shorter scoring drive. Senior fullback Jake DeLuccia took a swing pass from Moran and bolted 28 yards down the right sideline. On 3rd-and-goal Testa, behind great blocking, bulled his way toward the goal line, reached out with the ball and broke the plane.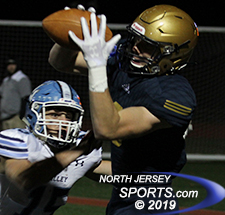 Senior Jake Picinich hauling in an Old Tappan touchdown pass late in the second quarter.
"They're phenomenal every single game," Moran said of the offensive line. "They're the reason why our team is so good. Without them we wouldn't be able to run the ball, wouldn't be able to do play action. Because of them we are this good."
Senior kicker Mo Gega's second extra point made it 14-0.
After that the defensive units for the two teams took over until late in the second quarter.
"We took a two-touchdown lead and they really started to come up and play the box," said Kotlarz. "I thought we did a really good job early in the game. We had openings in there and it caused them to say, 'we have to blitz a little bit more, we have to load the box more.' When they did some of those things I thought we did a good job of spreading them out and Tommy throwing the ball and running. I thought we had a good balance in the first half."
Old Tappan lost the ball at the Indians' 6-yard line after a 28-yard pass completion when officials ruled that Valley recovered a loose ball lost before the Knights player was down. The OT defense kept the Indians pinned down, however, and after a punt they took possession at the Valley 35-yard line.
Knights senior quarterback Niko Orecchio hooked up with senior wide receiver Anthony Pizzi for eight yards. On third down Orecchio took off for a 10-yard gain and then ran for five more down to the 12-yard line. On 2nd-and-5 Orecchio rolled right and fired the ball to senior wide receiver Jake Picinich in the right side of the end zone. Piccinich held on as he was blasted out of bounds and after Daniel Hwang's extra point, Old Tappan trailed 14-7, with six seconds to go in the first half.
After intermission the defenses continued to stymie the offenses. On a 4th-and-2 Wayne Valley tried a fake punt play but Old Tappan stopped them a yard short. The Indians missed a field goal but they also forced two consecutive 3-and-outs on the Golden Knights offense.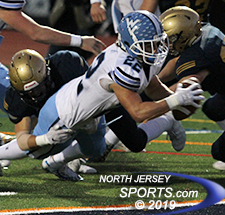 John Testa diving over with the TD that gave Wayne Valley a 14-0 lead.
Later Moran, as a defensive back, knocked the ball away from an Old Tappan receiver in the end zone.
"I knew I had one-on-one with that guy," he said. "I knew if I had to tackle him he would probably score. So I broke down, lowered my shoulder, ran into the ball and it popped out."
With 4:12 to go in the third quarter Valley began a 45-yard scoring march that gave them a two-touchdown lead. On the first play of the fourth quarter Moran zipped a pass into the end zone that senior wide receiver Elijah Lugo dove for and caught to make it 21-7.
"I'm proud of Tommy because I thought Tommy did a lot of great things," said Kotlarz. "We felt a couple of our guys that are seniors needed to step up and make some plays. Chase Hemming made some nice catches in the first half. I thought Tommy did a great job of throwing the ball and running. Testa gave us what he always gives us. I thought we had a good mixture of more than just one kid. We had several kids stepping up and having big performances."
Old Tappan cut the lead to 21-14 with a little more than five minutes left in the game. After the Knights' defense forced the Indians to punt from deep in their own territory, it took them only two plays to score.
Orecchio gained five yards and, on second down from the 32-yard line, he rolled to the right and threw the ball across the field to senior running back William Andresen alone on the left sideline. Andresen caught the ball and at the 10-yard line he made a move around an Indian defender to score.
Then Wayne Valley went to work to eat up time off the clock. Testa gained 11 yards on two carries for a first down.
"I thought one of the biggest things was late in the game we moved the chains and got that one first down," said Kotlarz. "We have a lot of guys up there to block and it was important to crack a little hole and I thought Testa finished it off with a good run."
Old Tappan got the ball back at their own 40-yard line with 2:51 to go in the game. But after one first down the Valley defense stepped up. DeLuccia sacked Orecchio on third down and the defense swarmed around Orecchio and sacked him to give Valley the ball back with 1:30 to go.
"That's the rock of our team, a hard-fighting defense," said Moran. "We don't let anyone get many yards on us. If they do they have to fight for them."
With the win Kotlarz believes it puts the Indians in a good position to be in the playoffs. They play Northern Highlands next week and he says they are playing for a home game and a high seed, maybe a Top 4 seed.
"It was a hard-fought game," he said. "They're a good football team. We knew they weren't going to back down. I love the way our kids came out and took a nice lead. We hung on a bit – I would have liked to have gotten another touchdown and moved the ball a little more. At the end of the day it's not an easy team to move the ball against consistently.
"Overall I'm proud of my kids for fighting for four quarters, keeping their poise. We knew it wouldn't be easy, that it would come down to the last second, which it did. The kids did a good job of playing hard."