Zitelli's strike gets IHA past Mahwah by Rich Barton of northjerseysports.com
OAKLAND – There is a fine line in the game of soccer between playing with urgency and panicking. It is something Immaculate Heart Academy had to navigate as upstart Mahwah grabbed a 1-0 lead early in the second half.
The Blue Eagles knew they had to answer back quickly and did just that scoring a minute later, but with the Thunderbirds' defense tightening up it was going to take a special shot for IHA to break through. It was only fitting that the player to do it is the one who has been a consistent force all season long.
Allie Zitelli fired a heat-seeker from 25 yards out that was still rising as it went into the upper right-hand corner with 17:25 to play as second-seeded IHA rallied with three unanswered goals to knock off seventh-seeded Mahwah, 3-1, in the Bergen County quarterfinals on Sunday at Indian Hills High School in Oakland.
"We kept level heads and we played really smart in the second half when we got down," said IHA head coach Eric Pfiefer. "When we're just whacking the ball it comes down to winning 50-50 balls, which could go either way. When we make the right decisions, girls are in the right place and we build off of our support runs."
The Thunderbirds made it clear early that they wanted to pull the upset. Sophomore center midfielder Isabella Gomez created havoc working the middle of the field forcing IHA's outside backs, senior captains Jana Mucci and Emma Zabransky to make several big tackles to keep Mahwah from having dangerous scoring chances.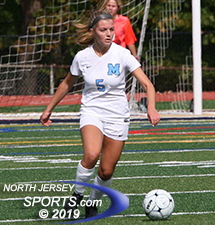 Abigail Puzo's goal gave upstart Mahwah the lead at 1-0.
IHA had a chance to go ahead late in the half off of a corner kick, but Zitelli's shot was cleared off the line on a header by Julia Pecak and the game was scoreless heading into the second half.
It did not stay that way for long. Gomez sent a through ball along the wing before freshman Abilgail Puzo struck an incredible shot from a tough angle. Her rip went over the outstretched leap of fellow freshman, IHA goalie Noelle Haskell, and into the side netting to put Mahwah in front just 4:21 into the second half.
It was a gut punch to the Blue Eagles but not a knockout punch. They got up off the deck and needed just 67 seconds to respond. Off of a corner kick the ball popped loose and Ashley Lamond was there to clean up the mess and poke it through, knotting the score at 1.
Mahwah looked to have dodged a bullet when Daniella Osorio rang a shot off the crossbar but the Blue Eagles did not allow Mahwah to clear the zone. Mikela Florio chipped a pass over to Zitelli, who sized up the bouncing ball and delivered a perfect strike into the upper right-hand corner in the 63rd minute to give IHA a 2-1 lead.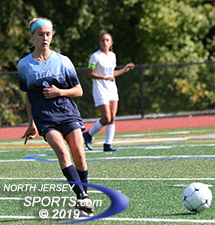 Ashley Lamond drew IHA even at one when she knocked home a second ball off a corner kick.
"I just tried to keep my shoulders down and my head over the ball," said Zitelli. "I wanted to score an actual goal and not a field goal. I knew from where I was on the field that if I hit it hard enough but got it on frame that it had a good chance to go in."
MaryPat Sayre put to rest to any hopes of a comeback with an insurance goal that helped secure IHA's place in the Bergen County semifinals.
IHA, who won its 11th straight game, will face off against old NNJIL foe Ridgewood, a 2-0 winner over Paramus, next Sunday at River Dell High School in Oradell. With a spot in the Bergen County final at stake, the Blue Eagles know they will have to pull out all the stops and put together a full 80-minute effort.
"We are lucky that we have a lot of veterans on this team that we know not to panic even when we're in a nerve-wracking situation," said Zitelli. "We weren't ready to go out and we know that every game is going to be a battle no matter what seed they are. This year is a chance for us to really prove ourselves. We've been playing really well but now we have to click it into high gear and take our game to another level."