Ramapo rolls behind Suchora and Langan by Rich Barton of northjerseysports.com
OAKLAND – After watching the Pascack Hills battle its archrival Northern Highlands through 100 minutes of scoreless soccer before advancing in penalty kicks last week in the Bergen County Tournament's Round of 16, Ramapo knew it had to set a tone early.
After the offense struggled to find the net in its Round of 16 win over Glen Rock, Ramapo busted out in a big way behind the dynamic duo of Mia Suchora and Mary Clare Langan.
Suchora scored just 7:06 into the game and Langan added two first-half goals. Suchora added two more in the second half for her first hat trick of the season as top-seeded Ramapo cruised to a 6-0 victory over No. 9 seed Pascack Hills in the Bergen County quarterfinals on Sunday at Indian Hills High School in Oakland.
"We saw when they played Northern Highlands, we saw how defensive they played and they stuck to their gameplan," said Langan. "We had to adjust our game a bit and push higher across the midfield and in the back. When we pushed numbers forward that gave us more scoring opportunities."
Ramapo came out firing on all cylinders and went on the attack from the opening whistle. It did not take long for them to find the back of the net. Langan centered a pass for Suchora, who collected it with a defender on her hip. She backheeled a pass to herself to get around the defender then cut to her right before drilling a shot into the upper right-hand corner to put the Green Raiders ahead.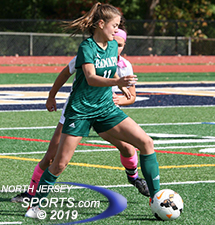 MaryClare Langan and Ramapo will play NV/Demarst next weekend in the semifinals.
Pascack Hills (10-4-2) had a legitimate chance to tie the game when Sofia Abbruzzesi beat charging Ramapo keeper Sara Pecorelli to a loose ball and chipped a shot over her. Marking back Erica Madley alerted got back in position to clear it off of the goal line. Two minutes later, Langan headed in a corner kick to make it a two-goal lead. Later in the half, Suchora and Langan worked a perfect give-and-go with Langan finishing to give Ramapo a comfortable 3-0 lead at the half.
Suchora, who missed the Round of 16 win over Glen Rock, kept her torrid play going in the second half. She scored twice in a three-minute span, heading in a corner kick before finishing off the hat trick with a low blast from the 18 that went off the post and in to make it 5-0.
"Finishing is something we were struggling with both individually and as a team at certain times in our careers but we know our abilities and we worked hard to overcome those struggles," said Suchora. "Some people are better when you play to their feet and some players on our team work better when you play into space through the middle. This year is amazing and we're really connecting as a team."
Sophomore center mid Mary Cochran was a difference-maker throughout and had a great individual effort to cap the scoring for Ramapo (10-1). Pecorelli made three saves to earn the shutout.
Ramapo advances to its customary place in the Bergen County semifinals next Sunday at River Dell High School in Oradell. There waiting will be fourth-seeded Northern Valley/Demarest. Now one step closer to being Bergen County champions, the Green Raiders have their eye on the prize.
"We've had a lot of adversity but we're fighting our way through it," added Langan. "We lost some players and had some big injuries but we're adjusting to it. We've covered up for everything and now we're in a really good spot."