Corriston nets 100th career goal for red hot Ramsey by Rich Barton of northjerseysports.com
POMPTON LAKES – This season has been everything Ramsey head coach Becky Mills could ask for and more. The Rams have been dominant from Day 1 of the season and have only gotten stronger thanks to a team-first attitude that all of her players have bought in to.
With one game left before the power-point cutoff, the Rams needed one more win to secure a top seed. With a lot at stake for the first time since a season-opening over Northern Highlands, junior standout Claire Corriston took over and the Rams never looked back.
Corriston netted a hat trick, including her 100th career goal, as Ramsey won its 13th straight game with a 6-0 victory over Pompton Lakes on Friday afternoon at Lakeside Middle School in Pompton Lakes.
"It's important to score early because it shows the opposing team what we're capable of," said Corriston. "We've all been playing together forever. It's a lot of fun to play with your best friends and to be successful together as a team."
Ramsey has made a point this season to start fast and never take its foot off the gas. The Rams put the pressure on immediately and proved to be dangerous on nearly every corner they earned during the first half. On just their second corner of the game, Corriston scored in front to put Ramsey ahead in the 7th minute.  Corriston kept the momentum going by re-directing a Caroline Doherty centering pass that trickled in for her 100th career goal.
"It feels really good not just that it happened but that I could celebrate it with my team," said Corriston. "Everything we do is a team effort and I couldn't be the player I want to be without them."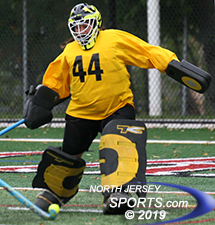 Pompton Lakes goalie Madisyn DeFrancesco dmade a handful of saves from point-blank range.
Pompton Lakes (6-9-1) goalie Madisyn DeFrancesco did her best by making a handful of saves from point-blank range. Unfortunately for the Cardinals, that did little to stop the offensive tidalwave of the Rams.
Ramsey scored three goals in a 3:48 span to break the game wide open. Another successful corner ended with Olivia Frazier standing at the back post to knock home a loose ball for a three-goal lead. Doherty and Molly Henry also added goals to give Ramsey a commanding 5-0 lead at halftime. Corriston capped the scoring and her third hat trick of the season with a goal early in the second half.
Ramsey has far exceeded pre-season expectations thus far, outscoring the opposition by a whopping 60-2 margin. However, with the Bergen County semifinals happening on Sunday and the state tournament right around the corner the Rams will only be satisfied if this season ends with some hardware.
"We strive every year to be not just a very good team but a championship team," said Mills. "The beautiful thing about this team is we're not a one-faceted program. We step up as a unit and our confidence has been building throughout the season. We've been saying from the very beginning that we have our eye on winning a county title and a state sectional title. We have a target on our back now and we have to be ready to rise to the occasion each and every game from now on."