Westwood wins its fifth straight heading into county semifinals by Rich Barton of northjerseysports.com
ENGLEWOOD – The last thing Westwood head coach Jaclyn Loughner wanted before a Bergen County Tournament semifinal showdown with defending champion Northern Highlands this weekend was a letdown. Facing a reeling Dwight-Englewood side on the road, the Cardinals controlled the midfield, attacked and stuck to their gameplan. There was only one problem and it was a big one: they could not score.
With less than 10 minutes to play and the game still scoreless, Loughner called a timeout and had a spirited talk with her players. The message was delivered and received as the her players responded quickly.
On the ensuing corner, Jules Proot finally broke through with the game's first goal. Just 56 seconds later, Skyla Burke found the back of the cage as Westwood won its fifth straight win, 2-0, over Dwight-Englewood on Thursday.
"We had to keep playing our game and believe that we'd find a way to score," said Burke. "Getting to the field late and playing on grass made it tough. We overcame everything by communicating and trusting each other. We're always going to play hard. When we passed better and passed smarter that's when things started to happen."
Dwight-Englewood earned a corner six minutes in and got a shot off of it. That would be the only corner and shot of the half for the Bulldogs as Westwood dominated from that point on. The Cardinals ran wild along the flanks and earned one corner after another. While it led to pressure on the Bulldogs' defense it did not lead to shots as the Cardinals got just two shots off of those corners and the Bulldogs kept them off the scoreboard well into the second half.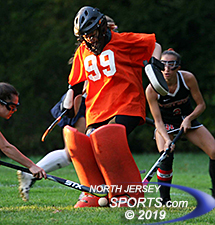 Kate Lukaszcyk made a whopping 30 saves for Dwight-Englewood.
The Cardinals kept pushing forward with Burke doing damage on the right wing, Kate Lukaszcyk up top, and Jen Kristofick adding to the attack out of the back creating a plethora of scoring chances. Dwight-Englewood goaltender Lilah Gmyrek  was up to the task with a bunch of quality saves. Westwood earned an eye-popping 30th corner of the game when Loughner called for time.
"There was definitely just some frustration to say the least but we had to keep playing smart," said Loughner. "We were doing the same thing over and over again on our corners but we weren't getting the result we wanted. We had to spread out more and not get so bunched up in front of the net."
Her team responded immediately when Gianna Santaite delivered a centering pass and Proot tapped through traffic in front and past Gmyrek to put the Cardinals ahead. Less than a minute later, Burke made a run up the right side then ripped a shot just inside the far post for the final 2-0 margin.
Westwood (11-4-1) held a 32-2 advantage in shots. Gmyrek played well in a losing effort with 30 saves for Dwight-Englewood (3-8-2).
The Cardinals will now get themselves ready to take on Northern Highlands. Despite a convincing loss earlier this year to the Highlanders, the Cards head into that game with confidence. Riding a five-game winning streak and having nothing to lose gives them a puncher's chance of pulling the upset.
"You aren't going to get a lot of chances against a team like Northern Highlands and we're hungry," added Loughner. "We lost to them earlier in the year but I don't think the score was indicative of the game. It's definitely going to be a tall task but I think we're a different team now. We haven't had a 11-win season since I've been here. I keep telling them they're a good team. I think we're finally starting to believe it and I hope we show that this weekend."