Pascack Valley breaks through in Round of 16 by Cory Doviak of northjerseysports.com
HILLSDALE – The Round of 16 in the Bergen County Tournament has been Pascack Valley's waterloo for the past couple of seasons. With quality sides, the Indians have been unceremoniously dumped out of the bracket first by Glen Rock in a stunning upset in 2017 and last year by Ramsey, which used the momentum of that win to make a run all the way to the county championship match.
With a first round bye and a home match as the No. 6 seed this year, the chips were lined up for a Pascack Valley breakthrough and the Indians kicked down the door. Nate Dedrick headed in a Braden Schwartz corner kick just 10 minutes into the match and Pascack Valley never looked back on the way to a 6-2 victory over Paramus and a spot opposite third-seeded Cliffside Park in next weekend's quarterfinal round.
"It's all up to us. Our success in the tournament all depends on how well we play and what we bring to the table. To start off with a 6-2 [victory] and to get past this round feels pretty good," said Dedrick, PV's 6-foot-3 senior who is a target and dangerous on every PV restart. "We are not really worried about what other teams are doing and how they might play us. We are only thinking about sticking to what we do best, trying to play our game and going as far as we can in this tournament."
Less than two minutes after taking the lead Pascack Valley doubled it despite the best effort of Paramus goal keeper Charlton Alonso, who made a diving save to keep out Nick Londono's shot, but Ryan Mastowski was right there to pounce on the sitter for a 2-0 lead just 11:54 into the game. Mastowski added his second goal and his team's third when he split two defenders and finished into the lower left-hand corner as Pascack Valley was in complete control at 3-0 with 15:38 still remaining in the opening half.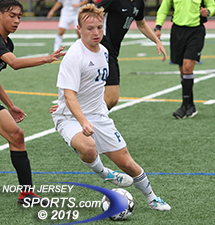 Tyler Dipopolo scored both of Paramus' goals.
"In the last two years we have lost here [in the Round of 16], so I really set the challenge to this good group of seniors to get this ball rolling in the right direction in the Bergen County Tournament," said Luciano Cofrancesco, who is in his first full season as Pascack Valley's head coach. "Today was the day that they could start to do that and I am very proud that they were able to come out as strong as they did and to deliver."
Paramus, a semifinalist last season, which knocked out Tenafly in the play-in round on Thursday, is a dangerous offensive side and, behind early, the shackles, if there were any to begin with, were off as going forward with numbers was the only way back into the game. Tyler Dipopolo was the most dangerous Spartan with the ball at his feet and he made a winding run that ended with a rocket into the upper shelf that got Paramus on the board. His left-footed whistler came in the 33rd minute and drew the Spartans to within 3-1 at the intermission.
Any momentum that Dipopolo's screamer might have created was halted almost immediately after the first ball was kicked in the second half. Just 1:37 after halftime, Pascack Valley earned a free kick that was converted by Schwartz and just three minutes after that, Londono sent Dallas O'Connor in up the left side for a goal that made it 5-1.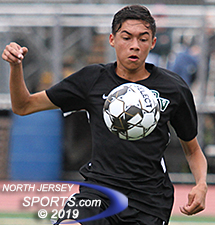 Nick Londono and Pascack Valley will take on Cliffside Park in the quarterfinals.
Dipopolo added a second as a consolation for Paramus before Schwartz closed the scoring by slotting home a through ball played in by O'Connor with 11:15 remaining. The final 10 minutes or so were soaked up by the Pascack Valley JV as the game turned chippy down the stretch, but while the Indians' first team was out there, it was certainly effective in all three sections of the field.
Johny Noone spoke for PV's back line.
"We watched Paramus play Tenafly and we knew they had a good attack. Even after we got off to the good lead, we had to watch and make sure they weren't dribbling through us. We had to stay focused and stay organized," said Noone, a senior central defender. "I felt like we marked well and we communicated well. It was a great that we put one or two [goals] away early in the game. That really raised our confidence and we want to keep that going into next week."