Almeida steals a goal and seals Cliffside's win over No. Highlands by Cory Doviak of northjerseysports.com
Edson Almeida snuck a free kick past Northern Highlands midway through the second half to seal Cliffside Park's 2-0 win the Bergen County Tournament's Round of 16 on Sunday in Hillsdale.
HILLSDALE – Because soccer is such a free flowing game with so few stoppages, it is probably easier to cross sports to try to find the best analogy to describe the heady play made by Cliffside Park's Edson Almeida midway through the second half of Sunday's Bergen County Tournament Round of 16 game against Northern Highlands.
If it were baseball, Almeida would have been that unassuming baserunner who takes one sneaky step then another before stealing third base while no one was looking and without a throw. If it were football, Almeida would have been the player who grabs the slowly rolling punt in front of the five defenders waiting until the ball stops rolling before touching it and then returns it 85 yards for a touchdown. In basketball, Almeida might have been the in-bounder who throws the ball off a defender's back before grabbing the loose ball and going in for the uncontested layup.
Almeida was sneaky but smart as he stayed within the rules to give Cliffside and much-needed insurance goal in a 2-0 victory at Pascack Valley High School that puts the third-seeded and once beaten Red Raiders into next weekend's quarterfinal round against 6th-seeded Pascack Valley.
With just under 20 minutes to play in the game and his team ahead by the slimmest of margins, Almeida was running in behind the play, a pile up near the top of the penalty area that had one of his teammates go down in a heap as the result of a physical challenge. The referee's whistle blew to acknowledge the foul and while the rubber pellets had yet to resettle between the microfibers of the artificial surface at Pascack Valley High School, Almeida lined up the free kick and filtered it into a net left unguarded by defender or goalkeeper.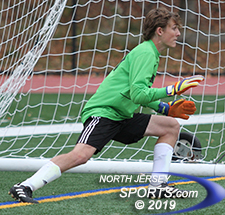 Highlands' keeper Wyatt Cosgriff played well against steady pressure.
"In those situations you have to be smart and try to figure out a way to score with every single chance you have. I realized the keeper was talking to the ref and that nobody was guarding the goal, so I thought, 'Why not just shoot?' What bad could happen. The worst thing is that they would make me retake it," said Almeida. "I was right there when the foul happened, I saw it and I knew what was going on, so I just hurried over, took the free kick and shot it."
That second goal took some of the pressure off down the stretch and Cliffside owned possession for large swaths of the game but could never put away a hustling Northern Highlands, which was fresh off a play-in round win over defending champion Glen Rock on Thursday.
"Highlands' record does not show how good they really are. We knew coming in here that it was not going to be a cakewalk against them. They are a top team in the county every year," said Cliffside Park head coach Carmine Cambareri. "If we did not match their physicality, then anything could have happened out there. We did that for the most part."
Northern Highlands was able to muck up the passing lanes and was able to move Cliffside attackers off the ball in shoulder-to-shoulder situations, but the Highlanders' physicality cut both ways. They very nearly fell behind just four minutes in when they gave away a free kick from just outside the penalty area. Highlanders keeper Wyatt Cosgriff made a quality save to keep the first effort out, before Cliffside's Johnny Vivar bundled home the rebound only to be ruled to have done it from an offside position.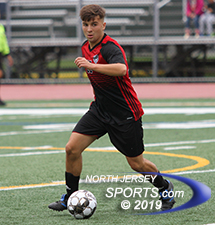 Carlos Escobar converted a PK for Cliffside Park, which will play Pascack Valley in next weekend's quarterfinal round.
Highlands' best two chances of the first half came with the game still scoreless, but Cliffside's Limver Quevedo cleared a flicked-on corner kick off the line in the ninth minute and Thomas Deja's free kick from 30 yards away was gobbled up by the Red Raiders' wall.
Cliffside finally broke through with just under 10 minutes remaining in the opening half at the tail end of an entertaining sequence of events. Quevedo launched a long throw from the left touchline that was headed on target by Jacob Vivar, who had the keeper beaten at the second post only to see Alexander Deja swoop in with a diving header that steered the ball around the woodwork.
The Raiders' disappointment did not last long as they were awarded a corner kick that turned into a penalty kick when Highlands got too physical in trying to clear the traffic. Carlos Escobar turned the spot kick into Cliffside Park's 1-0 halftime lead.
Escobar scored while uncontested, but really did his best work in the middle of the park and in the middle of the action. The Raiders' center midfielder was key in turning Cliffside's possession advantage into dangerous forays forward as Cliffside kept the pressure on from start to finish. Almeida, Erik Moreira, Vivar are always probing the back line in search of paths to the goal.
"From the middle I am always trying to pick out players making runs. I want to make the pass that leads to the goals because we have good wingers and so many good players to choose from. I try to use my vision to slip them through," said Escobar. "With the players that we have on this team we feel like we have everything we need to go on and challenge for some trophies."
Next up in the chase for the county tournament trophy is Pascack Valley. There will be plenty of offensive firepower on the pitch for that game, which has the potential to be one of the most entertaining of the quarterfinal round.
"I believe in our team. I believe we can win the counties and I believe that we can win in the states. We have the potential, but that is all it is right now until we prove it. We have to stay together and play our game," said Almeida. "Today was an all right game, but I don't feel like this was the best we could play. We did what we had to do to win, but we know we can be better and we will get back to work."