Ramapo grinds out a win over Glen Rock by Rich Barton of northjerseysports.com
FRANKLIN LAKES – Playing on its home field as the top seed in the Bergen County Tournament, the expectation was that everything would click for Ramapo right from the first kick of its Bergen County Tournament Round of 16 match against Glen Rock.
Instead, the Green Raiders, who have scored 22 first-half goals in their previous eight games, found little room to operate. The Panthers executed a solid defensive-minded gameplan that held Ramapo to just two first-half shots. In order to break through sometimes even the best of teams need some good fortune.
Early in the second half, Ramapo's Ella Onal knuckled a long free kick towards the net. Glen Rock goalie Sophia Pappalardo punched it into a sea of players but somehow the ball popped loose right to Lily Johnson at the back post, who tucked it away for the game's lone goal as Ramapo knocked off No. 16 seed Glen Rock to advance to the Bergen County quarterfinals.
"We talked about at halftime about finding gaps when they are available and being more direct," said Ramapo head coach Sarah Francini. "I thought we tried to do a little too much in the first half and Glen Rock was clearly ready for us. It wasn't about just getting off a shot but actually putting it on frame and working off of that."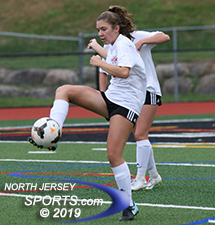 Maggie Sullivan created a couple of quality chances early in the second half for Glen Rock.
The Green Raiders were without one of their best players in Mia Suchora on Sunday but still controlled possession throughout thanks to a solid effort in the middle, led by Mary Cochran. Glen Rock bent throughout but consistently won 50-50 balls in their defensive third of the field. This was especially true during the first half there where the Panthers held Bergen County's most dangerous attacking team to just two shots with the game tied at the half, 0-0.
As the teams came back on the pitch, the Panthers quickly grabbed Ramapo's full attention as their best two scoring opportunities of the entire game came in the opening minute of the second half, both off the foot of Maggie Sullivan. She bent in a long shot in that Ramapo keeper Sara Pecorelli saved. Seconds later, a long cross from a tough angle drifted towards the back post with only a leaping save by Pecorelli keeping it out of the net.
The 48th minute was when the Green Raiders finally broke through. Johnson was bottled up throughout the first half but kept working hard to make something happen. Then on Onal's direct kick from 45 yards out,the ball was punched off of several players before rolling in front of Johnson, who hit it first-time into the back of the net as Ramapo grabbed a 1-0 lead.
"We needed to stay composed but also take our chances more in the second half than we did in the first," said Johnson. "My job on that kick was to be at the back post. I just tried to follow the ball as it was coming in and it landed right in front of me. I took a quick look and saw the goalie was off of her line so I just got my foot on it and put it past her."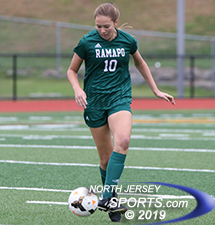 Ella Onal had the assist for Ramapo, whoch improved to 8-1 on the season..
Ramapo dominated the remainder of the game and had numerous chances to pad its lead only to be turned away by Pappalardo (nine saves) time after time. Although they did not score a second goal, the Green Raiders allowed just one shot on net over the final 32 minutes to advance to the Bergen County quarterfinal round next Sunday.
"That was a quality team we played today and I'm really proud of our effort," said Glen Rock head coach Steve Grenz. "Ramapo has more skill than us and they have Division 1 players all over the field. All we could control was what was inside of us and how hard we worked. We did everything we could and losing 1-0 to a team like Ramapo shows how well we played."
Pecorelli made three saves to earn her third shutout of the year for Ramapo (8-1). The Green Raiders were hoping to avenge their only loss in the BCT quarterfinals but their archrival Northern Highlands was upset in PK's by Pascack Hills. Without a Bergen County title now for over a decade, it does not matter who the opposition is. Every Bergen County Tournament win is one step closer towards ending that drought and reclaiming their legacy as the pre-eminent girls' soccer program in Bergen County.
"We just have to play together and keep it simple," said Francini. "We know what it at stake. Every game has to be a full 80-minute effort because the games are only going to get harder from here."