Old Tappan changes its fortunes at Pascack Valley by J.C. Baumuller special to northjerseysports.com
HILLSDALE — Old Tappan used a big-play offense and smothering defense to change its fortunes around in a hurry. After a tough loss in Franklin Lakes last week, the Golden Knights bounced back with a 21-12 victory on the road on Friday night that ended rival Pascack Valley's perfect start to the season.
"I have played here twice in my career and came out with two wins," said defensive stalwart Patrick Passalacqua, a senior lineman. "It feels pretty great. It's a great rivalry. I don't like them; they don't like us. It's fun to compete.
"After the season I lift with a few of those guys – I know they're good guys – but once it's football season there is no talking in the gym to them. "
The Golden Knights wasted little time grabbing the lead.
After junior running back William Rodriguez gained 4 yards on the first play from scrimmage, senior quarterback Niko Orecchio flipped a swing pass to senior running back William Andresen, who followed his blockers down the right sideline before being pulled down 65 yards later at the 5.
Rodriguez carried it in from there, junior kicker Daniel Hwang booted the extra point and Old Tappan led, 7-0, with just over a minute gone in the game.
"I just dumped it off to him – I didn't really have to do much," Orecchio said with a laugh. "Will Andresen made a great play. Jake Piccinich and Kevin Weis had great blocks on the perimeter. We knew we'd have good matchups out there. From there Will just took it and did his thing."
But Pascack Valley is a resilient team, entering the game with a 4-0 record. Over the course of the next 3:40 of the first quarter they methodically drove down the field to get its first touchdown of the game.
Senior quarterback Stephen Begen hooked up with senior wide receiver Craig Moorehead for two passes good for 11 yards and a first down. Then Begen hooked up with senior running back Jake Williams for three more yards.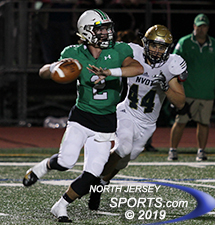 Stephen Begen scored Pascack Valley's second TD on a quarterback draw.
Valley turned to their running game and Williams rumbled for 15 yards, running over Knights defenders. Two plays later Begen found senior wide-out Andrew Martinez for 10 yards and Begen ended the scoring drive with an 18-yard TD pass to senior running back James Allmers. The PAT sailed wide but Valley had cut the Old Tappan lead to 7-6.
The defense of each team briefly took over as junior linebacker Desmon Von Tobel knocked down a third down pass  for Valley and Old Tappan held the Indians to a 3-and-out on the ensuing possession.
Another big play for the Golden Knights increased their lead to 14-6 with three minutes to go in the first quarter.
On 2nd-and-8 from the 37-yard line Orecchio found senior tight end Kevin Weis over the  middle with a perfect pass. Weis did the rest, sprinting 63 yards for a touchdown. Hwang added the extra point and Old Tappan led, 14-6.
"We were trying to mix up some formations and get them caught in some coverage things," said Old Tappan coach Brian Dunn. "We were able to do it three times in the game but they covered it up the other 10 or 12 times. We were fortunate we were able to hit them when we did. They're an excellent team. We executed and put the ball on the money on a couple of those plays."
Once again the defenses took over, making several big plays to keep the score at 14-6 heading into the halftime intermission. Valley's senior punter Jake Ciocca boomed a punt to pin Old Tappan back at their own 17-yard line. Then Andresen intercepted a pass to halt a Valley possession. Later, as a linebacker, Williams burst through the middle to throw Andresen for a 4-yard loss.
Old Tappan got its offense going again on its first possession of the second half.
Andresen bolted for a 14-yard gain into Valley territory. Two plays later the Indians were flagged for pass interference to give the Knights a first down at the Valley 22-yard line. From there Orecchio zipped a pass to senior wide receiver Jake Piccinich, Hwang tallied the extra point and Old Tappan led, 21-6.
"Coach Dunn did a great job of game-planning for PV – he always does," Orecchio said. "There were a couple of plays that were going to work against their schemes and we just had to execute. We did a good job of that. Our guys made the plays."
Orecchio was celebrating his return to the field after missing the previous two games due to injury. He relished being back on the field.
"It felt great," he said. "Last week I was very anxious, pacing up and down the sidelines, dying to get back in to help my team out. It felt good to be able to do that tonight."
Two minutes into the fourth quarter Rodriguez intercepted a pass and although the Knights did not turn his great play into points they did manage to kill nearly four minutes off the clock.
"The guys did a great job of covering today," said Dunn. "Moorehead challenged [senior] cornerback Anthony Pizzi the whole game on the edge and I thought Anthony was excellent. He did a good job of covering Morehead and tackling him in space. I thought we covered well on the back end."
"Our defense played really, really well today," Orecchio added. "Our defensive front played well, stuffing the run all game. We did a great job in the box and it made it a lot easier for the offense to get the ball in good field position and get momentum."
Valley got the ball back with 6:36 to go in the game, down by 15 points. They made it down to the Old Tappan 10-yard line before turning the ball over on downs. The Indians defense stepped up, however, highlighted by a quarterback sack by Williams and junior defensive back Sean Cuffe, and got the ball back around midfield with 3:01 left in the game.
Begen moved his team downfield quickly, connecting with Moorehead for 31 yards and Williams for 11 more to set up a first down at the Old Tappan 9-yard line. On 3rd-and-4 Begen scored on a quarterback draw to cut the lead to 21-12. Once again, however, the PAT sailed wide, so the Indians trailed by nine.
Valley attempted an onside kick but Piccinich caught the ball in midair and the Knights were able to run out the clock.
"This was a huge bounce-back week for us," said Dunn. "Nobody was happy with what we did last week. They're an excellent team who has been on a roll and we put up a great defensive effort. They've been putting up a lot of points and I thought our guys did a great job. We were fortunate to hit them on a couple of big plays. We didn't really put any drives together but we got some big long ones."
"The game plan was to stop these guys," added Passalacqua. "Obviously Jake Williams is a good one; he's downhill. We had to play physical, get pressure on the quarterback, just play our game. What we really thought about coming into playing this game was ourselves. We didn't game plan them. We practiced hard all week after a bad loss and we just hit each other. That's how we got better and we came out and hit them. It's quite simple."
Old Tappan improved to 3-2 but has little time to savor the victory as they head to Union City next weekend for another tough game.
"This was a good day for us," said Dunn. "Hopefully we can build on it and come back and get better tomorrow and work on some of the things we screwed up. I felt like we should have done a better job of closing the game out."
"I can't say enough about what this win means to us," added Passalacqua. "We knew that this was going to be a big one for us. It's always a rivalry game. You could be 0-4 or 4-0. No matter what it's a rivalry game – and you have to win this game. For us it's such a turning point in the season. We have to carry this win and can't come out soft like we did after the Wayne Hills victory. We have to come out, keep working hard and keep getting better. There is so much underneath that we didn't put out on the field today."