River Dell scores final 21 points to pull away from Demarest by J.C. Baumuller special to northjerseysports.com
DEMAREST — River Dell scored 21 unanswered points from the midway point of the third quarter through midway through the fourth quarter to pull away for a 42-21 win over Northern Valley/Demarest Friday night.
"We've been working hard all week," said senior quarterback Jack Gillies. "It's one of the best weeks of practice we have had. We have to stay hot and obviously show it on the field. When we get it going we stick with it."
The Golden Hawks opened the game by driving down the field with both run and pass plays. The drive stalled inside the Demarest 20 and, on 4th-and-5 at the 18, Norsemen sophomore defensive back Sean Vadis intercepted a pass and ran it back to the 25-yard line.
The teams traded punts until River Dell began a scoring march late in the first quarter that only took about three minutes to put the Golden Hawks in front. Along the way Gillies rolled left to hook up with senior Mike Sirico for 20 yards and rolled right to complete a 13-yard pass to junior Brendan Walker. On 4th-and-5 from the 26 Gillies led senior Joe Mellet perfectly and the Hawks took the lead, 7-0, with 41 seconds to go in the first quarter.
"One thing coach always talks about is spreading the ball around," Gillies said. "That's something we always try to do. In practice we try to get everyone the ball a certain amount of times and it definitely works out on the field on Friday nights."
Three-and-a-half minutes later Gillies started and ended another scoring drive with a pass completion. He led Mellet with a pass deep downfield for a 32-yard gain to get things going. Then, on 2nd-and-goal from the 10, Gillies found Sirico in the end zone and River Dell grabbed a 14-0 lead.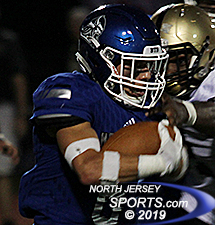 Demarest running back Ben Marinaccio scored two of his team's three TDs.
Demarest got on the board thanks, in part, to a roughing the passer penalty against River Dell. On the next play sophomore quarterback Andrew Argenziano threw a bomb to wide receiver Vadis good for 41 yards. Sophomore Owen Finetto bolted for 13 yards, and after an illegal procedure penalty set the Norsemen back five yards, Finetto gained seven more yards down to the 11-yard line.
Senior running back Ben Marinaccio took it from there, gaining seven yards up the middle and taking a direct snap, finding a hole and fighting his way into the end zone to cut the RD lead to 14-7.
Then the Norsemen defense stepped up and held the Golden Hawks to a 3-and-out and took possession at their own 24. Three runs by Marinacchio brought the ball to midfield. Argenziano dropped back to pass, was hit hard and fumbled the ball. River Dell recovered at the Demarest 47. The Demarest coaches argued that Argenziano's arm was moving forward so it should be an incomplete pass but the ruling stayed as called.
The Golden Hawks took advantage as Gillies completed a 7-yard pass to Sirico, a 14-yarder to junior Mike Mellet and another to Sirico good for 18 yards. On a first and goal from the four Mike Mellet gained three yards and one play later he scored on a 1-yard plunge to make it 21-7.
On the touchdown run, the ball flew out from the pile but the officials ruled that Mellet had "broken the plane" so the touchdown stood despite protests from the Demarest sideline.
The Norsemen got the ball back with 28 seconds left in the half and disaster struck. As Marinaccio was being stopped for no gain, Demarest senior tight end/linebacker Jack Motolla, the University of Albany, injured his right knee and was helped off the field. He did not return in the second half.
"That was tough for a couple of us," Gillies said, "because Jack used to live in Oradell. We grew up playing junior football with him and his dad coached us. It always stinks to see a player like that go down. It can really take it out of a team but it didn't take them out. Give credit to them for that."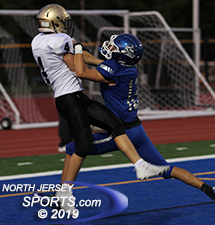 Mike Sirico hauling in a TD pass for River Dell, which improved to 3-0 on the season.
As the second half started Demarest was fired up to make up for Motolla's absence. Argenziano gained seven yards on the ground and then completed a deep pass to Finetto, a 40-yard gain. Then Argenziano gained another eight yards and hooked up with Finetto for eight more to earn a 1st-and-goal at the 11-yard line. Marinaccio gained eight yards and two plays later scored to cut the lead to 21-14.
Two plays into River Dell's next possession, Demarest senior defensive back Jake Benishay picked off a pass at the RD 40 and Marinaccio & Co. went back to work on offense. Four running plays by Marinaccio moved the ball to the 8-yard line and Finetto carried it in from there to tie the game at 21-all.
"We're an inconsistent football team" said River Dell coach DJ Nimphius. "We can't seem to play together. We're getting better but we're inconsistent. We work on it all the time but we're young. We got a little banged up last week and we played without six starters tonight. We just have to figure it out."
The Demarest fans were going crazy, while the River Dell side had quieted down. That all changed a mere 43 seconds later.
River Dell had a 2nd-and-5 on their 36 when Gillies handed the ball to sophomore running back Will Fletcher, who burst through the middle, broke a couple of tackles and sprinted 64 yards for a touchdown and 28-21 lead.
"Will is a young guy," Gillies said, "and we're starting to get him more into the offense. He made a big play and we should see more from him in the future."
"We finally hit the crease and Will hit it pretty good," added Nimphius. "He broke tackles and looked like his older brother Dave. He's bigger than David and he's going to be a big guy. And he's only a sophomore."
Now it was the Golden Hawks who were charged up. They held Demarest to a 3-and-out and scored again three plays into the subsequent possession.
On 3rd-and-10 from the River Dell 48 Gillies threw a long pass toward Sirico in the end zone. Sirico leaped, fought off a Demarest defender and caught the ball for a touchdown and 34-21 lead.
"We trust each other," Gillies said of the Hawks pass receivers. "We're really close friends and we know if the ball is up there they're going to get it."
River Dell dominated the rest of the way tallying a safety when junior linebacker Ethan Kupfer tackled Argenziano in the end zone and a Gillies to senior Joe Mellet 21-yard TD pass.
"We're a bunch of fighters," Gillies said. "We're never going to be down no matter what the score is. We always try to keep a positive attitude on the field and on the sideline and it pays off."
River Dell improved to 3-0, while Demarest fell to 2-1.
"We try hard, we work hard," said Nimphius. "We're getting better at a lot of things. It's all part of the progression of getting better with a group of kids that are trying real hard. We're 3-0 and it beats not being 3-0.
"We fight, we battle. The problem is we battle ourselves. You can't rush the maturity of young people. I think we practice really well. I thought the coaching staff did a wonderful job. [Offensive line coach] Austin Berninger played for us and he was a three-year starter in college. He's really taken the next step as a coach and you see a future head coach as far as I'm concerned."
The Golden Hawks travel south next week to play one of the top teams in New Jersey.
"We have a bear of a game next week," Nimphius said. "We're going to South Jersey to play Pennsboro. They were 13-0 last year and they're the real deal. They got guys so we'll see. I like playing on the road and I like it as hostile as possible. That's fun."
"We're going to go back and prepare starting tomorrow morning," added Gillies. "We'll start watching film and practice well and we'll be ready."