West Milford cruises behind Ehrmann hat trick by Rich Barton of northjerseysports.com
LITTLE FALLS – West Milford has been one of the pleasant surprises in the early portion of the high school girls' soccer season. The senior-laden squad has showed its chemistry on the field in an undefeated start.
With a brutal stretch of games ahead over the next two weeks, the Highlanders raised the bar and gave themselves a boost in confidence by putting together their best performance of the season to date.
Marisa Ehrmann scored a pair of first-half goals and completed her first career hat trick just 44 seconds into the second half as West Milford needed just 50 minutes to equal their goal output of the entire season, including scoring on their first three shots of the second half, in a 7-0 win over Passaic Valley on Tuesday afternoon in Little Falls
West Milford methodically two-touched their way up the field before Nicole Socero provided the finishing touches to give the Highlanders an early lead. Passaic Valley (2-3) hung tough early and had a chance to tie it on a direct kick midway through the half but it was saved by Gabrielle Socero.
"We work a lot in practice on our touches, getting the ball forward, and taking good shots," said Nicole Socero. "I thought we connected well to move the ball instead of just kicking and running. If we stay focused and move the ball well we feel like we have always have a chance to win."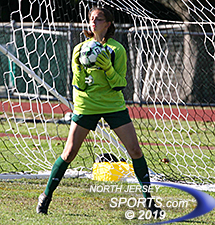 Madison Leech made 13 saves on a busy day in the Passaic Valley net.
From that point on it was all Highlanders. They kept coming in waves before breaking the game open with two goals in a 33-second span. Ehrmann and Natalie Hamblin scored on back-to-back possessions for the Highlanders before Ehrmann added another blast into the lower right-hander corner four minutes later with the Highlanders completely in control by halftime, 4-0.
The outcome was all but locked up after the first 40 minutes. With another 40 minutes left to play, the only question was whether Ehrmann would get her first career hat trick. It took just 44 seconds to find out as she got the ball near the top of the box, took a touch and ripped a shot past the diving Passaic Valley goalie Madison Leech (13 saves) and into the back of the net for a 5-0 lead.
"It was a team effort, I was just in the right place at the right time," said Ehrmann. "We have a lot of tough games coming up and we wanted to have a good game today before going into those games."
Sera Agostinelli added a goal and two assists for West Milford (4-0). Ashley Wardlaw, Emma Piskadio, and Nicole Socero each had an assist. Gabrielle Socero made five saves to earn her third straight shutout.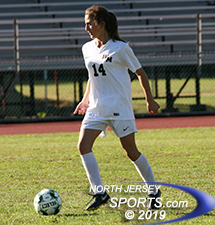 Nicole Soreco and West Milford now enter a tough stretch of five games against quality opposition.
The Highlanders have five straight tough games in a row coming up. They travel to face a Group 2 state finalist from last year today in Ramsey before taking on unbeaten Wayne Valley on Saturday. The rough five-game stretch is capped on October 1st against another unbeaten team in Jefferson.
Although the Highlanders are playing a high level right now they know it has to go even higher if they are going to navigate their way through the toughest portion of their schedule.
"We've been playing together since we were little and now this is our last chance to get something done for us seniors," said Ehrmann. "We all played together when we were young, we split a little bit, and now we're back together. This start shows that we've all proved that we're improving. With some tough games coming up we have to work even harder to get better and see how far we can go."