Demarest does it in all three phases in win over Pascack Hills by J.C. Baumuller special to northjerseysports.com
MONTVALE — Northern Valley/Demarest displayed a potent offense, stingy defense and great special teams play in a 42-0 win over Pascack Hills on Friday night in Montvale.
"One of our goals we talked about this week was to try to get a little better in all three aspects of the game," said Demarest coach Tony Mottola. "We got a little better today than we did against Lincoln [last week]. We just have to keep getting better. That's the big thing."
Norsemen senior captain Ben Marinaccio had a hand in the improvement in each aspect of the game as he scored two touchdowns on offense, intercepted a pass on defense and returned a punt for a touchdown.
Demarest got the ball to open the game and picked up a couple of first downs, but the drive stalled near midfield and sophomore Sean Vadis came out to punt. But Mottola called a fake punt and the ball was snapped to junior offensive lineman/linebacker Thomas Lee in his position as the upback. Lee rumbled 32 yards downfield for a first down at the Cowboys' 19-yard line.
Three plays and a false start later Demarest faced a 4th-and-14. Sophomore quarterback Andrew Argeniziano hooked up with senior tight end Jack Mottola for 14 yards and a first down. Marinaccio ran it down to the 2-yard line and two plays later he scored to make it 7-0.
Hills finally got possession of the ball with 4:58 to go in the first quarter. On the fourth play from scrimmage Norsemen senior linebacker Miles Kauderer went in to make a tackle and came out with the ball. Then he sprinted 28 yards to make it 14-0.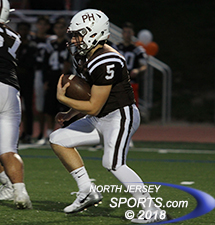 Quarterback Eric Guillemain and Pascack Hills are now 1-1 on the season.
"I was reading the play," said Kauderer, "and I saw the guard down-block and the tackle came out. I just ran into the gap and I don't even remember what happened. All I know is I ran in to try to make the tackle and all of a sudden I ran out with the ball and I was in the end zone. I honestly don't even remember what happened. It was crazy."
Hills couldn't move the ball, only earning a first down on a facemask penalty by Demarest and they punted the ball back to the Norsemen.
"The defense came out firing," said Kauderer. "We knew we had to be aggressive this week knowing they were going to try to run outside, inside, trying to establish a running game. We came out and played physical."
Argenziano went to work, connecting with Marinaccio on a swing pass. Marinaccio broke a couple of tackles, gaining 14 yards. Then Argenziano connected with Mottola for 25 yards and sophomore running back Owen Finetto for 18 more.
On second down at the 16 Argenziano hooked up with senior wide receiver Cameron Cody for a touchdown and 21-0 lead.
"This kid is the toughest kid I've ever seen," Marinaccio said of Argenziano. "He takes hits. I've seen him over and over again take the hardest hits. He gets leveled, gets right back up, shakes it off and throws 30-yard dots downfield. He's a great leader – you'll see him cheering everyone up. He's a great football player."
With less than two minutes to go in the first half the Cowboys punted and Marinaccio caught the ball and bolted to the left. He didn't stop running until he reached the end zone.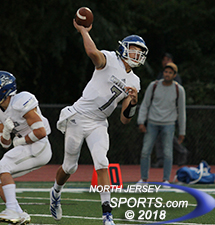 Sophomore quarterback Andrew Argenziano completed 9-of-15 passes for 151 yards and two touchdowns for Demarest, which is now 2-0 heading into next week's showdown against River Dell.
"It was the end of the half and I just wanted to take a shot to see what I could get out of it," he said. "Maybe I could put us in good field position so we could get some points. I saw the left side had great blocking. Cameron Cody, a bunch of receivers and linemen all had great blocks. They opened things up for me and I made the most of it with my speed."
As a result the Norsemen went into intermission with a 28-0 lead.
The Cowboys got the ball to begin the second half and junior quarterback Eric Guillmaine began to move the team downfield. He hit senior wide receiver Cameron Funesti for nine yards and two plays later connected with him for 10 more. An incomplete pass and a sack set up a 3rd-and-long but he again hooked up with Funesti deep downfield.
On the play Guillmaine's pass bounced off a defender and Funesti showed good hands by catching the ball before it hit the ground for a 40-yard gain down to the Demarest 17. But the Norsemen defense stiffened and a 4th-down play was intercepted by sophomore defensive back Sean Vadis at the 10-yard line.
During that Cowboys drive Kauderer stepped up and had two sacks and knocked down a pass.
"It all comes down to team defense," he said. "The team was playing amazing and it was giving me opportunities to be in perfect spots to make plays. Our secondary was playing great. That gave me the opportunity to make those sacks. The quarterback had nowhere to throw the ball. I was getting there in time to help with the coverage sack. Our defensive line also played amazing today."
Two minutes later Demarest scored again when Marinaccio rolled left and sprinted 84 yards down the left sideline to make it 35-0.
"It started again with the blocking," Marinaccio said. "I had some great perimeter blocking by Owen Finetto, great back, hard runner, great kid. Once I get the edge I'm gone."
Marinaccio finished with 160 yards and two touchdowns rushing.
"Some guys had to step up really big today," he said, "because we're already playing, down a lineman. [Junior] James Liparini is in the hospital right now. We hope he gets better. It all starts up front. You have to make blocks and they make me look good in the end. That's what it's about – it's all about them."
Demarest scored one last time in the fourth quarter on a Argenziano to Finetto 29-yard pass to make it 42-0. Argenziano completed 9-of-15 passes for 151 yards and two touchdowns.
"The running backs looked great," Mottola said. "The receivers did a good job and Andrew [Argenziano] is doing a great job as a sophomore. Some good things happened out there. It was really a team effort. We have to keep grinding it out."
Demarest improves to 2-0, while Pascack Hills drops to 1-1.
"I think if we stay healthy I feel the sky is the limit with these guys," said Mottola. "We've got a lot of guys that played a lot of time last year. So they're a pretty veteran crew; things don't rattle them too much. If we just stay the course and keep improving each week we're going to hopefully just keep getting better and better and keep winning games."
"You see 42 points on the board," added Marinaccio. "This team has a lot of great players, a lot of returners. We know what we're doing now. We have to make the most of it and stay healthy."