Old Tappan leaves it late in win over Northern Highlands by J.C. Baumuller of northjerseysports.com
OLD TAPPAN – With just 11 seconds to go in the fourth quarter of what was a tie game, Northern Valley/Old Tappan senior quarterback Niko Orecchio lofted a pass toward senior wide receiver Jake Piccinich deep in the left corner of the end zone. Piccinich out-muscled a defender, caught the ball and landed inside the end line to complete a 7-yard touchdown play and propel Old Tappan to a thrilling 21-14 victory over Northern Highlands Friday night.
"Jake is a guy who has been grinding since February," Orecchio said. "We knew we could trust him if we threw the ball to him. And he made the play."
"The quarterback knew we had one shot," added Old Tappan coach Brian Dunn. "I told him, throw it up there. If it goes out of bounds we kick a field goal."
The teams were scoreless early on due to a combination of strong defense at times and by a slew of holding penalties called on each offensive team.
Old Tappan broke through late in the second quarter with a scoring drive that took only one play to complete. The opportunity was set up by a great play by the defense. Two-time first team All-County senior lineman Patrick Passalacqua ripped the ball away from a Highlands ball carrier and junior linebacker Benjamin Piehler scooped up the ball and ran it to the Northern Highlands 47. Orecchio dropped back and found a wide open Piehler for a 53-yard touchdown catch and run. Junior Daniel Hwang added the extra point and the Knights led, 7-0.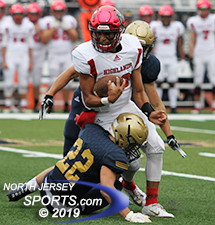 Sophomore Enzo Arjona give No. Highlands a true dual-threat at quarterback.
"There were about three minutes left," Orecchio said, "and it was still 0-0. So we knew we had to start moving the offense – we weren't really getting any yards. We came out and hit that seam route in the middle and it got us a quick seven. At that point we had momentum. When we got the ball back with a minute left we knew we could do it again."
Old Tappan got the ball back when Highlands went three-and-out for one of the few times in the game. The Highlanders punted and the ball rolled dead at the Knights' 4-yard line with 1:09 to go in the half.
"We were trying to score," Orecchio said. "It was only 7-0 at that point. We weren't really thinking about trying to hold the ball and waste clock. We were trying to score and get further ahead."
Junior running back William Rodriguez got things going with a 31-yard burst up the middle. Then Orecchio cut through the middle for 14 yards.
"We were playing safe," said Dunn, "but then Rodriguez busted a huge run and he ran three guys over. That's one of those inspiration runs where everybody is fired up and we still had three timeouts and we're on the 35.
"The next play was a quarterback draw so we were still playing it a little safe but he busted it for a couple of yards. Now we're in 2-minute drill from there."
Orecchio hooked up with Piccinich for a 7-yard completion and, after a timeout, he hit Piccinich for 14 more yards. With 15 seconds left and a first down at the 32 Orecchio ran around and through the Highlander defense for 30 yards down to the 2-yard line. Rodriguez took it in there for a 14-0 lead as time ran out in the first half.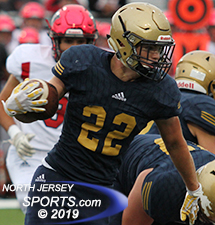 Will Rodriguez led an efficient running game for Old Tappan, which one its season opener for the eighth straight year.
"That was a great drive," said Dunn. "The quarterback did a great job on that."
But the Highlanders, who are a much-improved team under the tutelage of first-year coach Greg Russo, fought back. After stopping the Golden Knights on the first possession of the second half they completed a 60-yard scoring drive in 1:16.
An illegal procedure penalty set them back five yards but sophomore quarterback Enzo Arjona rolled around right end for 10 yards. Then Arjona handed the ball to senior running back Ethan Harris who bolted 55 yards for a touchdown. On the play Harris spun away from one defender and broke three tackles en route to the Highlanders first score. Senior kicker Andrew Haas booted the extra point and Northern Highlands cut the lead to 14-7.
On the ensuing possession Old Tappan got a first down on a Orecchio to senior tight end Kevin Weis pass but they were forced to punt the ball back to the Highlanders with 2:21 left in the third quarter.
Northern Highlands took advantage by going on a six-and-a-half minute scoring drive to tie the game.
Along the way junior running back Nick Lapi and senior wide receiver Zack Saturn played key roles and the Highlanders also converted a fourth-day play early in the fourth quarter.
Arjona connected with junior tight end Nick Holle for 15 yards to get the Highlanders into Old Tappan territory and Saturn scampered for eight yards as the third quarter came to an end. Four minutes later, on a 3rd-and-7 at the 18, Arjona flipped a pass to the right flat. Saturn caught the ball in stride, sprinted down the sideline and dove into the end zone to tie the game 14-all.
"They were decent last year," said Dunn, "but it's all the same kids and they got a new quarterback. Their new quarterback is a really good player. That makes a huge difference for them. They're all a year older, a year better."
The Knights got the ball at their own 15-yard line with 7:43 to go in the game and began their game-winning drive.
"It was a tie game," Orecchio said, "and we knew we had to keep the ball and not give it back to them and we would have one more chance to drive and score. Our guys did their job and we scored a touchdown. We knew Northern Highlands was a really good team but we expected to be able to move the ball well between the tackles. We had a lot of returning guys up front. We did a good job of that but they stopped us a couple of times. We have to do a better job."
"We got a first down by an inch and we were able to just keep falling forward on the runs," said Dunn. "It was nothing flashy, just falling forward, getting five, six yards. A lot of 2nd-and-5's, 2nd-and-6's, 3rd-and-1's."
With the victory the Golden Knights won the home opener for the eighth consecutive season.
"It definitely gives us some momentum," Orecchio said. "We kind of see where we are at. We know how good Northern Highlands is and we know who we can hang with. We definitely have a lot of work to do.
"At the start of the season we had a lot of guys who knew what to do but we weren't really playing as a team. I think today, although it was sloppy, we started to show some flashes with our team. We have to build on that and carry it through to the tougher schedule we have coming ahead."