Clifton breaks though in second half of season opening win by Rich Barton of northjerseysports.com
CLIFTON – Getting a feel for the direction of a game and sensing the pulse of his team is why Clifton head coach Stan Lembryk is considered one of the top coaches on the New Jersey boys' soccer landscape. Even though his squad had a strong first half to open its season against Wayne Hills, the reality was the Mustangs were locked in a scoreless duel. Lembryk knew he needed to adjust his team's style of play.  It paid dividends with an even better half and a positive result.
Freshman Dylan Perez scored his first varsity goal near the midway point of the second half and senior co-captain Kevin Salensky added an insurance goal late for the finishing touches on Clifton's 2-0 win over Wayne Hills in the season opener for both teams on Thursday at Clifton High School.
Clifton set the tone right from the outset by dominating possession. That came to a halt in the Patriots' defensive third of the field with a rock solid effort, especially in the air on 50-50 balls. The Mustangs earned six first-half corner kicks but did not get off a shot on any of them as both teams headed to halftime looking for their first goal of the season.
"We were moving the ball well but we needed to be more direct in the attacking third," said Lembryk. "Our guys did a good job of playing smart in the second half but also taking chances when we had the opportunity."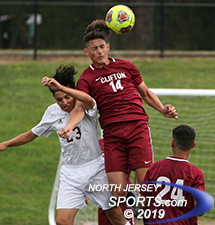 Amer Lukovic (14) and Clifton won the battle for 50/50 balls.
That started with Salensky and Amer Lukovic in the middle along with Danny Toban up the left side causing havoc. Wayne Hills goalie Evan Vandervelden (eight saves) commanded the box and made several nice plays to keep the game scoreless. The Mustangs kept coming in waves and eventually broke through in the 60th minute. A cross from Toban bounced around in the box before Perez collected it and tucked a shot into the lower right-hand corner to put Clifton ahead, 1-0.
"It was an amazing feeling to score but it was all about my teammates setting me up," said Perez. "The ball just ended up on my feet and I had to take a chance because we didn't get many shots off up to that point."
Wayne Hills made a push late and sent numbers forward on a corner kick. Led by a Clifton junior back Jonathan Diaz, the Mustangs were able to clear the penalty area and head out on a textbook counterattack. The ball moved both up the field and the Mustangs effectively switched fields with Jason Suarez sent a low cross into the box for Salensky. He beat a defender to the ball, took a touch to create space then got off a sliding shot that found the back of the net with 4:13 to play to secure Clifton's first win of the year.
"I thought we did good things today but we couldn't string them together," said Wayne Hills head coach Samuel Adjei. "When we didn't clear our end, a team like Clifton is going to make you pay. The bottom line is when you only get two shots on goal for the entire game it's going to be hard to win. It is a long season, it's a marathon and not a sprint. We just have to get more aggressive in terms of finishing and we'll be alright."
Eryk Zamora earned the shutout for Clifton (1-0), but the schedule ramps up a bit over the next nine days. The Mustangs take on St. Peter's Prep, an always stingy Passaic Valley side, and Don Bosco Prep. That will be a good measuring stick of what needs to be done for Clifton to return to championship form.
"I think we had some butterflies today and we have to just work on staying relaxed," said Salensky. "We made an adjustment today and we executed that plan. It's about staying patient but also being aggressive and finding those seams in their defense. This win was a good start to our season and we just have to play Clifton soccer moving forward."