Pascack Hills goes back to back in Group 2 by Cory Doviak of northjerseysports.com
HAMILTON – The defense was not as tight as usual and the offense did not show up until the bottom of the sixth inning. That is how far one needs to stretch in an attempt to cast any shade on the beautiful sunset of the careers of Pascack Hills' baseball playin' Class of 2019.
With their 2-0 victory over Point Pleasant Boro on Saturday on Bob DeMeo Field inside Veteran's Park in Hamilton Township, the Cowboys put the cherry on top of a historic four-year run by the public school in Montvale.
"I'll tell you, it has not been too bad. They won the Freshman County Tournament and went undefeated. Their sophomore year with five of them starting we won the section and then back-to-back State Group titles is something that does not happen too often in a public school," said Pascack Hills head coach Kevin Kirkby, who left out the Bergen County Tournament championship won last season. "These seniors were 21-9 as sophomores and then 59-5 the last two years, so 80-14. In baseball that does not happen too often and they should be [darn] proud of what they have done. They have truly put our baseball program on the map and I do not think that there has been a class anything like them anywhere at a public school in Bergen County."
So here is the list of seniors in order of their jersey numbers: Joe Mirza, Chris Curcio, Marc Hernandez, Connor Quigley, Jared Christophel, Julian Bulzomi, Matt Giammanco, Mike Rodriguez, Ryan Ramsey, Brandon Siegenthaler and Nate Barcus. Six of them are starters, six of them will continue their baseball careers at the collegiate all of them have played a huge role in the historic run.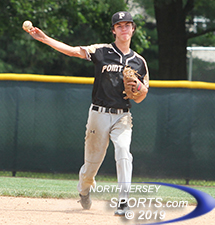 Sam Collins led off the game with a single. Point Pleasant Boro did not get another hit for the rest of the game.
Ramsey (8-2, 0.70-ish ERA, 105 Ks), last year's state Pitcher of the Year and a strong contender to repeat, and Siegenthaler (9-0, 0.38 ERA) have made up what is probably the best one-two punch at the top of any pitching rotation in New Jersey and Ramsey saved his best game for his last game, a virtuoso performance in Saturday's state final.
Ramsey gave up a single to the first hitter he faced, Point Pleasant Boro's Same Collins, then gave up just about nothing else. The Panthers could manage only four baserunners in the game and were locked up by Ramsey's ability to work backwards by throwing his curveball early in counts for strikes, both called and swinging.
Collins made it as far as third base on a sacrifice bunt by Nicholas Zbikowski and a groundball to the right side by Nicholas Guzzi before Ramsey struck out the final hitter swinging to end the top of the first inning. Ryan Jasaitis reached on an error with one out in the second inning, but Ramsey left him standing on first base with back-to-back strikeouts. Guzzi drew a leadoff walk in the fourth, the only one issued by Ramsey in the game, and advanced two bases on two outs, but a called strike three ended that frame. Ramsey (7 IP, 0 R, 0 ER, 1 H, 9 K, 1 BB) retired 10 of the final 11 hitters he faced with a hit batter with one out in the seventh the only blemish in that groove.
Ramsey, the University of Maryland commit, needed just 81 pitches and less than 1:40 to finish off his complete game, one-hit masterpiece. Point Pleasant Boro had scored 35 runs in its five state tournament wins leading up to the state final. On Saturday, the Panthers could only get four batted balls to reach the outfield and three of them were caught for outs.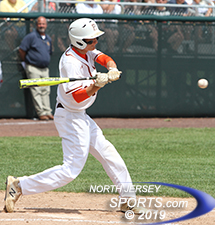 Mike Rodriguez drove in both .runs for Pascack Hills, which outscored its six state tournament opponents by a combined 29-1.
"I have never thrown 81 pitches in complete game in high school. I have been up there…100 pitches, 110, you know, hitting my pitch limit every single game, so to throw 81 in a complete game is big," said Ramsey, the hard-throwing left hander who added a change-up to his arsenal this season with devastating effect. "I didn't have the change-up last year. This year I have it and to be able to throw it against righties is huge. The three-pitch mix with the curve and my fastball has helped me out a lot."
Guzzi, Point Pleasant Boro's junior right-hander, was a worthy opponent for sure. The St. John's commit gave up a one-out single to Spencer Berson, the second hitter he faced, and also walked Siegenthaler two batters later, but the first of Guzzi's six strikeouts ended the first inning and Pascack Hills' best chance to score through the first five innings.
Berson (2-for-3, R, SB, 2B), the junior rightfielder, finally set the offensive wheels in motion with a leadoff double to left in the bottom of the sixth inning of a still-scoreless game. The next two hitters, Curcio and Siegenthaler, tried to give away outs via the sacrifice bunt but Guzzi was unable to accept them. He hit Curcio with a pitch and walked Siegenthaler to load the bases with no outs. A pop-up in foul ground gave Guzzi a temporary reprieve, but another one of Pascack Hills' senior leaders made sure that the opponent did not get let off the hook.
Mike Rodriguez hit a chopper over the third baseman's head and just inside the line for a two-run single that scored Berson and Curcio with the game's lone runs.
"I just had to react. The pitch was coming in on me and I had to turn on it quick and hit it down the line," said Rodriguez, one of three Cowboys, along with Hernandez and Curcio, who will play at Rowan University next year. "I was not looking to do much; I just wanted to get the ball into the outfield."
Guzzi (6 IP, 2 R, 2 ER, 3 H, 6 K, 2 BB) regrouped to get the next two hitters, but the damage was done. Ramsey needed just 12 pitches to get through the final three outs and into the dog pile near the pitcher's mound that finished off the magic carpet ride that was the last three baseball seasons. The Cowboys are a combined 16-1 in the state playoffs over that span and this year they outscored their six opponents by a combined score of 29-1.
"I don't think we realize [all that we have accomplished] right now. It might take a couple of years. We have all just been living with the energy and trying to keep it going, but now that it has come to an end I don't know what to really think yet," said Rodriguez, who had more immediate plans to fulfill. "I am really speechless because for us to get the opportunity to come out here and win a ring one time was great, but now we are out here and this is our second one…I don't even know what to say. It's just a great way to end it."