Pascack Hills heading back to state final by Rich Barton of northjerseysports.com
PISCATAWAY – When Brandon Siegenthaler first put on a Pascack Hills uniform he felt like he would be in it forever, but time flies. He has gone from a plucky but hungry up-and-comer to now a Division 1 commit and the hard-throwing righty wanted to end his career in style. So when took the ball for the final start of his high school career he knew he had to come up with a special performance to give the Cowboys one more shot at their ultimate goal of defending their Group 2 state championship.
Mike Rodriguez's hustle snapped a scoreless tie and the very next batter, Christian Kim, added a two-run homer in the fourth inning. That was more than enough run support for Siegenthaler, who was lights out from his first pitch to his last in a two-hit effort as Pascack Hills shutout Madison for the second straight year in the Group 2 semifinals to advance to the state final, this time with a 4-0 win at Rutgers University.
"I got in my groove and I knew we'd eventually put up some runs," said Siegenthaler. "This was my last start and I had to be at my best. I started with a fastball to get ahead and was spotting my curveball pretty well today."
In the 2018 Group 2 semis, Pascack Hills put up runs early and often in a 16-0 romp over Madison. Runs would not come nearly as easy in the rematch against southpaw Will Hart. He escaped a bases-loaded jam in the third inning and was fired up after striking out Siegenthaler and fielding a comebacker to start the top half of the fourth inning. However, the Cowboys became equally as fired up and Rodriguez single-handedly manufactured a run with a good swing and a fortunate bounce.
AJ Gupta had both hits for Madison, which finished the season at 24-8.
He lined a double into the left-center field gap to get into scoring position. It seemed to be all for naught when Ryan Ramsey swung at a third strike but the ball was in the dirt and skipped past the Madison catcher. With the game being played at Rutgers and a deep backstop behind the plate, it took longer to retrieve the ball than normal. Rodriguez never stopped running on the play and his head-first slide beat the throw to the plate to put Pascack Hills ahead, 1-0.
"I saw the ball at the backstop when I was coming around third and I knew it was go time," said Rodriguez. "We weren't doing too much in the beginning, but we had to stay aggressive. I had to make something happen and take that plate, it was mine."
Then with one swing Christian Kim padded the lead with the biggest hit of his varsity career. He ripped a 1-1 fastball around the foul pole down the left field line to make it a three-run lead.
"I was expecting a fastball there and got the pitch I wanted," said Kim. "He threw a fastball first pitch then came back with a curveball. I didn't think he'd throw another one so I sat on a fastball. It was inside and I got swing on it."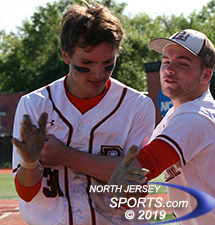 Mike Rodriguez got his 100th career hit and scored from second on a wild pitch to put Pascack Hills in front for good.
With the way Siegenthaler was dealing all afternoon three runs was more than enough to work with. He got ahead in the count consistently and pounded the strike zone at the knees all game long. The Villanova-bound senior retired the first 12 batters he faced and did not allow a runner past second base all game as Pascack Hills moved one step closer towards defending its Group 2 state title.
Siegenthaler allowed just two hits, did not walk a batter, and finished with nine K's for Pascack Hills (28-3). Rodriguez had two hits, including the 100th of his career. AJ Gupta had both hits and a stolen base for Madison (24-8).
Pascack Hills will face off against Point Pleasant Boro with the Group 2 title at stake on Saturday. The game will be played at Veterans Park in Hamilton with a scheduled first pitch at 1:00 P.M. With one game left to play for all the marbles there is no time for the seniors to sit back and reflect on the most successful two-year run in school history.
"We've been working for this all season and we feel really confident with (All-state lefty Ryan Ramsey) out there," added Siegenthaler. "Everyone has stepped up all season and we'll be ready to take home another title."