West Milford wins first section title since 2004 by Rich Barton of northjerseysports.com
NORTH CALDWELL – As an assistant under longtime head coach Jim Dransfield and then in her time as a head coach, Nikki Gwinnett has carried on the tradition of West Milford being a consistent winner and a championship-caliber team. Unfortunately, the word 'caliber' is attached because the Highlanders have suffered some crushing losses in championship games over the years.
Over the past four years, Jess Perucki has been a part of those teams that have come up agonizingly short. With one last chance to be a champion, the senior right-hander took it upon herself to make sure that the Highlanders were finally the ones celebrating that final out.
Perucki brought home the go-ahead run in the fifth inning before driving home an insurance run in the seventh before slamming the door shut as eighth-seeded West Milford won its first section title since 2004 with a 3-1 victory over seventh-seeded West Essex at West Essex Regional High School in North Caldwell.
West Milford manufactured a run in the top of the first. Samantha Araujo was hit by a pitch and stole second. Then with two outs and the count full, Jenna Moran lined a single to plate Araujo and give the Highlanders an early 1-0 lead. The Highlanders had a chance to tack on some more, but West Essex pitcher Julia Vardiman escaped a bases-loaded jam in that first inning before the Knights responded with a run in the bottom half of the frame on an RBI hit by Jenna Sperduto.
"Even though they tied the game we came together and quickly put it behind us," said Gwinnett. "The talent has always been there for us. It's about confidence and we've shown what we're capable of in the last few weeks."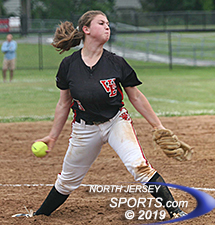 Julia Vardiman pitched well for West Essex, the No. 7 seed that had a home game in the section final.
Perucki and Vardiman both settled in until West Essex threatened to take the lead in the fourth. Sperduto led off with a double but Perucki refused to let her score. She induced two routine ground balls wrapped around an infield pop-up to keep the score tied before untying it herself in the top half of the fifth.
Leading off the inning Jess Reilly was hit by a pitch. Two batters later, Perucki drove a pitch to deep right for a double that scored Reilly and gave the Highlanders a 2-1 lead.
"I just wanted to get a good pitch and hit the ball hard," said Perucki. "I was hoping to hit one in the gap and get that run in. When we got the lead we knew we could do it. These are the girls I've been playing with my entire life and we were ready for this moment."
West Essex (14-10-1) looked to answer back with a leadoff single in the bottom half of the fifth. That was erased one pitch later when a lineout to Araujo at short turned into a double play. It was at that point where the Highlanders finally started to believe that a championship was truly within their grasp.
Jess Perucki threw a three-hitter and drove in two runs for West Milford, which will play Chatham in the Group 3 semifinals.
Perucki's single back through the box in the seventh made it 3-1 in the seventh but she did not need that insurance run. She got stronger as the game went on, retiring the final seven batters she faced as the Highlanders finally hoisted a trophy and a well-deserved one at that.
Perucki twirled a three-hitter with just one walk, eight Ks, along with a 2-for-4, 2 RBI day at the plate for West Milford (14-10). The Highlanders will not have long to savor this victory as they turn around today to take on Chatham in the Group 3 state semifinals tonight at Ivy Hill Park on the campus of Seton Hall University in South Orange with a 7:00 P.M. scheduled start time.
"We're just happy to be still playing, there aren't too many teams in the state left doing it," added Gwinnett. "Our team came together at the right time. To win this section with some of the powerhouse teams that are in it is amazing. It feels much better to be a section champ than to be a contender and we're happy to be on the other side of it. Now we're playing with house money and we'll see how far we can go."