Ridgewood wins its first-ever Bergen County baseball title by Cory Doviak of northjerseysports.com
DEMAREST – With the format change last year the Bergen County Baseball Tournament has become all about the aces. No longer is pitching depth a requirement and there is no more quick turnaround from a Saturday semifinal to a Sunday championship game, which might begin with a depleted pitching staff.
The change has not only taken the emphasis off the number of quality arms a given team might have, but it has also brought more potential winners into the mix. This year's tournament saw not even one of the top four seeds make it past the quarterfinal round and it had a No. 9 seed as the home team in the championship game as Ridgewood was the home team on the scoreboard against No. 10 St. Joseph Regional.
Just when it looked like tradition had given way, the bullpen became a thing again in the 61st Bergen County Tournament title game on Saturday afternoon at Northern Valley/Demarest High School.
Ridgewood and its left-handed-hitting-heavy lineup finally solved the riddle of St. Joseph's Regional's Jimmy Romano, the sophomore right-hander who had collected some impressive pelts in the last three weekends by beating Ramapo, defending champion Pascack Hills and Rutherford in last Saturday's semifinal round. In those games Romano's breaking pitches darted down and away from the predominantly right-handed lineups.
With six of the nine spots in the Ridgewood batting order inhabited by left-handed swingers, those breaking pitches were turning down and into the wheel house and the Maroons took full advantage. After falling behind by four runs in the top of the second inning, Ridgewood got its sticks going and, highlighted by Brian Skettini's three-run bomb in the bottom of third, pounded its way into the St. Joseph bullpen and then to its first-ever Bergen County baseball championship.
With a 10-7 victory in front of a huge crowd at Northern Valley/Demarest High School, Ridgewood won the 61st edition of the Bergen County Baseball Tournament.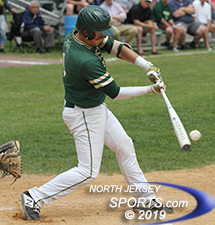 Niko Mokanos drove in the first run of the game for St. Joseph Regional.
"The first guy [Romano] looked real tough in the first few innings. I think he struck out four of the first six batters, but then we made some adjustments and I think Skettini's home run was a big lift for us," said Kurt Hommen the Ridgewood skipper who now led two different programs to their first ever county tournament titles having already done it with Tenafly (1994). "I had the chance to win one at Tenafly and now to win one here…it's special. It's my hometown, these kids have all grown up together and they have run the gauntlet in this tournament winning five games. Bosco, Joe's, the best teams. A very tough road to get here and they battled through it."
Ridgewood starter Kevin Seitter was nearly perfect last week in the semifinals when he one-hit Rutherford without allowing a walk, but St. Joseph touched in the second inning for four earned runs. Designated hitter Niko Mokanos (1-for-4, RBI, R), No. 9 hitter Anthony Panissidi (1-for-2, 2 R, RBI) and leadoff hitter Joshua Rodriguez all drove in second inning runs and another scored on a wild pitch as SJR jumped out to a 4-0 advantage while putting Seitter on the ropes.
Seitter settled in from there, however, and the Ridgewood bats changed the momentum. The Maroons' lineup is so tough top to bottom that Matt Favieri, who is hitting right around .350 for the season, hits in the No. 9 spot and his two-out RBI in the bottom of the second got Ridgewood on the board.
In the third, Bret Thompson drew a one-out walk, Sam Favieri (2-for-4, 2 R), who won the Evans Award as the tournament's Most Valuable Player,  singled and then Skettini, the right-handed swinging senior catcher, stayed back and smoked one, a no-doubter well over the leftfield fence that tied the game at 4.
"I was just very excited when I hit the ball because I knew it was out and I knew we were going to start rallying from there," said Skettini, who finished 1-for-2 with the home run, 3 RBI, 2 runs scored and was hit by pitches in his final two at bats. "No pitcher ever sees six lefties in a lineup like we have, so when they see a righty they really want to pitch to him, but I guess that is not always a great idea."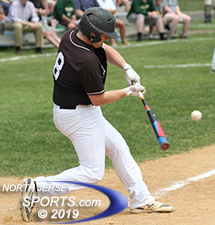 Brian Skettini crushed a three-run homer in the bottom of the third inning to get the Ridgewood offense rolling.
The third-inning rally continued with Reed Darienzo (0-for-3, 2 RBI) and Matt Favieri (2-for-3, 2 RBI) driving in the two runs that made it 6-4 and knocked Romano (2 2/3 IP, 6 R, 3 ER, 6 H, 4 K, 2 BB) out of the box. After getting four hits off of Seitter (5 IP, 5 R, 5 ER, 6 H, 3 K, 2 BB) in the second, Joe's managed just one more off the senior right-hander and it came in the top of the fifth  when Sean Hard's groundout scored courtesy runner TJ Roman with the run that got SJR back to within 6-5.
Seitter earned the Ennis Award as the tournament's outstanding pitcher, but he did not figure in the decision in this one as Matt Crawford came on to work the top of the six and immediately found trouble when Ellis Garcia (2-for-3, R) greeted him with a single and then an error on a sacrifice bunt attempt set up a big inning for the Knights, who got a run on a wild pitch and a hit batter with the bases loaded to go up 7-6 heading into the bottom of the sixth.
Without a left-handed pitcher to turn to because of injury, SJR stuck with its first reliever, Zack Bailey, to start the sixth and Ridgewood got the first three runners on to apply the pressure. Sam Favieri beat out an infield single, Skettini and Anthony Stephen were each hit by pitches to loaded the bases and then Alex Facini (1-for-3, 2 RBI, R, 2B) delivered a two-run double to left centerfield that put the Maroons ahead for good. Michael Breiter (2-for-3, RBI, 2 R), the last hitter Bailey (2 1/3 IP, 4 R, 4 ER, 3 H, 1 K, 3 BB) faced, singled in a run through the drawn-in infield and Darienzo's fielder's choice knocked in the last of the four runs in the rally and made it 10-7.
"They are a tough team. They don't swing at anything outside the plate at all and they make you throw strikes. If you lay one down the middle they get on it. That is a good hitting team and they deserve it," said SJR skipper Mark Cieslak. "They had so many lefties [in their lineup] and we didn't have any lefties left to throw. Every lefty we had is hurt, so we had to do what we had to do. The guys we put out there battled, but give the credit to Ridgewood."
The credit and the Joe Cervino Award, which goes to the county champion. Ridgewood, also the defending North 1, Group 4 state sectional champion, has a sectional semifinal game to play on Tuesday, but will take a couple of minutes to celebrate its first ever county title.
"Tomorrow is a new day and coach [Brett] Lowey always says that there are 20 minutes to celebrate and then it is on to the next game," said Sam Favieri, Ridgewood's senior shortstop. "Come Tuesday we have to be mentally prepared and do what we have to do to keep winning and keep this season going."