Old Tappan softball wins its first-ever county title by Rich Barton of northjerseysports.com
MAHWAH – It's just a game. That is what softball players are often told on the field throughout the course of their athletic lives. However, softball can also mirror the trials and tribulations that one goes through outside the white lines. Northern Valley/Old Tappan learned that life lesson the hard way when Indian Hills rallied for six runs in the bottom of the seventh inning to stun the Golden Knights and end their state tournament run this past Monday. Anger, sadness, and lots of tears flowed through their dugout on that day. But with a Bergen County title still left to play for the Golden Knights regrouped and realized that this season still had a chance for a happy, championship ending.
Those chances seemed slim coming into the game against Ramsey, not only the two-time defending county champ but also in the midst of a 14-game winning streak. Old Tappan refused to let that be an intimidating factor. One loss was not going define their season. The Golden Knights focused on earning a win that would not only bring them a long-awaited trophy but unify the team for years to come.
Senior leadership was prevalent throughout the Golden Knights' lineup and it was only fitting that they played a part in the final outcome. Cynthia Gordon snapped a tie with an RBI single in the top of the seventh and fellow senior Calista Zahos followed with a run-scoring single as ninth-seeded Northern Valley/Old Tappan won the first county title in school history and became the lowest seed ever to win the Bergen County Tournament with a thrilling 7-5 triumph over No. 2 seed Ramsey on Saturday at Mahwah High School.
"Monday was a shock to say the least; we were down and we were hurt," said Northern Valley/Old Tappan head coach Melissa Landeck. "Tuesday was a rough practice but we knew we had one game left to play for a county title and we had to be in the game in every aspect."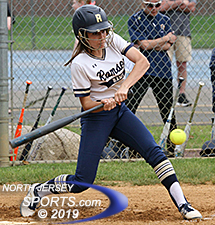 Bella Sebastian and Ramsey will get back at it on Tuesday when they will try to defend their state sectional title against Lenape Valley on Tuesday.
Ramsey came in swinging hot bats and that continued in the first inning. Victoria Sebastian led off the game with a single and scored on a single by her sister, Olivia, to stake the Rams to a 1-0 lead. It could have grown until a fantastic defensive sequence got the Golden Knights out of trouble.
With two runners on and one out Bella Sebastian lined a hard single to right-center. Old Tappan standout centerfielder Megan Weis through a perfect strike to the plate with Gordon putting a swipe tag on Olivia Sebastian at the plate on a bang-bang play for the out. Gordon then had the presence of mind to fire to third base where Sinead Albelli was waiting to make the tag for a routine 8-2-5 inning-ending double play. So instead of Ramsey having a two-run lead with two runners in scoring position Old Tappan gave up four hits in the inning and escaped giving up just the one run.
"We knew some things had to break the right way and we would have to make some big plays to get our confidence back," added Landeck. "Things are not always going to go your way on the softball field or in life. It's tough to deal with but it's about how you respond. Our team has a lot of toughness, a lot of maturity, and we knew we had to leave it all out there because this was it."
Oid Tappan got on the scoreboard in the top half of the third inning. No. 9 batter Kiera DeNichola, who has been scorching hot at the plate throughout the county tournament, missed a home run by mere inches and settled for a double. Senior shortstop Rebecca Clyde then came through with an RBI single to tie the game at 1.
The Sebastian sisters were at it again in the bottom half of the inning. Victoria Sebastian once again led off with a single and came around to score on Olivia's RBI hit to put the Rams ahead, 2-1.
The score remained that way until Old Tappan busted out in the fifth. Ramsey uncharacteristically had two errors and issued a walk in the inning. Gordon made the Rams pay with a double that put the Knights ahead 4-2. They had a chance to tack on more but Weis was cut down at the plate by a big throw from Olivia Sebastian in center.
Ramsey had a swift and immediate response by getting all three of those runs back in the bottom half of the frame. A pair of errors extended the inning with Bella Sebastian and Katie Nowak hitting back-to-back run-scoring singles that put Ramsey back in front, 5-4.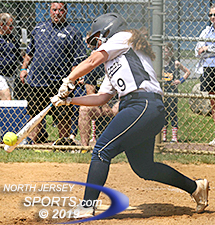 Cyntha Gordon went 3-for-4 with two RBI for Old Tappan, which ended its season with a 19-9 record and a county title.
It is a point where the Golden Knights could have folded up the tent knowing they gave it the ol' college try. But with the energy they brought all season and how that was ramped up in this particular game there was no way they were going down without a fight. It took just one swing of the bat to prove that with Gabby Ramundo's leadoff homer in the sixth knotting the score at 5.
Ramsey had a chance in the bottom half of the inning to get the go-ahead run across with a runner on first and one out. Then on a sacrifice bunt attempt Old Tappan first baseman Kristen Brown sprinted in to make a nice catch before wheeling and throwing to Zahos covering at first for the double play. That play served as the springboard for the all-important seventh inning.
Clyde hit a hard ground ball up the first-base line that glanced off the glove of the Ramsey first baseman and beat the toss to the bag to get things started. Megan Weis then singled with Clyde heading to third with out to set the stage for the cleanup batter. Gordon, who had the game-winning hit in the BCT quarterfinal win over Bergen Tech, drove a 1-1 pitch to left that brought Clyde home with the go-ahead run.
"It was a stressful at-bat but I had to stay calm," said Gordon. "We faced a really good pitcher and I knew I might only get one good pitch to hit. I got the pitch I liked and I went after it. We wanted this game so bad. Once we got runners on base we couldn't let this opportunity slip away."
Siting on 99 hits for her career, Zahos picked the perfect time to reach the milestone. Her 100th career hit came in her final high school at-bat, a single to right-center. This time the athletic Weis beat the throw home as the Old Tappan dugout was in a frenzied state carrying a 7-5 lead into the bottom half of the seventh.
"I knew this could be my last at-bat and I didn't want to second-guess myself," said Zahos. "We've played this game so many times together and we just had to go out and do our jobs both individually and as a team. You start playing softball because you think it's fun. We've had so much fun this season that we had to get back to that for our last game."
Freshman right-hander Raegan Germano had a solid Bergen County tournament in the circle for Old Tappan. With the heart of Ramsey's order coming up Germano calmly sent them down 1-2-3 to lock up the Golden Knights' first Bergen County title in the softball program's long history.
Gordon paced the offense going 3-for-4 with two RBIs for Northern Valley/Old Tappan (19-9). Olivia Sebastian led the way for Ramsey (24-4) by going 3-for-4 with three RBIs and a run scored. The Rams were devastated by the loss but will have to bounce back quickly when they face Lenape Valley for the North 1, Group 2 section title in Ramsey on Tuesday.
When Ramundo snagged a fly ball for the final out of the game the celebration was lengthy and well-deserved one for a team that going into the county tournament was given virtually no chance to hoist the trophy. With each win the Golden Knights' belief grew that they could actually achieve all that they set out to accomplish. Now that they are the Bergen County champions the Golden Knights can only reflect on the long journey that got them to this point.
"Win or lose this was our last time together and it energized us to get this win," said Clyde. "The feeling on our bench and on the field was electric from the time we got here. We've had a lot of heartbreaks along the way this season but we came through when it matters most. To this with my team, with our coaches, our administration, our families, and our fans is indescribable. There's no way to put it into words, I'm just glad we made it to the end and finished the year being able to say we're county champs."