Demarest captures a third straight state sectional title by Cory Doviak of northjerseysports.com
DEMAREST – Pascack Hills certainly presented a formidable challenge to the Northern Valley/Demarest tennis team when it showed up for the North 1, Group 2 state sectional final. Pascack Hills was the No. 2 seed in the bracket and had won its two previous state tournament matches by a combined score of 9-1. Demarest, the two-time defending champion and top seed, however, has been sharpened by competition from both within and without and has taken it to a whole other level.
The Norsemen swept all five matches for the third straight time in the state playoffs and have now outscored their opponents by a combined score of 15-0 after Monday afternoon's 5-0 victory over Pascack Hills that gave Demarest its third straight state sectional title.
With three singles players that could all play in the first position if needed and with none of them seniors and with four freshman in the starting lineup, this Demarest boys tennis dynasty is in no danger of fading. In fact, it is only getting stronger after graduation day of 2018 saw a bunch of talented players walk across the stage.
"It is pretty remarkable. This year we have four freshmen in the starting lineup and we continue to try to build this program. We have made a lot of progress throughout the year," said Demarest head coach Dave Johnson. "Our singles players have been so important to our success and, especially in the state tournament; our doubles have really come through as well. We are growing in every position, we are making strides and hopefully we can do something down in Mercer County [Park for the Group 2 semifinals and finals]."
Singles tennis is a solitary endeavor, but the Norsemen that play those positions have embraced the team concept of the high school game. Junior Carlos Vasquez is the starter at first singles, but for the few times when he has been unavailable this year, No. 2 Ben Jacobs has stepped in with little letdown. Jacobs, a sophomore, represented the Norsemen at first singles in the Bergen County Tournament and reached the quarterfinal round and he has been pushed from behind by freshman Russell Oh.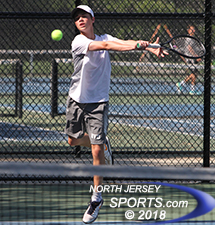 Demarest sophomore Ben Jacobs won 6-3, 6-2 at second singles.
"Juggling USTA and high school tennis is definitely a challenge. I missed the county tournament, but that is more of an individual tournament and my coach was okay with me missing it as long as I was here for my team in the state sectionals. I wouldn't want to miss out on this," said Vasquez, a left-hander who won his match 6-2, 6-1 on Monday. "The team aspect of high school tennis is so much fun. The USTA is a grind and you are always by yourself. It is more competitive, but it is also more of a struggle. In high school you have the support of your teammates to keep you happy and keep it light-hearted."
Jacobs is one of those players that always looks happy. He gets after it with a smile on his face, even when it got tight against Pascack Hills' Luke Patelsky in the second set. Jacobs won the first set 6-3 and was up 4-0 in set No. 2 before Patelsky rallied.
"I was up 4-0 and then I kind of lost it there for a minute. [Patelsky] held [serve] to make it 4-1 and I was still confident, but he started playing really well, he made some tough shots," said Jacobs, who broke right back to make it 5-1 before winning 6-3, 6-2. "He broke to make it 4-2 and everybody came over to watch, which made me a little nervous, but I was able to finish it out."
The first player off the court against Pascack Hills was Oh, the freshman who won both of his sets at love and set the tone for the rest of the afternoon.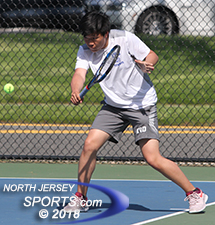 Freshman Russell Oh won both sets at third singles at love for Demarest, which will play North 2 champ Summit in the Group 2 state semifinals on Wednesday at Mercer County Park.
"I knew that the kid was I playing [Dennis Khanutin] was going to be really consistent and I just wanted to end points quick. It was really hot out here, too, and we are not really used to that, but we have been training the whole year for this and we are in pretty good shape," said Oh. "This was one of the most important matches we were going to play and I wanted to be sharp. I had belief in myself that I could keep going for shots even if I missed the one before."
When the singles matches were over, Demarest had already wrapped up the section title, but the doubles matches were closer and were played out to their conclusion. It was a roller coaster for the NV/D tandem of Aaron Zelman and Jaden Lazarus, a pair of freshmen who raced out to a 5-0 lead in the first set, dropped the next six games, rallied to make it 6-6 and then lost 6-7 (4-7) in the first set tiebreaker. And then they dropped just three games the rest of the way in a 6-7, 6-1, 6-2 victory. At first singles, senior Justin Kim and freshman David Berenfeld won the first and third sets in a 7-5, 2-6, 6-2, victory that completed to the sweep and sent Demarest off to the Group 2 semifinals where it will face North 2 champion Summit on Wednesday morning.
Johnson has now won five state sectional championships in his seven years as Demarest's head coach and he has taken the Norsemen to the Group 2 state final twice in those seven years. Demarest keeps putting itself in position to win an outright state championship and one of these years it is going to happen.
With old nemesis Holmdel, the top seed in Central Group 2 that was upset by No. 4 Lawrence in the sectional semifinals, now out of contention, could this be the year?
"Are we an underdog? Probably, but if we play well we have a shot. We have three strong singles and if we can get a doubles point here or there we have a really good shot. All I ask when we go down there is that we play hard and if we do that anything can happen," said Johnson, whose team is now 19-2 this season. "Sometimes the teams from the north underestimate how good we might be because we play such a tough schedule, so it is going to be interesting. We have lost to Holmdel in the state numerous times, but they are out now, so we are going to go down there and battle."