Ramsey ousts IC again by Rich Barton of northjerseysports.com
PALISADES PARK – As soon as the seeds were released for this year's Bergen County Tournament, the players from both defending champion Ramsey and perennial challenger Immaculate Conception had their eyes on one another. Having lost to Ramsey in the 2017 Bergen County final and last year in the semifinal round along with having a talented senior-laden team, Immaculate Conception was chomping at the bit for a shot at revenge.
However, there is a reason that Ramsey is the two-time defending Bergen County champion. The Rams will do whatever it takes to win even if that means working overtime.
That is exactly what happened with two of the state's top senior pitchers — IC right-hander Caylee English and Ramsey southpaw Victoria Sebastian — facing off in a class pitcher's duel. The game headed to extra innings when the Rams finally broke through. With the bases loaded Katie Nowak chopped a ground ball down the third-base line. Speedster Emma Cunningham beat the throw to the plate to score the game-winning run as second-seeded Ramsey is one step away from a rare three-peat with a 2-1 win over No. 3 seed Immaculate Conception on Saturday at Overpeck Park in Palisades Park.
"We've had a target on our back this season but we always fight hard and we're happy to get out of here with a 'W'," said Emma Cunningham. "When you're back-to-back county champs there's a lot of pressure that goes with it, but with the mix of veterans and younger players we feel like we're well prepared for these kind of games."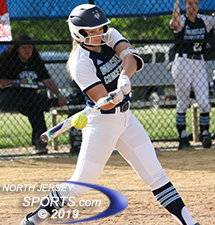 Angela Lignelli tripled home a run to get Immaculate Conception even at 1.
Ramsey has been on fire at the plate in the month of May, averaging 12.9 runs game over an 11-game win streak. The Rams were at it again early sparked by a one-out single from Emma Cunningham. Two batters later, Kaitlin Houser singled with both moving into scoring position with two outs. Bella Sebastian lined a single to right to plate Cunningham, but a perfect throw by right fielder Abby Tabaka cut down a potential second run at the plate to end the inning. It was a huge play as English allowed just two runners to reach second base over the next six innings.
Immaculate Conception got the run back in the top of the third when Angela Lignelli tripled and came home with the tying run on a Faith Camillieri single to make it 1-1.The Blue Wolves had a chance to take the lead in fifth. Christina Braid had a leadoff single and went to third on a sac bunt and a groundout. Victoria Sebastian showed her big-game poise by getting an inning-ending strikeout.
The score remained tied with the game needing extra innings to decide which team was moving onto the BCT final and which was heading home disappointed. After inducing a pop-up to Sophie Cunningham at second base to end the top half of the eighth inning, Sophie's older sister got the all-important hit in the bottom half of the inning.
Emma Cunningham lined a single back through the middle and was moved over to second on a sac bunt by Olivia Sebastian. The Rams then got a fortunate bounce when a ground ball off the bat of Kaitlin Houser hit the third-base bag and trickled into foul ball territory. With nobody covering the bag the fleet Cunningham took off for third and slid in safely.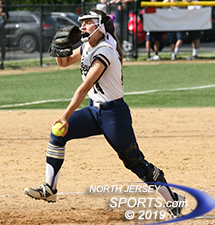 Victoria Sebastian and Ramsey will face Old Tappan for the county title next Saturday.
That forced Immaculate Conception to intentionally walk Bella Sebastian to load the bases. Katie Nowak was ready for the moment and Emma Cunningham equally ready to break for he plate. Nowak hit a ground ball to third that was fielded cleanly and thrown home for the force out, but Cunningham got a great jump on the play and slid in safely with Ramsey celebrating wildly a win over IC in the county tournament for a third straight season.
"We work in practice a lot on hitting the ball on the ground and trying not to do too much," said Nowak. "It helped the bases were loaded and I had one of the fastest players in the county on third. Once I hit the ground ball I knew (Emma) had a pretty good chance of scoring."
Victoria Sebastian scattered six hits with two walks and seven strikeouts to pick up the win for Ramsey (22-3). Emma Cunningham was the offensive catalyst going 3-for-4 with two runs scored and two stolen bases for the Rams. English took a tough loss for Immaculate Conception (15-4). She allowed eight hits with two walks and six K's.
Ramsey now is one step away from completing a mission of becoming just the second public school team in Bergen County Tournament history to win the title three straight years. To do that they must get past a familiar foe in Northern Valley/Old Tappan. Most of the girls on each team play together on club teams over the summer. With each team having so much knowledge of its opponent the atmosphere will be tense and the winner will be decided by which team executes its gameplan better.
"We know each other so well that it's about the little things that will make the difference," said Villanova-bound Victoria Sebastian. "Emma and Katie both play club with those girls and Megan Weis is one of my best friends. We can't think about how well we know them and how they know us. Our focus is on us and how we play. We just have to play hard, play our style, and hope it works out for the best."