Pascack Hills turns the tables on Dumont in state tournament opener by Rich Barton of northjerseysports.com
DUMONT – This spring has been quite a roller coaster ride for the Pascack Hills softball team. There have been many ups and downs throughout the regular season, including several games the Cowgirls would like to have back. Two games that really stick out were losses to Dumont by a combined score of 13-4. The state tournament provided an opportunity for redemption as Pascack Hills got a third shot at the Huskies and made the most of it.
Jaydn Sullivan kept the Huskies off-balance all game long and Taylor Harris' two-run single broke the game open as the third time was the charm for 10th-seeded Pascack Hills, which kept its season alive with a 7-1 win in the first round of the North 1, Group 2 state tournament over seventh-seeded Dumont at Columbia Street Field.
Pascack Hills fell behind in their first two meetings with Dumont and never recovered. This time the Cowgirls set the tone by having quality at-bats right from the start of the game. Sullivan helped her own cause with a single to leadoff the game and Harris followed with a sacrifice bunt. Izzy Frangiola's double to right drove home courtesy runner Alyssa Brown for a 1-0 lead.
"We showed a lot of energy right from the beginning and that helped us out in the long run," said Sullivan, "We got that first run and even after they tied it I was able to stay calm. The defense made some great plays behind me and it made it easier for me to focus on throwing strikes and hitting my spots."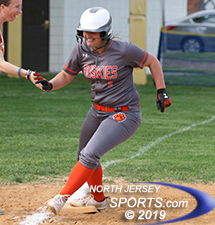 Kelsey Boyhen's second inning home run got Dumont even at 1.
Dumont needed just one swing of the bat to get that run back. With two outs in the bottom of the second inning Dumont's Kelsey Boyhen hit a long homerun to left to make it 1-1. Following Boyhen's HR Sullivan allowed a single before using her effective off-speed pitches to her advantage. She retired the next 15 batters she faced only to be matched by hard-throwing Husky Eva Eder, who had a stretch of retiring 14 straight batters.
With each team's season on the line and both pitchers locked in it was apparent that one of these teams would need to catch a few breaks to get going offensively. Pascack Hills caught those breaks and then some in the top half of the fifth inning. With two outs and nobody on the Cowgirls hit three consecutive ground balls that glanced off of the gloves of the Husky infielders. A couple of inches each way and the Huskies are out of the inning. Instead the bases were loaded for Casey Funesti and she delivered. Her seeing-eye single back through the box scored the go-ahead run for Pascack Hills.
The lead was still a tenuous one-run advantage before the Cowgirls opened it up in the sixth. With the bases loaded and one out Sullivan worked out a walk to bring home one run and send Harris up to the plate. She broke the game open by lining an outside fastball to right-center to plate Sam Chin and Kristen Brown for a 5-1 lead.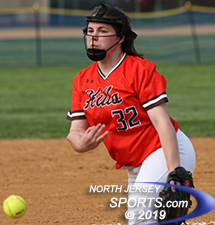 Pascack Hills Jadyn Sullivan allowed just four hits with one walk and six Ks. She helped her own cause by going 2-for-3 at the plate with three RBIs.
"I just wanted to hit the ball hard and find a gap," said Harris. "With the bases loaded being loaded I felt like I'd get something to hit and I just went with the pitch."
Sullivan tacked on two more runs with a single in the seventh inning and was cruising along before the Huskies made one last stand by loading the bases with two outs in the bottom of the seventh. The right-hander buckled down and got a ground ball to Kristen Brown at second to end the game, giving Pascack Hills its first state tournament win since 2014.
Sullivan was tough from start to finish for Pascack Hills (13-8). She allowed just four hits with one walk and six K's. She helped her own cause by going 2-for-3 at the plate with three RBIs. Chin chipped in with two hits, two runs scored, and a pair of nice catches in right field.
Boyhen had two of the four hits for Dumont (16-8).
Pascack Hills will face a tall order in the North 1 Group 2 quarterfinals on Monday. The Cowgirls will take a long bus ride to face second-seeded Vernon, whose pitcher through a no-hitter on Thursday in a first-round win over Westwood. But with everything to gain and nothing to lose against an unfamiliar opponent they plan to let it all hang out and see if they can pull off another upset.
"When we know the team we're playing we tend to get in our own heads a little too much," added Sullivan. "I think playing a team that we really don't know anything about and they don't anything about us will help give us a chance to win. I think if bring the same energy and play like we played today that we can definitely get it done."