SJR takes the Hard road to Bergen County final by Cory Doviak of northjerseysports.com
DEMAREST — Rutherford junior Jacob Gomez was mowing down the St. Joseph Regional lineup. The left-hander who beat Bergen Catholic in the quarterfinals of the Bergen County Baseball Tournament last weekend was at it again against SJR in Saturday's semifinal round.
Gomez, who threw 6 2/3 innings of scoreless ball to eliminate BC, was unscored upon again through 5 2/3 innings against SJR, he had just retired the first two hitters of the sixth inning of a still scoreless game via the strikeout and then went ahead in the count, 0-2, against Sean Hard, the No. 6 hitter in the Green Knights' lineup.
Hard, a sophomore first baseman, hit the ball hard and changed the trajectory of the game.
Hard crushed a fastball over the centerfield fence to give St. Joseph Regional just its third hit of the game, its first extra-base hit and its first run in a 3-1 victory that sends the Knights into the Bergen County championship game next Saturday against Ridgewood.
"The first pitch [Gomez] started me off with a fastball. He was throwing fastballs all game and I couldn't hit any of them. On the second pitch he threw me a curveball and fooled me so on the third pitch I was just looking for something I could get the bat on and hit up the middle," said Hard, who connected on the third pitch of the at bat for his fourth home run of the season. "I got a fastball and drove it."
A change in the schedule that turned the tournament into a one-day-per-weekend affair has fundamentally changed the way Bergen County crowns its baseball champion. Gone are the double-digit scoring games with offenses taking advantage of over-taxed pitching staffs. Nowadays, if a head coach prioritizes a deep run in the county tournament then he can throw his ace four straight weekends and try to win the darn thing.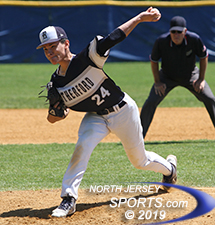 Junior Jacob Gomez struck out 8 and walked just one in another quality outing for Rutherford,
And there are currently so many good arms in Bergen County both at public and non-public schools alike that county tournament games are mostly played in two hours or less with one at bat here or there making the difference between moving on and being knocked out.
This time it was Gomez against St. Joseph Regional sophomore right-hander Jimmy Romano, who throws zero balls that do not move this way or that. Romano has variety of off-speed pitches that just frustrate opposing hitters and he was on top of his game against Rutherford as he threw a complete game four-hitter with 10 strikeouts against just three walks. Romano did not allow an earned run in 6 2/3 innings pitched in last week's victory over Pascack Hills and he did not allow an earned run on Saturday either.
The only run Romano allowed came in the bottom of the seventh inning when he had to pitch out of some trouble, but that was after his team had given him some breathing room in top half of the frame. Anthony Panissidi, SJR's No. 9 hitter, smoked a double the other way to open the top of the seventh before Gomez (7 IP, 3 R, 2 ER, 6 H, 8 K, BB) issued his first and only walk of the game, an intentional pass that put Joshua Rodriguez (2-for-3, 2B, R, SB) on first.
Andrew McDermott moved both runners up one base with a sacrifice bunt and Socrates Bardatsos moved them both up one more with a perfectly executed suicide squeeze bunt that pushed Panissidi (1-for-2, 2B, R) across with the run that gave SJR a 2-0 lead. A throwing error gave the Knights a second insurance run and a 3-0 edge.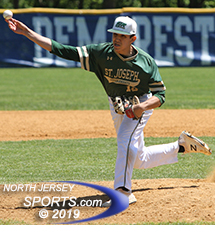 Jimmy Romano went the distance and struck out 10 for SJR, which will play Ridgewood for the Bergen County title next weekend in Demarest.
Rutherford, the No. 6 seed and the home team with last licks, made it interesting in the bottom of the seventh when Gabriel Francisco (1-for-2, R, BB) drew a one-out walk to start a rally that got more interesting when Dom Ciani singled. Abellany Mendez, Rutherford's fleet-footed No. 9 hitter, forced SJR into a mistake when his groundball into the shortstop hole was thrown away, which allowed Francisco to score and left the tying runs on the corners with the top of the Bulldogs' order coming up.
Romano, however, got both of the outs he needed by inducing another groundball to short. With a fine spin in the middle by Panissidi, SJR turned the game-ending 6-4-3 double play.
"I don't think we played poorly today, I just think their pitcher did a great job. All credit to him. He kept us off balance and we really didn't get to him until the end," said Rutherford skipper Carmen Spina, whose team will open the North 2, Group 2 state sectional playoffs as the No. 2 seed at home on Monday against No. 15 Leonia. "There is nothing to hang our heads about. We still have one goal left for our season and that is to win in the states and we are going to goal for that goal, too."
SJR entered the county tournament with a 9-5 record, a No. 10 seed and had to play its way into the main draw through the play-in round. Now, three-plus weeks later, the Green Knights have beaten No. 7 Ramapo, No. 2 Pascack Hills, last year's champion, and now a Rutherford team that entered the semifinals with a 20-2 record. A season that could have gone off the rails after an early season loss to Bergen Tech now has the chance to be a special one in Montvale.
"We always felt like we could do this. That other stuff is not really relevant to us now. If you want to win you have to play everybody anyway and it doesn't matter in what order. What's the difference?" said SJR head coach Mark Cieslak. "Our guys compete. One through nine in our order, they compete. It doesn't matter if you struck them out twice or not, the third time they are going to go up there and compete for a successful at bat. That is our approach and we are going to take it into the final and I am very proud of my guys for that."