Seitter nearly perfect as Ridgewood reaches first County final since '86 by Cory Doviak of northjerseysports.com
DEMAREST – St. Mary is the type of team that needs to be aggressive on the base paths. The Gaels, especially when senior right-hander Kenny Quijano is on the mound, just need their offense to scratch out a run or two whenever baserunners become available during a seven inning contest. St. Mary can play small ball with the best of them and can really turn the screws on a defense when bunts are being laid down and bases are being stolen.
Against Ridgewood, however, in Sunday's semifinal round of the Bergen County Baseball Tournament, senior right-hander Kevin Seitter never gave St. Mary an opportunity to force the issue. Instead, Seitter was almost perfect.
Joe Valentine, St. Mary's lead-off hitter, opened the bottom of the first inning with a single before being picked off of first base by Ridgewood catcher Brian Skettini. Seitter then retired every other hitter he faced, 20 of them in a row, in firing a one-hit shutout with eight strikeouts and zero walks.
"We know we don't have a great lineup. We thrive on getting a runner on and then bunting them over," said St. Mary head coach Dennis Hulse. "But they took our bunting away today because we couldn't even get a guy on base. That shut our offense down a little bit."
It was not like Ridgewood was knocking the ball over the park either, but with Seitter putting St. Mary on lockdown, one effective inning and one clutch hit in particular were all the Maroons needed to pull off a 3-0 victory on Saturday afternoon at Northern Valley/Demarest High School.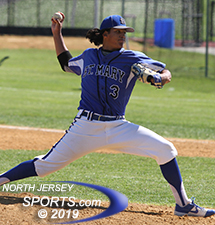 Senior Kenny Quijano threw five quality innings for St. Mary.
That one hit came off the bat of senior leadoff hitter David Kleiman in the top of the fifth inning, the only frame in which Quijano lost the strike zone. A two-out walk, the second of the inning, drawn by No. 9 hitter Matt Favieri, loaded the bases and flipped the lineup over for Kleiman, who stroked a two-run single that broke the game open.
"I was trying to stay patient. I got some wisdom from my friend Garret [Thompson] before my at bat. He told me just to stay calm and that was the big thing in that at bat. I did not want to chase anything," said Kleiman, who worked the count to 3-1 and forced Quijano's hand. "Ahead 3-1 I was kind of hunting for a fastball that I could drive up the middle."
Favieri scored on an error later in the inning and that was all of the offense in the game, but it was plenty with the way Seitter (7 IP, 0 R, 0 ER, 1 H, 8 K, 0 BB) threw the baseball. Seitter needed just 71 pitches to go the distance in a masterful performance that puts the Maroons, the No. 9 seed, in the Bergen County championship game for the first time since 1986. They will play No. 10 St. Joseph Regional, a 3-1 winner over Rutherford, for the county title next Saturday in Demarest.
"My curveball was really working for me today and have not had that in the last couple of games that I pitched," said Seitter, a Quinnipiac University commit who needed just 35 pitches to get through the last four innings. "I have to tip my cap to St. Mary's pitcher [Quijano]. He is a heckuva pitcher and a heckuva player, but these tournament games come down to which team is better. It was not just me against him. I could not have gotten through that game without them making all of the plays behind me. Our shortstop [Sam Favieri] had a great day defensively and our No. 7 batter [Michael Breiter] went 2-for-2 with a walk. It was a total team win and I am just glad that I was a part of it."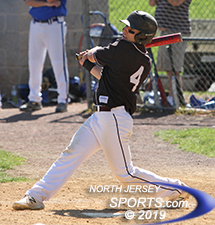 Michael Breiter, Ridgewood's No. 7 hitter, was the only player for either team to have a multi-hit game.
Quijano (5 IP, 3 R, 2 ER, 3 H, 9 K, 3 BB), who threw a complete game shutout in the Gaels' win over NV/Demarest in the quarterfinals last weekend, was effective again and Mark Alday (2 IP, 0 R, 0 ER, 2 K, BB) threw two innings of scoreless relief, but with no base runners over the final 6 2/3 innings, it did not matter how well the St. Mary hurlers threw.
Ridgewood (18-4) is rolling heading into one of the biggest weeks in the history of the baseball program. The Maroons, the No. 2 seed in the North 1, Group 4 state sectional tournament, will host No. 15 Fair Lawn on Monday in the opening round and a win there would put them in the quarterfinals against either Livingston or Eastside on Thursday before Saturday's county final.
"I was not sure that we were going to be able to break through against [Quijano]. He throws three pitches for strikes and he has great stuff. We had one great inning where we worked the count and Dave Kleiman came up with the big hit there to break it open," said Ridgewood head coach Kurt Hommen. "It's been since Nineteen Eighty-something [since Ridgewood was last in a county final], so this is big for us. I told them to enjoy this, but just for today because the states start on Monday. It's a great win and it was a great day for us, but we have to come back and be ready to go."