Old Tappan's Orrechio walks-off River Dell in the 10th by Cory Doviak of northjerseysports.com
PARK RIDGE – Historically, if Northern Valley/Old Tappan and River Dell met up in their last baseball game before the cutoff for entry into the Bergen County Tournament the two programs, two public school heavyweights, would be jockeying for positioning and a higher seed. This year has been a bit different as, heading into the 10th Annual Coaches vs. Cancer Classic in Park Ridge, one team had been eliminated from county tournament contention and the other's hopes were hanging by a thread.
So what? Because Old Tappan and River Dell are cruising below their usual altitudes does not take away from the fact that the two teams played one of the most entertaining one-off games of the season so far.
The first seven innings lasted just 1 hour and 44 minutes.  River Dell nursed a two-run lead from the time it took it in the top of the fourth inning all the way until there was one out in the bottom of the seventh when Old Tappan tied it. With all five pitchers used by both teams combined continually pounding the strike zone, it took until Niko Orrechio's at bat with the sun setting behind home plate, for Old Tappan to pull out a victory in the bottom of the 10th inning.
Wes Pierorazio led off the final frame with a single, Scott Zakian followed by turning a sacrifice bunt into a fielder's choice that put two runners on with no outs in front of Orrechio, Old Tappan's junior third baseman who fell behind 0-2 before swatting a double into deep left field to give the Golden Knights a 3-2 victory.
"I was supposed to bunt and I did not execute. I messed up twice, I had two strikes on me and at that point I just had to get the job done. I had to get a hit," said Orrechio. "It was 0-2 and he threw me a fastball right down the middle. It was kind of just hanging there and I had to do my job."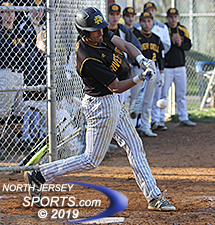 Jack Racine had three of River Dell's seven hits and scored one of its two runs.
Orrechio's shot scored Pierorazio easily and set off a celebration between second base and the pitcher's mound and it was a big win for Old Tappan (5-7), which will not play in the Bergen County Tournament, but is fighting for qualification in the North 1, Group 3 state sectional playoffs. The first 15 games count toward state tournament seeding and the Golden Knights, who have a tough schedule heading into that cutoff, are amongst a bunch of teams shooting for the last couple of spots. The Knights have now won two straight after junior Anthony Pizzi threw a complete game in a quality win over Paramus earlier this week.
"This was a big one because there are like six teams battling for the last three spots [in the state tournament] including River Dell. They are right there with us," said Old Tappan head coach Tim Byron. "In this game today and in the Paramus game we played clean and we gave ourselves a chance. The pitching has been pretty good."
The pitching on both sides was more than pretty good. The three pitchers that Old Tappan ran out there combined to walk just one batter over 10 full innings of work. Zakian (5 1/3 IP, 2 R, 2 ER, 5 H, 4 K, 0 BB), the senior left-hander, worked into the sixth inning before turning the ball over to Miles Tweedy with two outs and a runner on second base. Tweedy (1 1/3 IP, 0 R, 0 ER, 0 H, 1 K), a sophomore right-hander, retired all four batters he faced and Kyle Lee (3 IP, 0 R, 0 ER, 2 H, 1 BB, W) stranded two runners in both the ninth and tenth innings to keep Old Tappan in the last-licks driver's seat.
River Dell (5-7) needed the win to get to .500 where at least it could have been considered for a bid to the Bergen County Tournament and for a long while it looked like the Golden Hawks would get it. The Hawks had just seven hits in the game, but three of them came in the span of four batters in the top of the fourth inning when Jack Gillies (1-for-5, R) and Jack Racine (3-for-5, R) stroked back-to-back opposite field singles and James O'Connor (1-for-4, 2 RBI) drove them both home with a two-out single after Christian Hay had moved both runners up with a sacrifice bunt.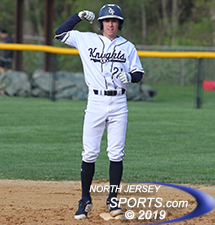 Junior Anthony Pizzi had a double and scored a run for Old Tappan, which improved to 5-7 on the season.
Meanwhile, junior righty Holden Broderson (6 1/3 IP, 2 R, 1 ER, 3 H, 3 K, 0 BB) was stellar from his first pitcher as he faced just three batters over the minimum through the first six innings and he retired 14 straight from the final out of the second inning to the first out of the seventh to put River Dell on the verge.
Jack Brae (1-for-3, R) reached on an error with one out in the bottom of the seventh and Pizzi then cracked a double to finally knock Broderson out of the box. Will Rodriguez (1-for-4, 2 RBI) finally wiped out River Dell's lead with a clutch double to right center field. River Dell righty Brendan Golden (3+ IP, 1 R, 1 ER, 3 H, 3 K, 0 BB) limited the damage by retiring consecutive hitters with the bases loaded, but the Hawks could not cash either of their opportunities in the ninth of tenth innings when they have multiple base runners.
The loss will keep River Dell out of the county tournament for just the second time in the 20 years that Brandon Flanagan has been the Hawks' head coach.
"The pitching today all the way around was fantastic. All five guys that went out there did a good job and we were only able to score in one inning. When you only score in one inning in high school baseball, unless you put up a really big number, a lot of times that is not going to be enough. We had our opportunities, we just could not get the big hit," said Flanagan. "It is going to be weird. This is only the second time since I have been here that we will not be in [the county tournament], but it is what it is. We are a work in progress. We have been inconsistent all year and when you are inconsistent against a Big North schedule it is going to come back to bite you."
While both teams are not where they are used to being in won/loss column, neither is that far off from being a second half factor. River Dell went 1-3 this week with three one-run losses and this was the second time this season that it lost to Old Tappan in walk-off fashion. It's been similarly frustrating for Old Tappan against the brutal Big North slate.
"We have played some tough teams, our first five games were all one-run games and a couple of the ones we lost we beat ourselves, but we are heading the right way," said Byron. "Now we are actually playing up to what I thought we could. We are not a power hitting team, but we are getting better at executing and I like the way we are going right now."