Westwood has a sectional final breakthrough by J.C. Baumuller special to northjerseysports.com
TOWNSHIP OF WASHINGTON — Sophomore Katy Gashler led all scorers with 15 points, pulled down 7 rebounds and blocked 5 shots to propel Westwood past Newton, 43-38,  in the North 1, Group 2 state sectional finals. As a result Westwood won its first state sectional title since 2015.
"She's unbelievable," Cardinals coach Charles Collis said of Gashler. "She didn't play her best basketball last game. It didn't mean anything. She came out today like she's been a 10-15 point scorer every night."
"The last couple of games I was kind of down on myself," said Gashler. "I think I really came out and went back to my old self."
Newton burst out to a 4-0 lead in the first 30 seconds of the game. Gashler scored her first bucket 26 seconds later and from then on the teams were within three points of each other until there was 1:10 left to go in the game.
Cardinals senior Rachel Bussanich, who has competed in nearly 20 state playoff games in her four-year career, scored seven of her nine game points in the first quarter. She picked up a foul 28 seconds into the second quarter and she scored her final two points of the game on a put-back a minute later, but she was whistled for her second foul at 5:42, forcing her to leave the game. It was going to be Gashler who would have to pick up the slack in the middle.
"I tried not to get into foul trouble," Gashler said. "When I blocked I kept my arms straight up. And I stayed in the middle so I could help on drives."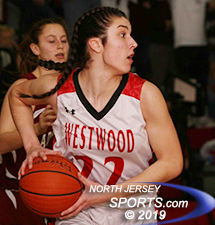 Westwood senior Rachel Bussanich scored 7 of her 9 points in the first quarter before running into foul trouble.
Bussanich returned to the game with less than two minutes to go in the quarter and her presence was immediately felt when she fed Gashler for a layup to give Westwood a 16-15 lead.
"Those are preset plays that we called," said Gashler. "We work on them all the time. We've used them in other games and they've worked."
"We knew they were scouting us the last game," added Bussanich, "and we knew they would be double-teaming me. Katy was open and it doesn't matter who scores as long as you get the ball in the basket."
Unfortunately for the Cardinals Bussanich picked up her third foul with 54.8 seconds to go in the half and she didn't return until there were two minutes left in the third quarter.
"I took a risk and played her in the second quarter [with 1:54 to go]," said Collis. "I thought at that time with the personnel they had on the floor we should have been able to score more. I thought, 'let's take a shot at this. Let's maybe rattle off eight points and fly into the second half.' But it kicked me in the butt."
As a result it was up to the other Cardinals players, especially Gashler, to make up for the loss of their veteran floor leader.
"They really stepped up," said Bussanich. "I kept getting fouls called so Katy was in there and everyone was in there playing good defense."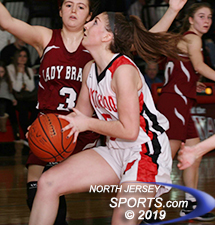 Hannah Jackson finished with 13 points, including some clutch free throws, for Westwood, which will play North 2 champion Lincoln in the Group 2 semifinals on Thursday.
There were nine lead changes in the third quarter as the teams battled back and forth. Bussanich came back into the game near the end of the quarter and the Bussanich-Gashler connection clicked again to give Westwood a 30-29 lead heading into the fourth quarter.
Bussanich picked up her fourth foul 44 seconds into the fourth quarter and left the game again. Newton scored four quick points on a pair of free throws by sophomore Amy Fehr and a great play where senior Madison Leonardo zipped a pass inside to sophomore Maddie Gore (team-high 14 points) for an easy layup.
"They are hard to guard," Collis said of the Braves. "They have five players that can score. They missed a couple of easy shots that fortunately went our way. That was the type of break we needed tonight – for them to have an off-shooting night, because they are a very good team.
"All last week it was 'defense first, the scoring will come. If we hold teams in the 30s it's our game.' We thought if we played a slower, half-court man game, minimize our press, we could take them out."
Three straight free throws by Cardinals sophomore Meghan Riedel tied the game, 33-all, and then Riedel fed Gashler inside to give Westwood the lead for good, 35-33.
"I thought that there was a play so I just went for it," said Gashler.
Jackson drained a free throw to increase the lead to three and that was a portent of things to come.
Jackson hit two more foul shots and Riedel converted 1-of-2 from the line to give Westwood a six-point lead with 1:01 to go, but Braves senior Jade Luciani canned three straight free throws to knock the lead back down to three and one of those fouls was Bussanich's fifth. So she left the game for good.
Enter Jackson. In 12.2 seconds she drained 4-of-4 foul shots to give the Cardinals a seven-point lead with 26.1 seconds left in the game.
"After I made the first one I was very confident about making the other ones," said Jackson. "I've been hitting my foul shots throughout the season. I knew I had to have my hands on the ball because I knew they would foul me and I knew I could make my shots."
"I think all of New Jersey should know about Hannah," said Collis. "She is playing unbelievable basketball."
The Braves tried and failed to hit a couple of three-pointers and as time ran out the Westwood fans stormed the court to celebrate. Westwood had finally earned the title that eluded them for the past two years.
"Once Rachel fouled out," Jackson said, "we definitely didn't have her defense but we made a few changes that helped us with the defense. I knew I had to keep the team intact and make sure no one was getting too nervous. Having the game away [in High Point] two years in a row was really hard. Having it here, the atmosphere and everything just made it so much better. It's just amazing."
Jackson finished with 13 points, Riedel added 4 and sophomore JoJo Corrubia contributed 2.
"The sophomores don't have much experience," said Bussanich, "but tonight they played like they've been here. They didn't let the pressure get to them and I think that's what made us win this game."
"We were very confident," added Collis. "We had contributions from the seniors, the sophomores. Some of these other kids may not score 10 points but they played fantastic defense. They finished on the drive to the hoop and put together two or four points, which in a five-point game is the difference. Their mentality the last 10 days has been awesome. The energy, the confidence has been unbelievable in the locker room, on the floor and in practice."
After the game the feeling in the gym was one of relief and joy.
"It feels really good," Bunnanich said. "It feels so unreal. I can't believe it happened tonight. It feels better than I ever thought it would."
"We didn't hit any threes tonight, we scored 43 points and we beat a phenomenal team," added Collis. "It says a lot of the kids on the court. There is nothing more I wanted for Rachel, Hannah and Lauren [Rigg] then for them to get a state sectional championship. As soon as the season ended last year and we met for our postseason meeting the three of them said, 'we are winning the state sectional championship.' And they meant it."