Ramapo leaves the past behind; wins first section title since '05 by Cory Doviak of northjerseysports.com
FRANKLIN LAKES – At the end of last season's North 1, Group 3 state sectional final played in the gymnasium at Ramapo High School, those left in attendance could have heard a pin drop. This year – same round of the playoffs, same venue – those people celebrating the home team's accomplishments in the fourth quarter would not have been have been able to hear a plane crash.
It was a wild night on George Street in Franklin Lakes. Hundreds were turned away as capacity was reached nearly an hour before the game's scheduled start time. Ramapo's student section primed and in full voice and the Green Raiders themselves, after a shaky first quarter, turned it on and turned the second half into a full-fledged party.
Junior Max Pernetti hit a three-pointer at the buzzer to give Ramapo a six-point halftime advantage and the Raiders close the third quarter with a 10-2 run to break open what turned into a 65-40 victory that ended some lingering frustrations. Ramapo won its first state sectional title since 2005 and its first in seven seasons under head coach Joe Sandberg, who was coaching in his third sectional championship game.
"It is a huge weight off of our shoulders. We have been in our gym for this is the third time now and luckily the third time is the charm. Last year stung a lot, but we stayed together, we worked together and now it has paid off," said Sandberg, who has led Ramapo at least to the sectional semifinal round in all seven of his seasons at the helm. "This is a huge relief. We have won a lot of games here in seven years. I think we are something like 115 games over .500, but this is the one that we needed."
Last year it was Northern Valley/Demarest which came into the final intent on slowing the pace. The tactic worked and the Norseman squeaked out a 37-36 victory that left the home crowd and home team stunned, to say the least. Teaneck came into Tuesday night's contest with the same game plan and the first quarter was eerily similar.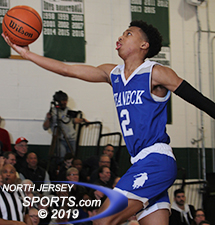 Freshman Dasean Lecque scored a team-high 10 points for Teaneck, which finished it season with a 21-7 record.
The Highwaymen sat in a tightly packed zone with one defender in front of Ramapo's 6-foot-10 center Neal Quinn and one in behind. They Highwaymen were effectively limiting the big guy's touches and daring Ramapo to make outside shots, which the Raiders did not do. They finished the first quarter with just two made field goals and on the short end of an 8-6 score.
"If they want to do that [defensively] and try to take me away, I have 100-percent confidence in my teammates that they are going to step up and get them out of that [zone]," said Quinn, the senior transfer from Northern Highlands who is certainly leaving his mark in his one year in the green and white. "And Max [Pernetti] did that. He had a heckuva game."
He did and it started with Ramapo's first made three-pointer of the game, a trey from the wing by Pernetti that tied the game for the last time, 9-9, 1:48 into the second period. KC Hunt and John Whooley, the Division 1 baseball battery that is playing hookey from the snowy preseason as the basketball season continues apace, also hit second quarter threes to shred the Teaneck zone. Pernetti then got free for the dagger from the corner off an inbounds play as the buzzer sounded. Ramapo bounded into the locker room with a 24-18 advantage and Teaneck would have to play the Raiders straight up in the second half.
"I was open and I had to let them go. After I hit the first one I felt warmed up and I was going to try to help out anyway I could so we could get out of here with a win and keep going," said Pernetti, who scored 8 of his game-high 21 points in the decisive second quarter. "I love these guys and I am having the best time. It's fun, I love seeing all the coaches every day and it's been awesome. I feel good."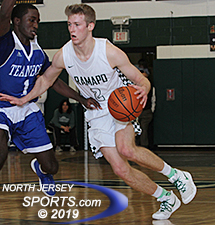 KC Hunt scored 18 points for Ramapo, which will play Colonia in the Group 3 state semifinals on Thursday in East Orange.
Ramapo has not lost to a public school team all year, it was a Bergen County Jamboree semifinalist and it earned this sectional title as it beat Teaneck, long the dominant player in this bracket, three times this season to claim the crown. The Raiders could see the finish line in the second half and sprinted straight toward it.
Hunt finished a cut to the basket with a bucket off a nice feed from Whooley with 3:53 left in the third quarter and that ignited a 10-0 run that opened a 16-point spread. Pernetti made the last of his three three-pointers and two free throws, Whooley flipped in a tough layup and Quinn made a free throw to finish the spurt. Isaiah Anderson made two free throws to get Teaneck back to within 40-26 at the end of three quarters, but Pernetti set the tone in the fourth with a foul line jumper and his bucket with 5:13 left in the game pushed the Ramapo lead over 20 points for the first time at 51-30.
Teaneck is a program in transition under first-year head coach Marcel Williams and it was not a bad one at that. The Highwaymen finished at 21-7, reached a section final and the Jambo quarterfinals and have a centerpiece to build around in Desean Lecque, the talented freshman who scored a team-high 10 points on Tuesday night. Eliah Garcia finished with 8, Nadame Tucker had 6, Vernon Johnson scored all 5 of his points in the first half and Kai Lilavois scored 3 points in Teaneck's final game of the season.
Pernetti finished with a game-high 21 points, Hunt added 18 and Quinn (11 points) made it three Green Raiders in double figures. Whooley was a force on defense and chipped in with 9 points, while Kyle Hroncich, Brady Tucker, Chris Valvano and Cameron Carroll all got on the score sheet for Ramapo, which improved to 25-3 heading into the Group 3 semifinals against Colonia on Thursday night at East Orange Campus High School.
It has been a long time, 14 years, between trips to the state semifinals for Ramapo, but one player who was in the gym in 2005 was KC Hunt, whose older brother Shooter, scored 33 points in an entertaining but losing effort that night all those year ago against Malcom X. Shabazz.
"It's an awesome feeling to get this championship and to be moving on. Freshman year we lost against a good Teaneck team by 20 points, sophomore year we lost in the semifinal and last year we lost by one. This year we got it done," said KC Hunt, who will play baseball first for Ramapo High School this spring and then at Mississippi State University next year. "The last sectional championship was my brother Shooter's team in 2005 and they lost in the next game, so I think the next goal is to go at least one further than him."